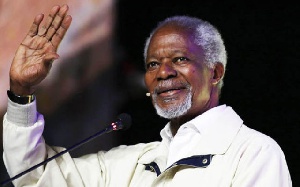 Former United Nations boss and Noble prize laureate Kofi Annan flew the flag of Ghana high on several fronts until his demise on August 18, 2018.
He is fondly remembered by his legacies and exploits he left behind while serving as the UN Secretary-General.

Mr Annan fought on many fronts for the peace of many African countries and advocated strong principles of discipline, leadership and women empowerment.

As part of efforts geared at promoting peace, Mr Annan, as head of the UN commission, led the investigation of the Rohingya crisis in September 2016 and subsequently produced a report.

Annan was offered the lead role on the commission by Myanmar's de facto leader, State Counselor Daw Aung San Suu Kyi, the first time a foreigner was invited to join the government's efforts to address the country's tortured relationship with its Rohingya minority.

He again served in the UN peacekeeping mission that supervised the truce between Israel and the Arab States in the Middle East.

His background
Born in Kumasi, Ghana on April 8, 1938, Annan was the only black Secretary-General of the United Nations and second African after Egyptian diplomat Boutros Boutros-Ghali. His journey as a diplomat started in the 1960s and he continued to impact the world post-UN until his death.

Annan was also an author, writing a number of articles and books such as Interventions: A Life in War and Peace and We the Peoples: A UN for the Twenty-First Century.



Here's a compilation of some really strong quotes from Kofi Annan

"We cannot always pass a hat around and insist we want to be sovereign; we want to be independent. We should lead and get others to support us; that support will be much more forthcoming when they see how serious and committed, we are." ~ Kofi Annan

"Many African leaders refuse to send their troops on peace-keeping missions abroad because they probably need their armies to intimidate their own populations".
"Knowledge is power. Information is liberating. Education is the premise of progress, in every society, in every family".

"More than ever before in human history, we share a common destiny. We can master it only if we face it together. And that, my friends, is why we have the United Nations."

"Ignorance and prejudice are the handmaidens of propaganda. Our mission, therefore, is to confront ignorance with knowledge, bigotry with tolerance, and isolation with the outstretched hand of generosity. Racism can, will, and must be defeated".

"If you have a problem and you can't find a solution, you meet again tomorrow and you keep talking until you find a solution. You can disagree with behaviour or a particular position, but you do not resort to calling an opponent worthless".

Some of his achievements include supporting the transition from military to civilian rule in Nigeria. The following year, he supported the efforts of East Timor to secure independence from Indonesia. In 2000, he was responsible for certifying Israel 's withdrawal from Lebanon, and in 2006, he led talks in New York between the presidents of Cameroon and Nigeria which led to a settlement of the dispute between the two countries over the Bakassi peninsula.

Annan and Iranian President Mahmoud Ahmadinejad disagreed sharply on Iran's nuclear program, on an Iranian exhibition of cartoons mocking the Holocaust, and on the then-upcoming International Conference to Review the Global Vision of the Holocaust, an Iranian Holocaust denial conference in 2006. During a visit to Iran instigated by continued Iranian uranium enrichment, Annan said: "I think the tragedy of the Holocaust is an undeniable historical fact and we should really accept that fact and teach people what happened in World War II and ensure it is never repeated."
Annan supported sending a UN peacekeeping mission to Darfur, Sudan.[66] He worked with the government of Sudan to accept a transfer of power from the African Union peacekeeping mission to a UN one. Annan also worked with several Arab and Muslim countries on women's rights and other topics.

Beginning in 1998, Annan convened an annual UN "Security Council Retreat" with the 15 States' representatives of the Council. It was held at the Rockefeller Brothers Fund (RBF) Conference Center at the Rockefeller family estate in Pocantico Hills, New York, and was sponsored by both the RBF and the UN.



Kofi Annan's demise, burial

He was surrounded in his last days by his second wife Nane and children Kojo and Nina, his foundation and close associates said.

Mr Annan was finally laid to rest on September 13, 2018, at a ripe age of 80 after a state funeral service was held in his honour at the Accra International Conference Center. The funeral had in attendance several global heads of state and statesmen including the UN Secretary-General Antonio Guterres, Ethiopian President Mulatu Teshome, Ivorian President Alassane Ouattara, and Liberian President George Manneh Weah.
He was buried at the new Military Cemetery at Burma Camp after a state funeral service was held in his honour at the Accra International Conference Centre.

As part of tributes, he was among other things, described by Secretary-General of the UN, António Manuel de Oliveira Guterres, as an exceptional global leader" and also "someone virtually anyone in the world could see themselves in. Those on the far reaches of poverty, conflict and despair always found in him an ally."

"Very humble, very supportive man and with the commitment to put the world in the best condition. He is very well known for his efforts to find peace in every part of the world", Cuban Ambassador said about him.

Ghanaian President, Nana Addo Dankwa Akufo-Addo described him as a consensus builder, eloquent, gentleman, proud African, peacemaker, quintessential diplomat.