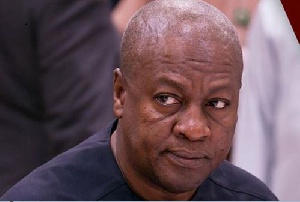 It would seem that we, Ghanaians, and Africans as a whole, are possessed with grovelling characteristic of a sordid mind which hates anything quality, and would thus prefer to worship mediocrity, hence our current sorrowful state.
Ex-President John Dramani Mahama, unlike his predecessor, the late John Evans Atta Mills, and his successor, President Akufo-Addo, did not expect to be the president of Ghana, and hence never prepared for the highly important position.

That said, it could be true that the then Vice President Mahama had an ambition to ascend the throne one day, albeit his presidency happened sooner and fortuitously, following the sudden death of former President Mills.

Ex-President Mahama, as a matter of fact, was only compelled by the Ghana's 1992 Constitution to ascend the throne he never prepared for, and, therefore had no burning desire or had little interest to move the country to the right direction.

If you may recall, it was the late Mills who hand-picked John Dramani Mahama as his running mate for the 2008 election.

Although the late President Mills met with stiff resistance on his decision to select John Dramani Mahama as his running mate for the 2008 election, the indefatigable Mills defied the fierce opposition, stood by his then running mate John Dramani Mahama, worked in valence and emerged victorious in the 2008 election.

In retrospect, the late President Mills took over the presidency from former President Kufuor on 7th January 2009, following his victory in the second round election on 28 December 2008.

As a matter of fact, the late President Mills prepared adequately for the presidency, unlike his immediate successor, Ex-President Mahama.

But in spite of his readiness to serve the nation to the best of his ability, the detractors within his own Party needlessly kept nagging, squalling and grouching about his style of leadership.


The worldview, however, is that if not for the shenanigans of the conspiratorial plotters that surrounded him, the late Mills would have been very successful in his short spell in government.

Anecdotally, there came a time when human beings lived together without rules or laws. Human beings, in fact, neither had government nor laws and regulations to regulate their day-to-day living activities.

Consequently, the uncontrolled disorder and illimitable oppression sparked grave concerns. And in order to remedy the appalling conditions, human beings consciously decided to enter into social contract.

In hindsight, mankind willingly came together and pledged to obey an authority and decided to surrender the whole or part of their freedom and rights to an authority. The authority, in turn, guaranteed everyone protection of life, property, and to a certain extent liberty.

In theory, the people agreed to establish society by collectively and mutually abdicating the rights they had against one another in the State, and, thereby vesting authority in someone or assembly of persons to enforce the initial contract.

In a way, human beings agreed to live together under common laws, and, thereby creating enforcement mechanisms for the social contract and the laws that constitute it.

In effect, our contemporary authority or government does take a cue from the evolution of social contract.
It was against that backdrop that President Mahama and NDC entered into agreement with Ghanaians prior to the 2008 and 2012 general elections.

Certainly, it goes without saying that the NDC solicited votes from Ghanaians, and, in exchange, they guaranteed everyone protection of life, property, provision of social amenities, better socio-economic standards of living and to a certain extent liberty.

Dearest reader, if you may recall, during the 2008 and 2012 general elections, the NDC gave a cornucopia of Manifesto promises, including one-time NHIS premium, free SHS, 'making dumsor a thing of the past, putting money in Ghanaians pocket, creating more jobs for the jobless, stabilising the economy, protecting Ghanaians from the menaces of galamsey and Fulani herdsmen, bringing an end to dubious judgement debt payments, fighting the rampant sleazes and corruption amongst others.

Regrettably, though, after giving all those richly interesting, albeit phantom promises in exchange of Ghanaians mandate, the NDC government woefully failed to honour the promises, and consequently, a total of 55.6 per cent (44.4 for Mahama) of the electorates rightly voted them out of power in 2016.

In retrospect, the NDC government failed terribly to initiate expedient policies to overturn the failed policies of agriculture, poverty reduction and resource allocation in the areas of healthcare, education, finance, supply chain management and security sector planning, amongst others.

After giving all those juicy promises and failing to honour them, why must discerning Ghanaians trust Mahama and NDC apparatchiks again?

As a matter of fact and observation, the vast majority of our leaders, having first-hand knowledge of our mediocrity worshipping, tend to take us for granted and continue to provide us with mediocre leadership and services.

Verily, praiseworthy governance is not limited to the provision of infrastructural projects. Indeed, every smart and forward thinking government's principal objective is to put advantageous policies and programmes in place in order to impact on the socio-economic standards of living of its citizens.
Nonetheless, President Mahama and his appointees were somehow oblivious to such principle, and disappointingly took refuge in their controversial infrastructural projects.



What is more, the ever soaring inflation, the currency depreciation, uncontrolled sleazes and corruption, the arrogance of power and above all the high costs of living were too much of a bother to discerning Ghanaians.

Make no mistake, dearest reader, the reasons for President Mahama's exit from government are multifaceted. Take, for instance, many observers attribute President Mahama's 2016 election defeat to his abysmal handling of gargantuan corruptions amid dubious judgment debt payments.

It is rather unfortunate that the people we entrust with the national coffers would somehow deem it as a matter of urgency to give gargantuan sums of money belonging to the nation to people who have no entitlement.

Of course, there is nothing wrong to pay genuine judgment debts. However, I strongly believe that if President Mahama's government had handled the payments parsimoniously, the purported GH850 million judgment and settlement payments would have been brought to the barest minimum.

Then again, the manner in which President Mahama handled the STX Housing deal which was supposed to provide affordable housing units to the security agencies leaves much to be desired.

Strangely, though, in spite of the fact that the deal did not materialise, President Mahama was alleged to have given us a bill in an excess of $300 million. How bizarre?
Moreover, after the failed deal with STX to build 30,000 housing units for the nation's security agencies, the NDC government entered into another deal with the GUMA Group, for the construction of 500 housing units.

The deal which was spearheaded by President Mahama was widely criticised by various stakeholders, just as the STX deal, following the decision to side-line local construction firms in favour of the foreign company. The unusually high cost of the project was also a source of concern to many.

The preceding sleazes and corruption allegations, as a matter of fact, ineffaceably stencilled on the mental sheets of discerning Ghanaians, who fretted thy souls with disappointments and curses and waited patiently for an opportune time to show the NDC government the exit.

Indeed, the good people of Ghana witnessed so much duplicities, corruption, incompetence, nepotism, cronyism and frequent abuse of power in the NDC government.

It was in the light of the preceding unpardonable misdeeds that discerning people of Ghana bought into the NPP Party's well-packaged change.

The good people of Ghana found in NPP, a credible panacea, whom they reposed their absolute trust to set them free from the NDC government's economic bondage.