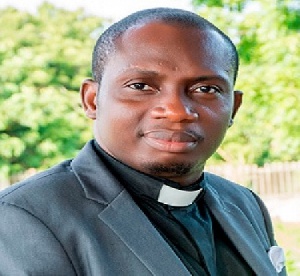 By: Isaac Kyei Andoh
For the best part of the past two years, the name Counsellor Lutterodt has become a household name and one synonymous with marriage and relationship counselling in Ghana.

From one outrageous punch line to the other, he has established himself as the controversial counsellor who rarely goes a month without dropping something worthy of debate and disdain in equal measure.

Hate him or love him, you look forward to hearing his next opinion and you'd admit that he rarely disappoints however disappointed it makes you.

Going by the title Reverend Minister, it becomes difficult for people to put him in his place because in Ghana we have a hypocritical way of treating men who come in the name of God unless it has to do with NDC and NPP.

We judge armed-robbers and prostitutes who Jesus said we shouldn't judge and quote "thou shall not judge when it involves the men in clerical who ought to know better." Jesus did things differently; he was critical of the Pharisees misleading people and never judged the prostitutes. I prefer the Jesus way.

If Counsellor Lutterodt was just a regular counsellor seeking attention, I wouldn't have dedicated my time writing this article. Unfortunately, he comes in the name of God and prides himself with the title-Reverend.

If you come in the name of the Bible, you must preach and teach the principles of the Bible because people take you seriously and many accept even your opinion as the Gospel.

I have no basis to question his calling as a Pastor: that is not the spirit of this article. All I want people to know is that he falls short of the ethical standards of both professions he prides himself with.

Prior to Valentine, he had an interview with Ghanaweb TV calling on churches to give condoms to members who cannot abstain from sex instead of engaging them with activities to prevent them from going out on Valentine Day. As a friend of mine will put it, "this is the final straw that broke my camel's back"


Any Pastor who compromises on abstinence is not worthy of the pulpit. As a Christian, as much as I do not judge people who fornicate, I will never advise an unmarried person to engage in premarital sex.

Regardless of how depraved society has become, the position of the Bible about fornication, adultery aside being non-negotiable has proven to be the best and safest way of living.

Church leaders have a duty to encourage people struggling to keep themselves instead of being the very people to supply them with a condom.

I lost every respect for him as a Pastor when I heard him say that. Though I have always had reservation about his principles, this was a new low that I could in no way keep mute over.

There are many young people out there (Both Christians and non-Christians) who are doing their best to abstain from sex until they are married. It is the duty of Church leaders and society to encourage such people regardless of the temptation and go beyond to make them appreciate the benefit of their sacrifice.

This is a counsellor who sits on national television to advice married couples with issues to divorce.

There are times when his positions are so low that even actresses (no disrespect) who get to meet him on the same platform (Notably: Tales from the Powder Room on GHOne) appear to give better advice than the so called counsellor.

After following him for about three years, I can say on authority that he is an incompetent counsellor and even worse if assessed as a Pastor.
Why am I saying this? Professionally, counsellors should never tell their clients or listeners what to do. It is the duty of counsellors to give people a broader view of issues and open their eyes to the possible repercussion of each option and leave their client to make an informed choice based on the knowledge and enlightenment received through the interaction with the counsellor.



A counsellor must exhume wisdom, must 'not be judgemental' and provide level headed directions and advice in times when people feel they have run out of ideas. No professional counsellor will advise you to divorce or stay in the marriage. A counsellor will open your eyes to the possible repercussion of staying or divorcing so that the person involved makes an informed choice.

This is a basic ethic of counselling.

In the end, the counsellor will not be held directly responsible for the choice the person makes. Counsellor Lutterodt doesn't know this. He will tell you to divorce, stay and what have you. Anyone who understands the ethics of counselling knows that a quack counsellor has been at the forefront of marital counselling over the past 3 years.

Empathy, sincerity, integrity, resilience, respect, humility, competence, fairness, wisdom and courage are attributes a counsellor cannot do without.

Assess the famous counsellor in line with these attributes and your next question will be: how did he make it this far? The answer is simple: the media.

The Media is to blame for allowing such a person to spew so much poison into our society consistently for the past 3 years.

Despite the availability of Counsellors like: Uncle Ebo Whyte, Madam Joyce Aryee, Opanyin Kojo Kyere, Rev Yawson just to name a few, our media prefers a joker and one who will generate controversy to engage people in needless arguments.
I have listened to Opanyin Kojo Kyere, Uncle Ebo Whyte, Reverend Joyce Aryee, Rev Dr Adofo Somuah, Rev Helen Yawson, Counsellor Adofoli and two relatively unknown: Nathaniel Amoh Boateng and Mrs Felicia Ahwireng, I know how it feels like sitting under the feet of godly counsellor full of knowledge.

I can say emphatically that Counsellor Lutterodt is a joke of a counsellor and the earlier better counsellors are given the platform by the media, the better for the many vulnerable people who really need help.

It has become very clear that media practitioners who give him the platform don't do so with the intention of informing their listeners but to get them entertained. In short, counsellor Lutterodt has become a comical figure in counselling and a poison to society.

At a time when our youth are resorting to suicide, what we need is a voice that gives hope and empathises with people suffering. Not a counsellor who will look into TV cameras, insult victims and call them names.

He is ill mannered and too crude to be relied on for advise and counselling. Just look at his antics and body language and you find a counsellor who needs counsellor.

Just revisit his attack on the lady Kofi Adjorlolo wants to marry: his response to Lydia Forson's article about him, his unprovoked attack of Juliet Ibrahim and his advice to Sarkodie and draw your own conclusion. His response to criticism clearly points to man who is not in check of his own emotions and loses control at the least provocation.



The other time his bosom friend, Lawyer Maurice Ampaw, frankly said the man doesn't think right and should take note of the fact that his role as a counsellor is to home building instead of destroying homes and relationships.

He clearly loves the attention he is getting and makes conscious effort to be heard and discussed. He has succeeded in getting me to write on him but he definitely wouldn't like this one.
His counselling doesn't build homes, it doesn't give singles the patience to work together and grow in marriage like the many success stories from humble beginnings we hear. He encourages divorce and everything that a man of God will discourage.

If a single lady listens to him, she will end up dying single.

Our youth deserve better.

Isaac Kyei Andoh

isaackyeiandoh@yahoo.com