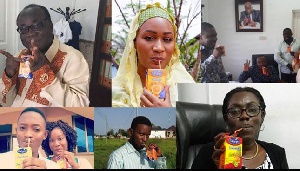 By Justice Abeeku Newton-Offei
The 4yearly electioneering campaign is in full swing across the country, and as usual, all kinds of promises are being made, while freebies are being showered on prospective Ghanaian electorates, just to sway them in their decision making at the polls.

This has become the unfortunate ritual the good people of Ghana have been taken through by deceptive polticians,over the years.As a matter of fact, some of these deceptive-tongue characters who have invaded our politics, have actually been bod to look Ghanaians in the face and told us that we suffer from "short memory".

It is this brazen disrespect for the intelligence of Ghanaians that has made some of these political class to be sadly immersed in the delusion that, though their 8year tenure has been a spectacular disaster, Ghanaians still must put up with them and retain them in power, for what reason and to continue with what, is a matter I have constantly been scratching my damn crazy cranium over.

Nations across the globe are making serious strides in all areas of human-endeavor with the resultant positive effects being reaped by their people. I was in Rwanda, last April, and what I witnessed, by way of socioeconomic advancements, is something that will blow the mind of any first-time visitor, in the light of that nation's recent-past traumatic history.

Landing at Kigali international airport will, momentarily, make you think you are at the Geneva airport. Checking out of the airport and driving through the city of Kigali will make you think you are actually driving on the streets of Paris.

The level of architectural masterpiece of the city, beautiful roads, pedestrian walkways which are beautifully lined with blossoming flowers and well-organized public transport system, where commuters enjoy free Wi-Fi; a feat which does not exist in even many of these well-developed countries.

Indeed, all these achievements are being realized in a country where 800,000 people were savagely butchered within a matter of just 100days.This therefore tells you how a determined leader whose focus is well-targeted, and vision explicit. His priorities are tailored-made and waste is barely does not exist.

Prudence in management of national resources is held in the highest of esteem, and accountability is the watchward.But most importantly, the very personal character of the leader, for me, is the most vital fulcrum around which all these developmental agenda actually revolve.

Visionary leadership

I have done some work about the background of the Rwandan president, Paul Kagame, and there is absolutely no contestation over impeccability of his integrity, and zero tolerance for corruption.as a matter of fact, corruption, in its whatever form, is an extremely dangerous enterprise in Rwanda; and for that reason, public officials never dare go near it.
The man believes in his country and motivating his people to aspire to greater heights is his hallmark.

At the 2015 edition of his annual press interaction with the media at the presidency, President Paul Kagame said one thing which is extremely brilliant which I believe his people will associate themselves with and support him to actualize: and this is what he said "my purpose for being in this office is hinged on three principles; and these are;

1. Security of our country because I this is something the people have not had for a very long time.

2. Personal freedoms which will provide the conducive environment for people go about their lawful duties so they can make their contributions to the advancements of our country.

3. Prudent use and equitable distribution of the nation's resources.

And unquestionably, anybody who visits Rwanda will attest to the fact that,indeed,the man does not just blow hot air, but actually practicalises his words and his people are seeing visible results of his sterling leadership qualities.

Now, I decided to take a detour into this Rwandan example, which I have personally experienced, just to press home the point that, the Blackman has brains and when he is determined to put same to work, it will be possible and commensurate positive results will be realized. Again, this Rwandan example is most relevant, particularly in our Ghanaian setting, where responsible behavior in political officialdom has been completely nonexistent in recent times.

In Rwanda, those who superintended the massive looting of state coffers under SADA,GYEEDA,SUBAH,ISOFOTON,BRAZIL DEBACLE,CP,WOYOME etc., would have all been arrested,trialed,slapped with hefty prison terms,thown into jail and the keys thrown into the sea. Mindless propaganda, as being shamelessly displayed by the current NDC corrupt appointees, cannot happen in the Rwandan society.

The lack of accountability in public office which has been the hallmark of John Mahama-led maladministration, simply does not exist in Rwandan society. In effect, good leadership, naturally, comes along with its commensurate positive dividends which then become the source of joy for the people.

8years of NPP and NDC
For the past 8years, Ghanaians have had the chance to assess their personal living standards, against 8years that the Kufuor-led NPP government, which Nana Addo was an integral part, was in power.

Ghanaians have been able to assess periods under NPP, where banks were virtually chasing customers to contract loans, LPG was being distributed at people's doorsteps, school children enjoyed free bus rides and expectant mothers did not have to worry about antenatal costs, as against 8years of total collapse of all these noble social intervention policies. Indeed, Ghanaians have been able to assess the period of functional NHIS, COCOA SPRAYING EXERCISE, FREE ANTENATAL CARE AND LEAP.

Today, Ghana has become a land where, as a result of unbridled corruption at the presidency, it has become strange to be found to be doing what is right, as public office holder; and this actually epitomizes the great Akan axiom that says "se enam prow a, ohye ase fir ne tsir", to wit, "a fish always stars getting rotten from the head".

Viewing this in the prism of political leadership, it stands to reason that a president who, himself, is neck-deep in acts of unbridled corruption, will have absolutely no testicular-fortitude to crack the whip, when his appointees engage in same acts. This therefore explains why corruption in political officialdom has attained astronomic proportions under the current NDC maladministration.

There is hope for the future

But my simple message to the good people of Ghana, particularly undecided voters, to please be assured that there is surely hope for the future, and that, not all those in politics are thieves. Also, my sincere appeal goes to a section of Ghanaians who are of the view that, "all politicians are the same" so they are no longer really "bothered about decision-making processes of our country".

My fellow Ghanaians who might presently be sitting on the fence, is-à-vis decision-making processes of our country, should be reminded of these words of Pastor Mensah-Otabil that "It is very interesting that many people who step into the corridors of power are not fit to walk in those corridors.

"People who influence our world mostly are people who have no business influencing anything because they are not good examples themselves.

"Many of those who determine how we live our lives have been failures in their own lives".

Indeed, there are still selfless, dedicated and patriotic members of Ghanaians society who are desirous to assume public office, to genuinely render service to the people. Such individuals are not driven by hunger-pangs of the belly to seek office. And personally, I have been close to one of these individuals, in the person of Nana Addo Dankwa Akufo-Addo.
The man epitomizes decency, patriotism, selflessness, humility and handwork; and above all, he is excessively blessed. These attributes of the man is what emboldens him to shout over the roof-tops that "I AM NOT CORRUPT, HAVE NEVER BEEN CORRUPT, AND SHALL DEMAND SAME FROM MY TEAM". The man has been making this proclamation for ages, and till date, not a single soul has had the guts to challenge him with evidence to the contrary.

On the question of him being BLESSED; this has actually been manifested in many ways:

1. Someone falsely accused him of passing-water near a mosque somewhere in the northern region, and the person died of urine retention.

2. Someone falsely accused him of killing his wife, and the wife of this person died mysteriously.

3. Someone falsely claimed he suffered from heart problem, and the person died of heart attack.

4. Some riff-raffs sat in studio of a renegade radio station to falsely insult him, and these vagabonds ended up in jail.

But what actually is blowing the minds of the entirely nation,presently,is what NDC FOOL-soldiers tried to do to, as usual, chip-away the man's impeccable dignity, outstanding personal integrity and matchless amount to divine grace upon his life.

The Kalypo Calypso

Now, there is this picture of Nana Addo sipping Kalypo, taken as far back as 2012, suddenly popping-up on social media, with expressed purpose to making mockery of him. The plot certainly came from the quarters of NDC vile propaganda machine.

But what these NDC riff-raffs tend to be oblivious to, is the fact that, indeed, "WHO JAH BLESS,NO MAN CURSE", and that, evil plots against a righteous man, will always bounce back as poisonous arrows and hit you in the heart. It all began as the usual NDC scorn on him, but it has turned out to be Ghana's spectacular business promotion drive, resulting in dramatic boost in sales of this product.
And it is for this reason that, John Mahama advertised the enterprise of a young shoe-maker, and the youngman's business suffered a serious growth setback. He again advertised the so-called piggery of a Muslim lady, and all the animals died subsequently.

Similarly, Himself and the wife advertised Ghana's 'Golden Tree' chocolate, and the company was shutdown with over 400 workers being laid off.

But Nana Addo Dankwa Akufo-Addo takes a sip of kalypo, and the whole country has exploded in a Kalypo Calypso frenzy, with its resultant boom in sale of the product.

Evidently, when Nana Addo Dankwa Akufo-Addo becomes the president, all he needs to do is to travel to every district of the country, sample whatever is locally produced there, and the policy of one-district-one factory will easily be actualized.

This indeed, is the evidence of a personality with God's favour mightily upon him, and for that reason, whatever he touches turns into 24-carrat golden gold. On the other hand, whatever John Mahama touches turns into ashes because the devil lives in him.Indeed,when the wicked rule, the people mourn; but when the righteous rule, the people rejoice [Proverbs 29:2].

I have been offered the opportunity by Nana Addo Dankwa Akufo-Addo, to be closely involved in this year's electioneering campaign; and from what I've personally experienced, and indeed continue to experience, as we traverse the nook-and-cranny of our country, even if NDC engages in the usual electoral thievery, NPP will still be victorious because the margin of NDC's defeat will be so massive.

Indeed, I am not, have never ever, and will never ever be complacent, as we go into the 7th December, 2016 general elections; and I urge all party supporters who are working tirelessly, often with their personal limited resources, to please never be discouraged, but persevere until the ultimate goal of redeeming our dear country from the hands of these NDC socioeconomic gangsters, is achieved.

Unquestionably, we serve a living God; and our unceasing cries for redemption will never go unheeded.

Writer's e-mail: justnoff@yahoo.com