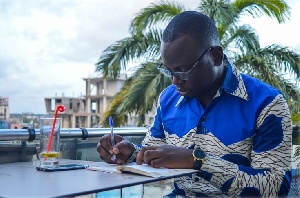 Dear Kwame Nkrumah, As custom demands, let me first show my gratitude on behalf of the student body for the good memories and legacies you left us with.
It is that time of the month when you become busy even in your tomb reading letters since Ghana and Africa for that matter is inching towards March, 6. Hence, it will be difficult to gain your undivided attention also because I may not match the many fine calligraphies put together by nationalists for your read. However, I write as a grandson who now leads your students. Kindly spare me two minutes of your reading time.

Kwame, I extend my warm greetings from the 32nd Gamer Abdul Nasser Road specifically the new cement structure located few meters from the main building you left behind (now the Administration block). A place where there seem to be a beautiful euphoria and patriotic gossips about how exciting you would be in your grave should you read this letter.

As a great grandson, I think our list of invitations to this event wouldn't be complete without a special hand extended to you in the grave. This is not to undermine the potency of the wall gecko and its ancestral spirits that patrol my office every day eaves-dropping on conversations and arrangements pertaining to the celebrations. I am sure you might have heard from them already that the celebration is due October, the same month your vision was manifested into a physical edifice. So beyond this invitation, I shall use this opportunity to also ask for a favour from you.

One of your sons, Ibrahim Mohammed Awal who has risen to the office of the Business and Development Minister under the present government led by another grandson, Akufo Addo is expected to grace the launch of this pomp on March 1. I ask that you grant him the wisdom of a political farther to contribute meaningfully to a multimillion dollar fund to be established to herald the development of our school.

Yes Kwame, the generations that came after you saw the need to shape your ideological and emancipation motives for establishing the school from being a mouthpiece of the government; to a more professional institution who churn out fine journalists and public relations practitioners on whose shoulders the warlords of our nation go to wage battle in every sector of the palace, be it anti-corruption, journalism, leadership among others. Today, the entire nation celebrates with us because as you envisaged that our beloved country could not have made such momentous strides without this building put up in 1959.
The fund is therefore to aid expand the capacity and infrastructure of the institute. The endowment fund shall be committed towards the building of an ultra modern digital media hub. In this facility will be a well-equipped studio , an e-library and high tech audio-visual centre. We seek your blessings on this fund; and a touch of your hands in order for donors to come to our aid. History has it that, you did it with the Akosombo dam. Do it with this fund also!

It has become more pressing due to that fact that our sixty years of promoting communication excellence in Ghana after being used as a tool for independence hasn't been celebrated enough. Indeed, you conceded in many of your speeches whilst alive that the media remains a pivotal tool for the success of Ghana; the story hasn't changed; even more has been the urgent need for more freedom of the media to harness our full potentials as a people.

But Kwame, we are set to meet up in a 'consolidation ceremony' with two like-minded institutions – the Ghana Institute of Languages (GIL) and National Institute of Film and Television hopefully by end of this year. And as steps towards this, a new draft act and statutes will be produced to accommodate all three bodies. This is expected to usher us into the promise land you foretold of us located at North Dzorwulu. My leadership may not benefit from this new street liaised with loamy soil but I am excited to have witnessed and taken part in its fruition.

Political Father, I don't know how you might take this, but these changes would also reflect in a new name to be conferred on us. Whether the Accra Metropolitan University; University of Journalism, Social Science and Technology or the P.V Ansah University, I am not certain yet ; but one thing is for sure- it wouldn't bear your name.

I hope I am not leaving anything out but I am sure your ears and eyes continue to be with us and to monitor our strides as the founder of this great land. Least I forget the one overseeing all these massive transformation is another patriotic son, Professor Kwamena Kwansah Aidoo who took over barely six months ago.
You must be proud of us sixty years on. We have practically dominated in all sectors and even extended our influence off the shore of the country. Our products continue to identify the under-privileged and sectors with lesser attention to raise concerns at the corridors of decision-makers. For those who decided to pursue to eradicate corruption are doing well and every now and then exposing the dark sides of society for retrospection. Whilst we enjoy the praises of our incredible role in Ghana's democracy, we are meek to also say 'mo ni yor' to you in your grave.

Now to my request Osagyego. Leadership among students has contributed significantly to this jubilee success. All student leaders who have come before me did their best to ensure stability, accountability and interest of students. My tenure has not been anything different. My prayer is your spirit guides us and mentors us. Let us conceive some of your giant leadership vision. And to all old students who were leaders, continue to provide visionary company even as you touch their hearts to return home to build an alma mater.

In one accord, we sing the lyrics of our anthem that reminds us of the passion and responsibility bestowed on us by our society. In unison we respond to the call to serve our societies and our nations. Celebrating our past, inspiring our future!

Your legacy lives on Kwame ; GIJ is 60!

Yours Faithfully,
Emmanuel Kumah

A great grandson

(GIJSRC President)