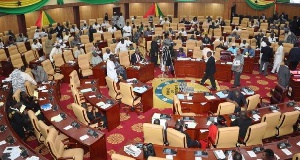 By Cletus D Kuunifaa
It is baffling how our ignorant parliamentarians are still allergic to the new world information order and as a consequence of which they refused to pass the RTI bill into law. The reasons adduced for the non-passage of the bill are wholly lacking in validity. Not for once, twice, but for several times, yet another opportunity to democratize information has been wasted.

Their misgivings and convictions are deeply rooted in greed, and at worst, are politically motivated. For them to pass their emolument bill which was rushed through parliament without a hitch as opposed to the unintelligent parliamentary blocks to the RTI bill is a testament to their unpatriotic behavior and their penchant for greed and selfishness.

For them not passing the RTI bill that will deliver transparency and check corruption for good governance, their failure to do so will be cast on a political marble in the political history of this country as the most greedy, wasteful parliament of all time. The non-passage of the RTI bill into law before the rise of parliament is a dent on our democracy and these guys must be ashamed of themselves.

It's been the usual blame game and buy-time-attitude emanating from these self-serving clueless selfish parliamentarians. Well, for the records, we have an unchecked box for instilling transparency and fighting corruption in the country after the failure to pass the bill into law.

What is that we lacked in parliament to pass the RTI bill into law? Intellect, intelligence, patriotism, or honesty? The way that we play politics with very crucial issues in this country is so tainted with bias and that is very polarizing. It appears as if people go into politics for the sake of making money and not with the intent of serving their country and communities.

The idea of democratizing information is to make information accessible by passing the RTI bill. Globalization and the building of knowledge societies demand higher access to information. Besides investing in appropriate infrastructure and facilitating media literacy, Ghana must also ensure better access, availability and quality of information to her population.
Whilst several countries have taken the necessary steps to democratize information by passing Freedom of Information Acts (FOIA), Ghana is still lagging behind to foster a role for her citizenry to be involved and be engaged in the democratization of information to ensure easy access to information for civil and political participation.

It is my fervent hope that the incoming parliament will get this done once they are sworn in. I cannot stress enough that access to information and transparency should be considered a vaccine for ensuring good governance and Ghana must gear up for this vaccine to ensure accountability and prevent corruption.

We already have the right to information enshrined in the constitution and the RTI law will only operationalize our constitutional right to information under article 21(1) f of the 1992 constitution. When passed, it will consolidate the rights of journalists and the public to access information from government officials and public institutions without hindrance. But, the way things stand now, parliament is depriving us of our fundamental human right by not making the law operational.

Ghanaians deserve better and somebody must tell us what the hell is going on about the bill, now!

Cletus D Kuunifaa TMC Group Can be contacted at: dipnibe@yahoo.com, dipnibe@gmail.com or follow him on twitter@ckuunifaa