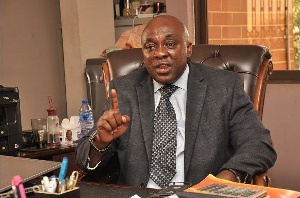 Although interactions between the two political giants in the country seemingly grow more rancorous by the day, owing to an ignoble tussle for supremacy, what triggered Minister Carlos Ahenkorah's outrageous outbursts on Honourable Ablakwa on that fateful day in Parliament still remains an enigma (See: "Ablakwa still traumatised by Carlos Ahenkora's attacks - Sam George", ghanaweb.com 26th December 2017).
The minister's action is not a quotidian feature of our politics. No wonder some MPs are as befuddled about it as non-MPs. Verbally charging on a fellow MP constitutes an affront to our democracy and our constitution that obdurately props it.

Such cantankerous tendencies have the potential of breeding enmity among our lawmakers, thereby rendering Parliament somewhat dysfunctional. Certainly, turning the august house into a horsewhipping arena will not augur well for us. Needless to say that the sanctity of the house must be maintained.

More importantly, Minister Ahenkora's horrendous outbursts smack of a tacit approbation to corruption on his part. It appears he has something to hide.

If he has nothing to hide, then he should say yes to probity and accountability. The overriding need to prevent corruption was one of the reasons Ghanaians voted for people from different political parties; to the extent that some of us went the "skirt and blouse" way.

That is, voting for Party A's presidential candidate and Party B's parliamentary candidate. The variation in party representation in the august house is a testament to our determination of keeping the government clean and incorruptible. We have an institutionalised and robust system that puts the burden of defence, if not proof, on every government official to show that his/her work is devoid of corruption.
Any official who fails to explain that he/she did a clean job is presumed to be corrupt. No one should be under the illusion that we will be slack in checking such wrong-doings.

For us, corruption is driven by human nature and greed, regardless of the party the official belongs to. As such, it is worth remembering that it is only through such checks by MPs and other officials that Ghana could be saved from the shackles of corruption.

The implication is that the best way to fight corruption is from the top. This Chinese proverb is enormously illustrative: "If the top beam is askew, the bottom beams will be crooked". What this means is that any country that seeks to fight corruption without tackling it first from the top is flogging a dead horse.

Our efforts at fighting corruption will be fruitless and worthless if the activities of those at the helm of affairs are not subjected to an untrammelled scrutiny.

Being loquacious about commitment to fighting corruption (while refusing to check the activities of MPs and ministers) is one thing, and essentially putting the requisite structures in place to check it is another. Thus, all government officials must be prepared to answer questions in all their official endeavours.
They should never have the egregious perception that because Ghanaians put them there, whatever they do and say will be supported. There is no more room for impetuous approval of the actions of officials with the malicious intent of concealing the truth through vituperative attacks on other officials from the other side of the political divide.

If Honourable Ahenkora really wants to help Mother Ghana to develop through the discharge of his duties as an MP and at the same time as a Deputy Minister, he should know better and desist from such an inexplicable aberration of verbally attacking other political colleagues who attempt to fight corruption.

That is the only way to convince us that he has nothing to hide. All Ghanaians should support the crusade to fight corruption from the top, if our aim of getting to the desired destination is to redound to the amelioration of all Ghanaians.