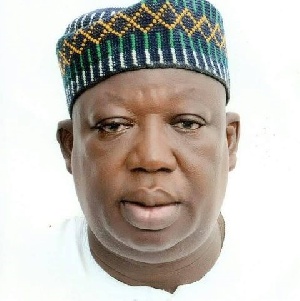 Prince Bagnaba Mba, President of Forum for Equity, a Ghanaian human rights organisation has called on the leadership of Parliament to provide the financial expenditure on what became known as the 'cash for seat' committee.
"Ghanaians want to know, because it is the taxpayers' money, and for some of us it was needless, but we still want to know how much was 'dissipated' on the sittings, transport, sitting allowances among others."

Mr Mba, who was speaking in an interview with the Ghana News Agency on various developmental issues, said the international community had focussed on Ghana over the years on account of her democratic credentials and it was therefore unacceptable for some Ghanaians, including the legislature to pull a reverse gear on the onward march.

"Ghana has become an icon in terms of democratic dispensation, rule of law and good governance and it is therefore disheartening to make allegations that will end up drying the national coffers."

The Ministry of Trade, partnered event organisers, Millennium Excellence Foundation for an awards night that President Nana Addo Dankwa Akufo-Addo was the chief patron.

After the awards, Mr Muntaka Mubarak, Minority Chief Whip in December, 2017 alleged that the Ministry charged between $25,000 and $100,000, to enable expatriates to sit close to the President at the awards ceremony.

Mr Mubarak said the fees charged at the Ghana Expatriate Business Awards were not approved by Parliament, adding that the monies were also not accounted for in the Internally Generated Funds of the Ministry's accounts.
The allegation was further reinforced by Mr Samuel Okudzeto Ablakwa, who suffered verbal assaults from Deputy Minister for Trade and Industry, Mr Carlos Ahenkorah, who later apologised for his action.

The Ministry of Trade said it played no role in determining prices for seats at the event, and clarified that it only facilitated the implementation of a new initiative by the Millennium Excellence Foundation.

But the Ministry after an order from the President to probe the matter clarified that an amount of GH¢ 2,667,215.00 was realised from the event.

The organisers of the Awards had also explained that no one paid to sit close to the President, and that the amount was raised from sponsorship through a fundraising at the event.

Parliament subsequently formed a five-member bi-partisan committee to investigate the matter.

The Committee held several public hearings and a few in-camera sessions that featured all parties named in the allegation, and those who made the allegation.


At the end of it all the Ministry and the Ministers were exonerated from the allegation, which Mr Mba said was an exercise in futility and should therefore make Parliament accountable to Ghanaians.

He said Ghana had gained an enviable reputation over the years and people who had nothing to offer for her advancement should not also rewind the clock of progress.

He appealed to the Minority in Parliament to also be constructive in their criticisms by providing alternatives.