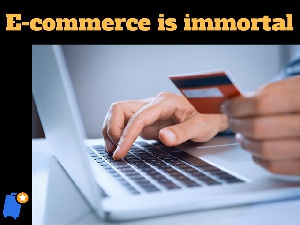 Human as we are, we are born and we die. So do plants and animals. In fact, you may struggle to name any other thing that was born but never dies. As scary and distinct as it may sound, immortality is a good thing in most cases and can be to our advantage.
Several years ago, could you even imagine sitting in your home or office ordering for your next meal and getting it delivered in a few minutes at your doorstep without physically entering the restaurant? Did you even picture booking your hotel and flight in Africa by just going on your phone and checking out all the rooms, facilities, travel dates, availability and prices? Did you even consider buying a house, car without physically seeing them? This is the beauty of e-commerce. Technology and internet has made it possible for us to do this with ease and so much comfort.

What this means however is that, the ancient myth called e-commerce has come to stay. So much that, it is believed to be immortal. In effect, experts believe e-commerce is immortal! Jumia Travel, Africa's leading online travel website which forms an integral part of the Jumia Group (Africa's leading e-commerce website) looks to examine this assertion.

E-commerce grows with every development in technology - Just like a twins, e-commerce and technology grow together. With every advancement in technology comes a giant development in the way we do business online. First it was computers, then came the internet, now we have smartphones, laptops and ipads. All these have facilitated the smooth running of e-commerce. What comes next? We still await that but one thing is for sure, so long as technology exists, e-commerce will never die.

Business never stops - To live happily, need to buy. This also means that we need to sell. Without selling, there is no buying and this is what we term as business. The old, traditional ways of buying and selling although still operates, is nearing extinction. Although we cannot immediately eliminate this, we all acknowledge that nearly everyone is now doing business online. This means that, to remain relevant and in competition, you need to be online as well and do business there. This creates an everlasting need for e-commerce. How then does e-commerce die? Probably when we stop doing business entirely. When will this happen? Your guess is as good as mine.
Time no dey! - In Ghana, this quote is gaining popularity for various reasons. ''Time no dey'' effectively means '' There is no time''. This term is widely used to stress the fact that man has inadequate time to undertake all the activities expected of him hence the need to act now. If there is insufficient time, then why waste the little we already have? Today, many people would rather book their travel online than go back and forth their future destinations looking at different options. People would rather pay for a service or order food online than carry large sums of cash into a bank or enter a restaurant respectively. E-commerce saves time! If this is widely accepted, then truly e-commerce has come to stay and will never die. In the past, time was of great essence, today it is of greater essence. In the future, it is going to become the most expensive abstract commodity because it saves cost as well. To adequately prepare for such a period, it is imperative to protect what we have. E-commerce is that saviour when it comes to saving time.

Not limited by geography - The world is already too complicated with so many things to do and so many processes to follow. What makes it more complicated is the fact that we have to deal with limitations on almost everything we try to embark on. One limitation that cuts across almost every sector of human development is geography. You may be in Taiwan needing something in Ghana or even in Accra with the need for some item or service from Takoradi. Without technology and e-commerce, you are stuck!. How would you see it, get it and pay for it? The answer is simply e-commerce. This wonder of the world is not limited by geography. Wherever you are in the world, you can do business online. You can buy, sell, send, receive and enjoy products and services across continents, countries and regions. It is so powerful that you can be in Europe and find hotels, flights in Ghana by just a few clicks on your computer. What makes it better? You can receive the item safe and sound without having to travel to the country where you bought the item from. Once again, ask yourself, will e-commerce die?

Everyone is online - Well, if all the reasons stated above are not enough to convince you about the immortality of e-commerce, this last one should. Before you even start smiling, go back on your smartphone and check if you have whatsapp, instagram and facebook. If you have any one of them, then on to the next question. Have you seen any advertisement on any of them before? Or have you put up any item for sale on any of them before? You have surely received payments via mobile money or other electronic payment platforms. This only shows you that, nearly everything is being done online and business in general is drifting towards an online field. Nearly everyone is online for one reason or the other and that represents the single biggest place to reach customers as well as sellers. With projections expecting one out of 3 persons to be online by 2050, e-commerce isn't going away ever. It will surely never die.

Credit: Bennet Otoo, Jumia Travel