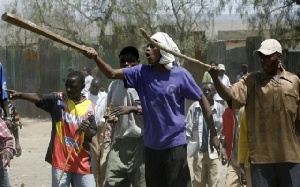 By Dr. Michael J.K. Bokor Sunday, November 27, 2016
In reference to the warning given by the US Embassy in Ghana to US citizens living in Ghana "to be cautious of their movements around the country as the December 7 presidential and parliamentary elections draw nearer" (See https://www.ghanaweb.com/GhanaHomePage/NewsArchive/US-warns-citizens-over-possible-poll-violence-in-Ghana-490183), I want to say that no democracy anywhere can survive on the wings of anarchy, intolerance, and plain violence. Many interesting issues arise from the warning given by the US Embassy to the US citizens in Ghana (as I suppose other Embassies would have done by now). So, what is it like for Ghanaians themselves?

Folks, in a private conversation with one of our friends in this Facebook circle, she said "For us, the ones who love Ghana hope for none violence. That's my fear". I immediately got piqued and responded as follows:

Non-violence is an integral aspect of democracy. Having participated in political activities in Ghana over the years and knowing very well the situation existing in the country today, I will be the first to go for a Presidential Candidate whose public posturing and utterances demonstrate maturity in terms of national integrity, peace, and stability—a Presidential Candidate who doesn't see the Presidency as an entitlement or birthright to sacrifice everything and everybody to access.

Take it from me that of all the Presidential candidates lined up for Election 2016, Akufo-Addo and Nana Konadu are the worst—viewed against the background that I provided above, especially within the context of where they have emerged from to be seeking voter support to actualize their over-ambitions. They know what is stacked up against them but are deploying forces to tempt Fate. Such manouevres threaten national peace and stability.

Flashback: Before Election 2012, the Ghana Peace Council and the Asantehene set in motion the agenda for peace and managed to get President Mahama and Akufo-Addo to sign the accord on peace. What happened? For Election 2016, no such move is being made. President Mahama is on record as saying that he will accept in good faith the outcome and that he is for peace, national unity, and wellbeing. He has persistently spoken to that fact. Has the same come from Akufo-Addo? No!!! Instead, he is constantly mobilizing his NPP followers to do things and act as if victory is already theirs to grab at the polls.
Their public posturing threatens the Electoral Commission, the NDC, and even their own members dissenting against happenings. What haven't they put in motion to confront the Establishment? By going overboard to recruit mercenaries to train their activists on how to cause confusion and profit from it at the polls, they have already set the stage for anarchy.

Clearly, such a political camp can't claim to be peace-loving. It relies on intimidation and all kinds of subterfuge to elbow its way to power, which won't work well for Ghana's democracy. Truth be told, all that Akufo-Addo is leading the NPP to do is ridiculous, even if nefarious and threatening to our constitutional democracy. I don't want to talk too much here; but let me make it clear that the wind that he is using the NPP to sow will bear a whirlwind that will sweep him away.

At his advanced age, he should have been more circumspect in searching for the political power that has eluded him all these years. If he has any iota of propriety left in him, he should just consider historical evidence of leaders in their dotage who end up not knowing when they are being led to the gallows.

When I consider Zimbabwe's Robert Mugabe and why he has become such a helpless trollop, I laugh out really loud. But his clinging on to power endangers the country more than expected. There are many like him who put themselves where Fate won't support them. In the end, their sorry state has added a lot to the annals of history.

No matter what the NPP's Akufo-Addo thinks he has to offer Ghanaians, he needs to know that it is always good to hasten slowly ("Festina lente" as it is said in Latin). Too much rushing to confront the system leads to unexpected disaster for the prime mover. I think that he is at the point where his own fault lies in himself but which he cannot see.
Had he been circumspect to reflect on issues, he would have known that his own father accomplished a lot and is respected by those giving him credit for all that he stood for. He didn't have to move heaven and hell to do so. To the best of his ability, he raised this William Nana Addo Dankwa Akufo-Addo to step in his shoes without much ado; but for his own miscalculations, he missed the mark.

The traces that he has left behind where3ver he's been expose him as such. Taking advantage of the weaknesses of the NPP structure to contest the presidential Elections for three consecutive times won't necessarily help him be Ghana's Messiah to solve the existential problems that he is leading his team to expound but not provide any adequate solution for. I wish that there would be an art with which he would construct his Fate at the end of the political journey into nothingness.

To help him fashion out how to handle the situation, I refer him to the gripping statement made by the late Gen. Kutu Acheampong, the mastermind of the coup d'etat that cut short the rule of the Danquah-Busia political family on Thursday, January 13, 1972. When he was neutralized and prepared for the firing squad by the Rawlings-led Armed Forces Revolutionary Council on Monday, June 18, 1979, he said: Ghanaians are difficult people", a re-echoing of the sadness expressed by the Great Osagyefo some 13 years earlier that if he had known that it was milk that Ghanaians needed to appreciate his good works, he would have made it flow in the gutters of Accra". But, alas, the harm had already been done.

Such is the alarm that desperate politicians in our part of the world set. Having analyzed happenings at the NPP front and within the surrogates that it has set up to fight its cause (be they in the manner of the mushroom political parties headed by Nana Konadu Agyemang Rawlings, Paa Kwesi Nduom, or rejects like Kofi Akpaloo and Odike), I am more than persuaded that the stage being set by Akufo-Addo is nothing but that which is against the peace and progress of Ghana. He will lose again but try to move into top gear to flex muscles. Such a move won't ensure national peace and stability for development to serve the needs of the people. Unfortunately for him, the end will be swift and decisive. No more!!

I shall return… • E-mail: mjbokor@yahoo.com • Join me on Facebook at: http://www.facebook.com/mjkbokor to continue the conversation.