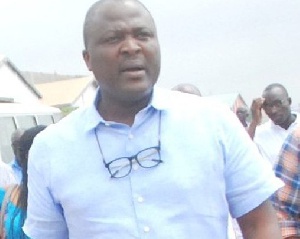 This promises to be one of my low grade articles; the quality is not going to be that high. I will tell you why, next week. This week Ibrahim Mahama has occupied my thoughts, and I just feel we should allow him to feel that he can thrive in Ghana, regardless of what we think he has done in the past.
As usual, my views might not be in sync with yours, but I believe in mine, so believe in yours too. I believe that no one should be made to feel, that, power is a tool to destroy others. I have had the occasion to condemn Ibrahim Mahama, in many ways, because I believe he was too powerful and greedy during his brother's reign, but that does not make him one less a Ghanaian.

Yesterday some irate youth of Nyinahini in the Ashanti Region were reported to have besieged the District Assembly to prevent Engineers and Planners (owned by Ibrahim Mahama) from their mining operations in that District.

Today I have seen a statement from the EPA that shows that the Exton Cubic Ltd, which is partly owned by the wife of Ibrahim Mahama, does not have permits to operate. The youth of the town have threatened to cause mayhem if Engineers and Planners, was allowed to operate.

My worry is that the EPA would never have come out to denounce Ibrahim Mahama, even if he was conspicuously wrong assuming John Mahama was still in power. This is a testimony of how weak and compromised our state institutions are, in this country.

The Exton Cubic applied for a mining license on March 29, 2016, to undertake prospecting in three concessions, and these licenses were all approved on June 7, 2016. How many individuals or companies in Ghana could have been able to obtain such licenses within such record time, if that individual or company was not holding a political influence?
I laugh whenever I hear international agencies advocating for bilateral programs to be done through national institutions, for the sake of impact. On the contrary, most Ghanaian institutions are embodiments of the impediments on the way of the very development we seek. The institutions are themselves the tools in the hands of political activists for the destruction of businesses in this country. I don't support any entrepreneur becoming a victim of political change, it is archaic, and it runs counter to the very reasons for political change.

In the year 2006, when I first took the decision to leave the employment of Barclays Bank, the one business person that I admired most was, my brother, Alex Afenyo-Markin. He was young, below 30 years, but he owned several businesses within his Excel empire; Excel this, Excel that, he was on his way to becoming a flagship entrepreneur.

At one time whiles I was driving to Kumasi, I think through Yamoransa-Assin Foso road, I had an encounter with his haulage trucks, about ten or so of them. These were brand new heavy-duty trucks that had caused so much traffic on the road, as they lined up to show off their slow speed.

The annoying part of it was that they would not allow my small Toyota Fortuner to pass them; for they kept their closeness, bumper-to-bumper, in meandering their ways through the curving forest roads, as they kept me thinking of the pride those Excel branded trucks held in me. The trucks caused me over two hours delay on that journey, but I did not fail to feel the inner pride and celebration, so much so that the journey eventually became too short for my liking. This was a private business person, but I saw Winneba in what I saw, the pride of the windy bay.

But for envy, politics of destruction, and vindictiveness, Winneba was on her way to producing the richest individual in Ghana, and beyond. Why not? If at the age of 27, you already have several scores of fleets of heavy laden machines, and you are speaking the language of millions of dollars, and you are still taking delivery of several more new trucks, what else can stop you?
But, by the time 2010 was over, Alex had lost all his businesses. The then new NDC government terminated all the contracts he held with the government, and brought pressure to bear, on other individuals to frustrate his business interests, even those that had nothing to do with the government.

So Alex lost all his contracts with the Awaso Bauxite, he lost his contracts with the Diamond Cement, his contracts with GOIL was gone, one termination here, one termination there, all was done, and the young man was thrown into $20million debts, plunging him into business oblivion, causing the employment of hundreds of persons.

I have met several high profile NDC persons who think that Ibrahim Mahama was a key factor in the party's loss of power. I don't necessarily agree with them. Woyome was my man. He took the election away from Mahama, and gave it to Nana Akufo-Addo, including the wide margins that travelled with it, he did it all, a massive work of attracting defeat while in government.

But we cannot continue the same way. When I went to the polls to vote for Nana Akufo-Addo, I made a statement of change, that everything that we thought was wrong, was wrong, because it was wrong. My idea of change does not include vengeance, it does not include vindictiveness, it does not include the selective application of the law, and it does not include the annihilation of people who did some wrong while they were in power.

The change I voted for includes treating everyone fairly, and letting every Ghanaian believe in himself, and in the protection of his business interests, regardless of his political affiliation. I was unhappy when it was done to Alex Afenyo-Markin, my kingsman, so I will not be happy if it is done to Ibrahim Mahama.
If we are stopping the operations of Ibrahim Mahama, then I suggest we have to suspend every single new mining concession permit, carry out an audit of all mining concessions given within the frame of time that we believe the processes were flawed, and once we are done, let our report tell us who can carry on with his operations, and who cannot carry on with operations, bearing in mind that the constitution enjoins us to be fair to all manner of persons at all times.

This approach of responding to agitations, agitations that might have been politically colored, was not good in the past, and so it cannot be good today, and it never allows us to treat everyone fairly. There may be several other companies holding similar, so called illegal, concessions who are operating without any problems, because no concerned youth association has raised any issues. That is not a fair way of treating our citizens,that one is free if no one raises an issue, even if you are wrong, but one is in trouble if someone raises an issue, even if you are right.

So, Nana Addo, I voted for a change, and I don't want my vote for change to be in vain, that is why I keep reminding you of the reasons I voted for you. I did not vote for you because of the one something, and one something. No! I will like to see that there is a change in our justice delivery system, that there is fairness, equal chance in the distribution of the national resources, and in accessing opportunities, those are the changes I voted for, that I can continue to belong to my political party, and still see you as my President, I can continue to wear my party attire, and still see your government as mine, then I can have faith in my homeland Ghana.