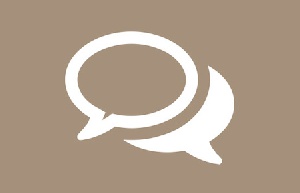 A person can see the front side of his or her body but cannot see the face. This is because it is not possible for the face to turn to look at itself.
A mirror becomes a useful tool that helps a person to see his or her face. Another person can tell a person how his or her face looks like.

The same principle works when it comes to a person's character or demeanour. It is often not easy for a person to see or tell exactly how his or her character or mannerism is.

This happens, especially, when a person's behaviour becomes questionable. It is also not easy for a person to admit his or her faults.

Dispassionate self-psychoanalysis can be useful – if the person knows how to do it. Self- analysis can provide a window into a person's character.

Otherwise, one needs to consult a psychologist or a psychiatrist.

National character is the subject of this article. It takes a second party, in this sense, a person from another country to show or explain the character or psychology of a nation.
A national with requisite knowledge and experience can spell out the character and mannerism of a nation. But he or she may not be believed or he may be biased or influenced.

Ghanaians were fortunate when in January, 1978, Mrs Elizabeth Clare Prophet, leader of the Summit Lighthouse, a non-denominational religious and philosophical organisation based in the United States, made an eight-day visit to Ghana.

From January 14 to 15, Mrs Prophet spoke at a conference at the then Kwame Nkrumah Conference Centre (now Ghana's Parliament House) in Accra on various topics including: "Psychology of the New Ghanaian".

Mrs Prophet told the conference that her study of the psychology of the Ghanaian had revealed that there were many in many positions of trust and responsibility who had "great mind power" but failed to develop or awaken their soul – the source of wisdom, prosperity, peace, harmony and God power.

Self-deception, she said, was another trait she noticed in the Ghanaian. This trait is coupled with the propensity to tell lies, to cheat others, to exaggerate in order "to make the outer man look good", to please, "to quote figures that are not exact", to smuggle, to profiteer, to black-market.

She intimated that the situation of the country, especially in respect of national character and mannerism, demanded unity and self-transformation at all levels of society.
In February, 1978, another religious leader, Dr Morris Cerullo, President of the World Evangelical Movement, was in Ghana and conducted a four-day "Healing the Nation Crusade" at the Independence Square in Accra.

Like Mrs Prophet, Dr Cerullo gave a peep into the Ghanaian character and mannerism.

During one of the sessions, Dr Cerullo paused for a while and asked: "You have juju and you go to church? Why do you deceive God? God knows the first name of everyone present here."

He said God forbade lying, bearing false witness, stealing and committing murder.

In the November 7, 1984 issue of the Daily Graphic, appeared a letter passed on to the Ghanaian mass media by the Office of the Provisional National Defence Council (PNDC).

The letter was written and addressed to the PDNC Chairman, Flt-Lt Jerry John Rawlings by a German, Iris Wilke, from Hamburg, Germany, noted, among others, that "To boldly confront self and ask, "Who am I?" takes a lot of doing. Yet, when every Ghanaian can push that ID aside and lay bare that nakedness of a new-born baby, then his lone-self will remain.
"Here stands the threshold of evolution to change the attitude of a thinking process."

On the economic and financial side, it took the Swiss Ambassador to Ghana to tell Ghanaians the true nature and state of the Ghanaian economy.

Mr Gerhard Brugger told a business breakfast meeting in Accra on October 15, 2015, that high cost of doing business in Ghana continued to make Ghana an unattractive spot for foreign investors.

He mentioned among others, difficulties in clearing goods at the Ghanaian ports and in the acquisition of land; the power crisis and high interest rates as some of the issues obstructing foreign investors from coming into Ghana.

Yet, leading members of the National Democratic Congress (NDC), including President of Ghana, John Dramani Mahama, do believe and have said on many occasions that the NDC would win the 2016 elections "one touch" because of that party's track records.

In an article, "NDPC's 40-year Plan, What Plan?" published in the Daily Graphic edition of October 19, 2015, Dr Akwasi Osei, Chief Psychiatrist of the Accra
Psychiatric Hospital, wrote: "Our human development index. Are we going to Ghana @ 100 with the same mind-set and timidity wrongly called hospitality and tolerance; a people with the notorious "government property", "get-rich-quick", superstitious mentality, lacking in the culture of science? "We need assertiveness, meritocracy, not kleptokakistocracy composed of persons with pseudologia fantastica (pathological lies) that we have known over the years."

The various scenarios presented above point to a national psychology that is disordered or out of sorts.

I doubt if true democracy and rule of law can thrive in a disordered national psyche and whether conduct of free, fair and just general and presidential elections is possible in such a situation.

therson.cofie@yahoo.com