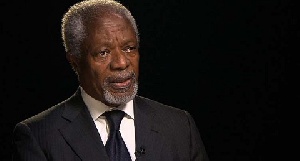 Mon, 21 Aug 2023
Source:
GNA
"To live is to choose, but to choose well, you must know who you are, what you stand for, where you want to go, and why you want to get there." That was Kofi Annan, former UN Secretary General in his commencement address at the Massachusetts Institute of Technology on June 06, 1997.
Kofi Annan always followed his inner compass and listened to his own drum. This compass led him to great achievements.

In the annals of diplomatic history, few names shine as radiantly as Kofi Annan's. As the seventh Secretary-General of the United Nations, his leadership from 1997 to 2006 left an indelible mark on global politics, peacekeeping efforts, and humanitarian advocacy.

Today (August 18), as we mark the 5th anniversary of his passing, which shook the world, we reflect on the legacy of this distinguished Ghanaian diplomat, a man who tirelessly worked to bridge divides, advance human rights, and champion a more harmonious world.

As a trailblazer for peace, Kofi Annan's legacy is intrinsically tied to his fervent pursuit of peace. From the Balkans to West Africa, he demonstrated unwavering dedication to preventing conflicts and resolving disputes through diplomacy.

His ability to bring warring factions to the negotiation table earned him admiration and respect across the globe. The power of his negotiation skills was unmatched.

It was remarkable and made apparent with his negotiation with Saddam Hussein, the late President of Iraq who he convinced in 1998 in Bagdad, Iraq, to accept international inspections of his palaces and to avert a war.  

Annan's visionary leadership extended beyond peacekeeping, propelling global development to the forefront. He ardently championed the Millennium Development Goals (MDGs), setting the stage for international cooperation to alleviate poverty, improve healthcare, and promote gender equality.

Though the goals' complete realization proved a challenge, Annan's foresight sowed the seeds for subsequent progress.
In 2001, Annan's tireless efforts were rewarded with the Nobel Peace Prize, jointly awarded to him and the United Nations. This prestigious accolade recognised his role in revitalizing the UN and his instrumental work in addressing the complex challenges of the modern era.

Career highlights

Mr. Annan joined the UN system in 1962 as an administrative and budget officer with the World Health Organization in Geneva.

 He later served with the Economic Commission for Africa in Addis Ababa, the UN Emergency Force (UNEFII) in Ismailia, the United Nations High Commissioner for Refugees (UNHCR) in Geneva, and in various senior posts in New York dealing with human resources, budget, finance and staff security.

 Immediately before becoming Secretary-General, he was Under-Secretary-General for Peacekeeping. 

Annan also served as Special Representative of the Secretary-General to the former Yugoslavia (1995-1996) and facilitated the repatriation from Iraq of more than 900 international staff and other non-Iraqi nationals (1990).

Diplomatic initiatives

Mr. Annan undertook wide-ranging diplomatic initiatives. In 1998, he helped to ease the transition to civilian rule in Nigeria. Also, that year, he visited Iraq in an effort to resolve an impasse between that country and the Security Council over compliance with resolutions involving weapons inspections and other matters – an effort that helped to avoid an outbreak of hostilities, which was imminent at that time.
In 1999, he was deeply involved in the process by which Timor-Leste gained independence from Indonesia. He was responsible for certifying Israel 's withdrawal from Lebanon in 2000, and in 2006, his efforts contributed to securing a cessation of hostilities between Israel and Hizbollah.

Also in 2006, he mediated a settlement of the dispute between Cameroon and Nigeria over the Bakassi peninsula through implementation of the judgement of the International Court of Justice. 

His efforts to strengthen the Organization's management, coherence and accountability involved major investments in training and technology, the introduction of a new whistleblower policy and financial disclosure requirements, and steps aimed at improving coordination at the country level.

Advancing UN Reform

Mr Annan, very aware of the need for restructuring within the United Nations, tirelessly worked to streamline the organization's management, enhance transparency, and improve accountability. His reforms aimed to strengthen the UN's ability to effectively address global crises and challenges.

 He was a constant advocate for human rights, the rule of law, the Millennium Development Goals and Africa, and sought to bring the Organization closer to the global public by forging ties with civil society, the private sector and other partners.

At Mr. Annan's initiative, UN peacekeeping was strengthened in ways that enabled the United Nations to cope with a rapid rise in the number of operations and personnel. It was also at Mr. Annan's urging that, in 2005, Member States established two new intergovernmental bodies: the Peacebuilding Commission and the Human Rights Council.

Mr. Annan likewise played a central role in the creation of the Global Fund to fight AIDS, Tuberculosis and Malaria, the adoption of the UN's first-ever counter-terrorism strategy, and the acceptance by Member States of the "responsibility to protect" people from genocide, war crimes, ethnic cleansing and crimes against humanity.
His "Global Compact" initiative, launched in 1999, has become the world's largest effort to promote corporate social responsibility.

KAIPTC celebrates Kofi Annan five years on

Indeed Ghana, Africa and the world has lost a gem, an incomparable leader and an extraordinary inspirer.

As a global leader, H. E. Kofi Annan was greatly dedicated and committed to ensuring that the human race had a fairer and a better place to live in this world. His sense of dedication and commitment to human rights, gender equality, the rule of law and sustainable development distinguished him during his career and leadership of the UN and after his retirement thence from.

"He was an exceptional achiever, a great motivator and a strong advocate and ardent champion of peace and security and sustainable development of Africa and the world," the Kofi Annan International Peacekeeping Training Centre (KAIPTC) said in a tribute to Mr Annan.

Maj. Gen. Richard Addo Gyane, the Commandant of the Centre, says because of his remarkable achievements, the Ghana Armed Forces named the International Peacekeeping Training Centre in Ghana after him in 1998.

The Commandant notes that his legacy is marked by his efforts to promote peace, development, and human rights globally.

As a son of Ghana, Mr Annan had a big heart and felt a special responsibility towards Africa. He was particularly committed to African development and deeply engaged in many initiatives, including his partnership with the KAIPTC on establishing the West Africa Commission on Drugs (WACD) to contribute to addressing the growing drugs problem in West Africa.
His works, values, and principles have had and will continue to have a great influence and impact on the work of the KAIPTC. As an outstanding leader, KAIPTC celebrates his achievements and will continue to exhibit his principles and values to contribute to peace, security and sustainable development of the continent. Kofi Annan's legacies will live on and continue to touch many lives and generations to come.

Conclusion

As the world remembers Kofi Annan's legacy, his impact remains palpable in the ongoing pursuit of peace, justice, and development. His ability to bridge differences and rally nations toward common goals continues to inspire leaders and citizens alike.

In a world still grappling with complex challenges, his legacy serves as a guiding light, reminding us of the potential for positive change when diplomacy, determination, and compassion converge.