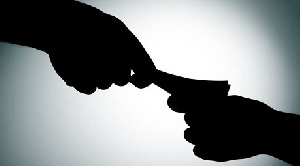 Weep not Rockson, over the frightening teeming self-made inhibiting problems confronting Ghana in particular, and continental Africa in general, for where there is a will, there is a way. However, the presupposing question is, do Ghanaians or Africans have the will to extricate themselves from their infatuated baneful corrupt practices, incompetence and their other numerously denigrating malpractices? This is where the problem lies! This is the issue to be intellectually debated and resolved by any drastic means possible.
From my personal observations and conclusions, Ghana as a nation and people are myopically wallowing in socio-economic stagnation all due to the incompetence and lack of farsightedness by not only the leaders but also, almost all of the citizenry. The love of corruption (abuse of power to enrich oneself, their family members or cronies) by most Ghanaians with the apparent display of cowardice and nonchalance by the majority of the citizens has empowered a few criminals to oppress the majority of the citizens to the detriment of our self-respect; costing us any would-be international recognition of the Ghanaian as a sensible human being.

Why do we seem not to have solutions to our man-made problems let alone, natural disasters? Did the Creator of the universe and everything therein, not endow us with wisdom and intelligence same or equally as bestowed on our contemporary whites? Were we not bestowed upon with unlimited potentials but just that we cannot sensibly exploit ours to the benefit of all, and to that of our nation and humanity? I can't just fathom how Ghanaians and Africans upon all our natural endowments, forests and you just name it, we have them, we cannot still develop our countries and human resources to any appreciable level.

Unfortunately, and to be honest with you and myself, everything clearly shows that the black man cannot manage their own affairs. We seem to have been born or created to be tails but not heads. No, we were created to be heads but just that we have allowed corruption to eat into the very fabrics of the Ghanaian or the African to rob us of our capabilities and senses to do anything sensible. While our leaders corruptly enrich themselves, instead of us taking a concerted stance against them, we rather allow them to fool us by dividing us to conquer. Are we that stupid if I may ask?

There must be a way out of this nonsensical dehumanizing attitude of the Ghanaian or African. We should not allow our attitudes to cost us our lives and lands. Because of our despicable corrupt attitudes, we are gradually consciously or unconsciously allowing foreigners, especially the Chinese, to come in not only to recolonize us but also, wipe us off in the end through all the contaminated foods and drugs they are introducing in the country of which Ghanaians are senselessly patronising them with glee. Our lands and river bodies, our major sources of livelihood and sustenance of life are under constant devastating attacks, yet we seem not to have a robust permanent solution to the problem but a politically-induced cosmetic one.

Although I have been admonished not to weep, I shall weep for Ghana, Africa and the black race. We are dangerously close to a cliff edge in the survivability of the African on this planet all because of our own deplorably short-sighted views bordering on fondness for baneful corrupt practices but nothing else. For all the dangerous foods and drugs imported into Ghana and found on our markets, coupled with the home-made fictitious and overly advertised herbal cum sexually-enhancing dugs, what is the nation's Food and Drugs Authority doing about them? Zilch! That is Ghana for you. That is the mentality of the Ghanaian leader for you. That is how the Ghanaian loves their living! Shame!!!

Until we take the bull by the horn, disabused our minds of our unfettered political affiliations to decouple ourselves from corrupt and criminal leaders and individuals, trust me, Ghana and Africa will be mired in a merry-go-round incompetence, ruinous corruption and underdevelopment. In Ghana, we love creating and worshipping human monsters by our dehumanizing submissiveness, cowardice, lack of courage and lack of farsightedness.
A few those that stand up tall to counter the abuses by our leaders and those who by virtue of their riches and positions have become human monsters to terrorise the nation and the people therein, are rather seen as disrespectful and the very ones causing problems in the nation. I find this assumption or belief a fool's view emanating from their abundance of ignorance.

Suggestions:

It is about time, if not long overdue, that the Ghanaian woke up to the looming dangers. Should we continually sit on our backside twirling our fingers, doing nothing but perpetually timidly dwelling in fantasises as though we are lost in the dark memory land, we shall sooner be overwhelmed by difficult to resolve diseases and premature deaths. Are we not frightened by the numerous deaths occurring in the country on daily basis? Do we care to know the causes of such preventable deaths? No! That is the mentality of the Ghanaian.

We had better support the few bold ones that have come out openly to declare their aversion to corruption by our political, civil service and traditional, leaders. Instead of supporting them, the cowards and the less intelligent ones in the society rather turn to heap insults on, and threats of deaths to, them. It is said, "You don't know the value of what you have until you have lost it". Do Ghanaians know the value of Rockson Adofo, the no-nonsense man who has taken the Asante monster who believes to wield all powers in Ghana on? No, they don't, until they start biting their finger in regret in future saying, if we knew, we should have supported him in his genuine fight against the usurpation of Kumawuman lands and money, by Asantehene Otumfuo Osei Tutu II.

Power to Ghanaians! Let us concertedly use the power vested in us by God and the nation's constitution to demand probity, transparency and accountability from our leaders and all those we entrust with power for our collective wellbeing.

Conclusion:
I want to know or ask, is His Excellency Nana Addo Dankwa Akufo-Addo's avowed determination and promise to fight corruption a mere political rhetoric? If it is not, then he is informed that corruption is same under his administration as it was under former President John Dramani Mahama, the self-proclaimed prodigal son staging a political comeback to the presidency. The police are still on the roads openly taking bribes from motorists to directly or indirectly contribute to the numerous road accidents in Ghana. Court registrars are still taking bribes or are being influenced to misconduct themselves to twist delivery of justice in our courtrooms. As I speak, the registrar of the Mampong in Ashanti High Court, one Mr Adams, is playing diabolic games to delay with intent to twist justice in the ongoing Kumawu chieftaincy dispute. Subsequently, I have written to petition some persons and organizations both nationally and internationally to sort out that problem intransigently maliciously being executed by the mentioned court registrar. If I don't see any action by those petitioned to stopping this malice, dismal and unprofessionally criminal attitude by the registrar within a month, I shall publish the petition sent to them and to whom it was sent, to prove to the nation if those in positions in Ghana are indeed serious about fighting corruption or they are merely chirping like hungry birds in the branches of trees; thus, their much touted fight against corruption is simply talk, talk and talk without any substance. Talk is cheap but I shall let them feel when talk should become an obligation to walk the talk!

Ghanaians of all rank and file should shed their mantle of cowardice, ignorance and support for criminals to put on the armour of courage, intelligence and wisdom to come out to audaciously support Rockson Adofo, Kennedy Agyapong (Hon), Hon. Martin Amidu (Special Prosecutor), Kwame Baffoe, alias Abronye, Rev. Kusi Boafo and a host of other credible persons in the society to liberate Ghana from her strangulating corruption masterminded and orchestrated by our politicians, Civil Service heads and traditional leaders.

I dedicate this publication to the everlasting memory of the late Opanin Kwame Basoah and Madam Awo Serwaah of Kumawu for bequeathing to me the love of humanity and dedication to be of service to my people and nation to fight fearlessly for the course of JUSTICE and PEACE.

Happy New Year to you all, fellow Ghanaians and the general public. Let us walk the much talk we've made, in year 2019. Promise me today, Sunday, 30thDecember 2018, that you will join hands with the serious few in the society to agitate for the liberation of Ghana from the wicked and corrupt hands of our political leaders, civil service heads and traditional leaders. We really want to see action not only by the Special Prosecutor but also, ourselves, in fighting to extricate Ghana from the ramifying dangerous official corruption.