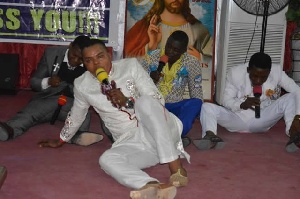 Recent happenings in Ghana have left me in a quandary; I really do not know where all of that came from. On Wednesday August 24, 2016, sympathisers and some members of the International God's Way Church besieged the Nima Police Station to demand the release of their spiritual leader, Bishop Daniel Obinim.
Interestingly Obinim had been arrested not for the flogging of his two so-called adopted children but for investigations into an allegation of collecting gold worth GH¢11.6 million to be "doubled". I am sure most of the persons there thought he had been pulled for questioning because of the flogging even though that had been done by the Domestic Violence and Victims Support Unit of the Tema Regional Police Service earlier.

Incidentally it would appear that the parents of the flogged children have also been adopted and live with the General Overseer, Obinim.

The crowd were defiant despite the police using a water cannon. Some had kept vigil at the Nima Police Station and followed his transfer to the Police CID Headquarters where they picketed. They chanted throughout the day calling him "Angel Obinim, a real man of God".

So what is it that would make adult Ghanaian men and women behave the way they did? It was for their saviour and they were there to defend him against enemies and saboteurs, said one young church member.

Hope lost
All over the country, there are so-called men of God who have built occult status like Obinim and are virtually worshipped, some of them foreigners who on a weekly basis are changing cedis into US dollars for export. People will do anything for them in exchange for the elusive word "hope".

For a country where superstition has more or less become a belief, people are held close as "hostages" accepting everything they are told without raising a finger. In the "Trials of Brother Jero," a play by the Nobel Laureate Wole Soyinka, the man of God would divide people into four groups; young women with no children are presumed as looking for children and or husbands, young women with children must have their little ones protected from evil spirits, older women come to seek protection for their grandchildren or daughters without children whose wombs have been seized by the devil and the men who attend the church mostly have no jobs and need one.

The charismatic churches in Ghana mostly will do anything to hold on to their congregation.

The preaching is mostly about protection from perceived enemies and evil spirits and prosperity. Holy water and anointing oils are sold at prohibitive prices; you wonder how many people get money to buy some of the many items that are sold regularly by the church. Consultation fees are charged if you have to see the church leader for anything. What has led to many people seeking solace in not the church per se but in these so-called men of God?

Hope is not in the air anywhere in Ghana. Life and life's choices have become so difficult that most people can only clutch on straws and believe what the preacher men will tell them. The word of God is compelling and laced with many nuances making the message even more so, in some cases even hypnotic.
If in addition 'miracles ' can be orchestrated then the acceptance and reverence become total. In a country where statistics state that unemployment is about 25 per cent but we know it is more like 70 per cent, where the next meal will come from is unpredictable and on a daily basis time just passes by; it is not far-fetched for women to become prayer warriors for their children, husbands and siblings and are made to blame whatever is happening not on policies of the government but on the machinations of the devil.

The human body's innate mechanisms prepare it for survival; what has been described as the flight, fight and freeze response. In the midst of any difficulty, one of these responses will prevail to maintain the integrity of the body. There is the outpouring of many chemicals or hormones into the blood that directs the appropriate organs of the body to take measured actions unseen by the naked eye. In life at the macroscopic level people in dire straits will do whatever it takes to keep life in as near a normal state as possible. Some of the activities will include praying for miracles, getting into occultism and consulting other spiritualists, moving out of comfort zones or moving back to better known terrains. It may include stealing just to get a meal and so many others.

In the developed nations of this world such as the United Kingdom they were able to turn such difficulties around for the benefit of all in society. Education was made compulsory and they saw to it that everyone went to school which did not end till after secondary school. Then they created the welfare state after the ground-breaking five ills Beveridge report in 1945. Today, children are provided support so that the nutritional status of every child born to that society is guaranteed. Nursery, kindergarten and school vacancies are assured.

Parents are housed when in extreme difficulties to ensure that not more than two person sleep in any room. Unemployment benefit is provided to make sure that the very basics of life are taken care of even when one does not have a job. All of these help to make life bearable. Hope is in the air and educated people do not need to delve into the spiritual realm for elusive solutions to life's challenges.