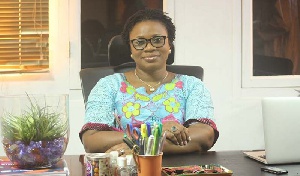 Feedbacks must be directed to padigogoma77@yahoo.co.uk
Nana Yaw Osei (Padigo) is a PhD Candidate in Psychology at Arizona, USA.

The 2016 presidential election in Ghana is very delicate for at least two main reasons. It is the first election after the disputed election in 2012 which ended at the Supreme Court. Secondly, the first major election of the new electoral commission's (EC) chairperson, Charlotte Kesson-Smith Osei.

The EC on Monday October 10, 2016 disqualified many aspirants including Dr. Paa Kwesi Ndoum of Progressive People's Party (PPP), Dr. Edward Nasigri Mahama of People's National Convention (PNC), Madam Akua Donkor of Ghana Freedom Party (GFP) and 10 other aspirants.

Thomas Jefferson once said that "honesty is the first chapter in the book of wisdom." Could EC have been bold enough to use the same criteria to disqualify either Nana Akufu Addo of the New Patriotic Party (NPP) or President John Mahama of the National Democratic Congress (NDC)? If yes, what would have been the implications? If no, why must EC apply to others? The purpose of this article is to reflect on EC's decision to disqualify 13 presidential aspirants through the lens of a philosophical theory known as the liar paradox.

One of the most significant paradoxes in philosophy that is still relevant to this day is the liar paradox. The liar paradox was the creation of ancient Greek philosopher Eubulides (c400BC) of Miletus. Milutus was located in Asia Minor, modern Milet in Turkey and one of the seven sages of Greece. In the view of Eubulides: "A man says that he is lying.

Is what he says true or false?" No matter how one answers this question, problem arise because the result is always a contradiction. If somebody says the man is telling the truth, that would mean that he is lying, which would then imply that the statement is false. If we say the man's statement is false, that would mean that he is not lying, and therefore what he says is true. It is not possible to have a statement be both true and false.
The liar paradox claims that contradictions can arise from common beliefs regarding truth and falsity, and thus the idea of truth is a vague one. In order to understand the liar paradox, one must first understand the various forms it can take. For example, it can take the form of "the simple-Falsity Liar." For instance,

Yaa: "This statement is false." If Yaa is true, then that means "this statement is false" is true, therefore Yaa has to be false. Yaa is both true and false, creating a contradiction and a paradox. If Yaa is false, then that means "this statement is false" is false, and so Yaa has to be true. Yaa is both false and true, creating a contradiction and a paradox.

Charlotte Kesson-Smith Osei and her commissioner's reasons for disqualifying other aspirants on technicalities is both true and false. It is true because the disqualified candidates did not meet the criteria of the EC. False because EC could not have applied that same criteria to disqualify either Nana Akufu Addo or President Mahama. That would have been a recipe for conflict. Per the liar paradox, a statement or a decision cannot be both true and false simultaneously. This means that EC's decision to disqualify 13 candidates was Janus-faced.

Going forward, what is our national comfort zone? In the field that I work, psychotherapy, there is an intervention known as dialectical behavior therapy (DBT) for individuals with a wide range of psychological disorders such as borderline personality disorder (BPD), generalized anxiety disorder (GAD), paranoid schizophrenia, major depression and related psychological maladaptive conditions.

I had been a facilitator or a teacher of DBT at in-patients psychiatric homes in Minnesota, USA for about two years. When a client is anxious, the DBT tool use is to identify the said client's comfort zone. What makes that client feel happy in this world? It could be her boyfriend, sexual fantasy, a church, music, tourist's site, favorite food, and others. The clients are instructed to focus their minds (mindfulness) towards their various comfort zones as a distress tolerance skill. The comfort zone simply means what makes an individual feels comfortable.

How many Ghanaians will be in their comfort zone with Madam Akua Donkor as their president? How many of us will allow our kids in primary school to be taught by Madam Akua Donkor? Are we jokers in the country? Ghanaians were colonized and we are aware of colonization.
We have been enculturated into the colonial systems. We have to deconstruct our electoral laws from its western frameworks. Even that may not qualify the likes of Akua Donkor. What does Madam Akua Donkor understand about the global politics? Even if economics and other subjects are taught in Twi, she needs to be in school to understand.

As president James Monroe said "national honor is a national property of the highest value." We must value the office of a president. Although some leaders in the world were not highly educated like President Lula da Silva of Brazil, not the type of Akua Donkor. With due respect to my cherished non-Christian readers it is written that we have the right to do everything but not all are profitable (1Corinthians 10:23).

There is no democracy without restrictions in this world. In the United Kingdom, the membership to House of Lords (the upper house as in the case of second chamber legislature or bicameralism) is by inheritance. In the USA, the outcome of popular votes in an election does not declare a president. The Electoral College's votes decide the president. These are very undemocratic. Ghanaians cannot be more catholic than the pope. If 5000 candidates all meet the criteria to run for president and the EC has no excuse, what would be the length of the ballot paper?

EC must be congratulated for sanitizing the ballot papers. However, this EC's communist inferior tactics might not suffice as a solution in future. We must be bold as a country to set new criteria and tell the likes of Akua Donkor, they cannot be president of Ghana. Presidency is not a joke. President Kufour and president Mahamah all quickly developed grey hair.

In Brazil, social pressure and other factors compelled President Getulio Vargas to commit suicide on August 24, 1954 while in office. Let us stop the hypocrisy and clearly define who can be a president. Life is really simple, but we insist on making it complicated (Confucius). Let us sanitize the system so as to relieve EC of needless pressure. God bless Our Homeland Ghana. "I know that I am intelligent because I know that I know nothing." (Socrates).