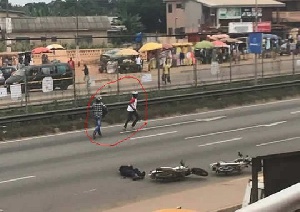 Let me begin this with a confession. After the admonition to diasporans to "stop whining", I have taken to thinking of a place in Cape Coast called, "Kawanopaedo" (Keep quiet). While in that mood, I remembered the President's inaugural exhortation to be "citizens, not subjects". So let me whine here a bit.
Ghana is not a safe place and it has been unsafe for sometime.

There have been repeated episodes of political violence which have made names like Agbogbloshie, Akwatia, Baffoe, Kumbungu, Kulungugu, Lamashegu and others famous.

Places like Yendi, Bawku and others remind many of bloodshed rather than the grandeur of chiefs. And recently, the murder of Major Mahama and others have shaken our assumptions about who we are. Then last week, two police officers were shot in broad daylight at La Paz.

We should not have been surprised. We are part of Africa. Since 1980, violence has killed more people in Africa than on any other continent, according to Tony Blair's Africa Commission report. These conflicts have displaced 13 million people and created 3.5 million refugees.

The notable cases I have mentioned, in addition to the killing of an MP at home, and the killing of judges and protesters all paint a damning picture.
Our dirty little secret is that most of us are living scared.

Our valuables are snatched from our cars. Our security at home is frequently violated by armed robbers and we read frequent stories of unsolved robberies and murders. Western nations routinely warn tourists of violence on our streets.

A society that endured all these without outrage is violent.

A nation that permitted the murder of 3 former heads of state, the abduction and killing of 3 judges including a pregnant woman, the murder of the Kume PREKO protestors and gross crimes exposed by Anas without administering justice is not a righteous nation.

It is unjust. It mocks, by these omissions, the motto, "Freedom and Justice".
Perhaps, nothing has done more to contribute to the violence and lawlessness than the "democratization of violence" introduced by the AFRC and PNDC, both under Rawlings.

There are, of course, other factors.

First, there are not enough policemen. In 2014, there were 30635 police personnel, giving us a ratio of one police person to 784 citizens. That is not up to the U.N. standard of 1 police person to 500 citizens. To be fair, the International Association of Police Chiefs believes this ratio varies from urban to rural areas and that urban areas should have about 2.5 police per thousand citizens.

The second factor is the equipment and training. Too often, police lack vehicles, phones and other technology.

The third factor is corruption, both of the police itself and the judiciary. The widespread corruption undermines public confidence in the law. This leads to people taking the law into their own hands. This leads to the lynching of innocents.
Then there is the lack of documentation of people and small arms.

The final point is the attitude of politicians. When the work of the police and other security agencies are politicized, we all become less safe.

The solutions are obvious.

We must hire more police people.

Adding 20 thousand more to our police will reduce unemployment and make us safer.
Second, we must reduce corruption with bodycams and automation. If we double a corrupt police force, we get twice the corruption.

Third, we need a transparent and incorruptible judiciary. If a man must choose between bribing the police or the judge, he will bribe the police-- to save time. Let's convict the Anas judges to show good faith.

Fourth, let the politicians leave the police alone. Let's begin by ending the practice of changing IGP's with every election. If the IGP can lose his job because of elections, no policeman can be apolitical.

Let's make Ghana safe for all.