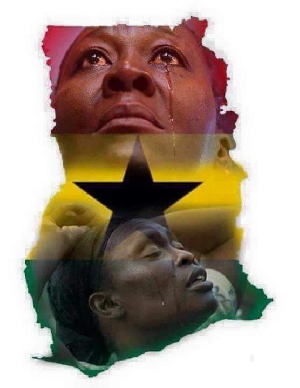 From: Stephen A.Quaye. Back From Ghana.
Welcome back to Canada is the expression one is definitely to hear as he goes through the immigration check point at Pearson International Airport at Toronto.

So it was not surprise for me to be welcomed by an official of the security agency at the said security facility when I returned from Ghana last week.

Just about to pack my baggage into the waiting car to drive straight to my apartment building I heard a shout from behind, "Akwaaba oo" to wit welcome.

As if that was not enough, this fellow who was then going to Ghana asked," na eho tesen?" to wit again how is back home?

For him not to delay his flight I went straight. I mean I told him exactly what was happening back home in order to prepare for what he was going to meet.

I painted the gullible picture as I saw to him in a simple way. "Masa eho enye koraaa" things are hard, rough and even the weather is so dry that you have to take good care of yourself.
"Eho te sen" forgive me is a popular programme hosted on Home Based Television HBT in Accra-Ghana which discusses important issues as well as sample opinions on matters arising.

Therefore it is not wrong for me to use the slogan to drum home my latest experience when I took a short holiday visit to Ghana. After all I am also expressing my opinion of what is happening in Ghana currently.

The dry weather which is currently being experienced in Ghana makes one to gulp down excessive water as if having finished a Boston Marathon race.

No wonder the severity of the weather has been described by some members of the opposition party in the country as one of the signs that God is in fact angry with NDC government.

The foggy nature of the weather all round makes it very difficult for driving and doing business as one could hear radio talk show hosts advising truck drivers and bus drivers to be extra cautions on the roads.

Right from the airport to one's residence it was common to identify people who were entertaining fear and panic due to the rate of armed robbery, stabbing and killing at any given point in time.
What has stopped at the airport I can was the begging of arms like "pan handlers" by custom officials and other immigration officers because no one asked me for money.

But I cannot give it a hundred percent bet because I was not approached by official to demand for money. May be my name rings alarm bells since I have been exposing the rot at the facility anytime I travel and experience it.

Gush, stealing, duping, stabbing and killing has become a common practice under the nose of the security agencies which are mandated to control it.

Almost everyday reports went round of snatching of wallets and mobile phones, tricking people to release money for causes that are not worth it, stabbing people to overpower them to hand over their properties and contract killings of expatriates.

When such news breaks my friend, it sends shivers down your spine only for you to pray so that God will move the days forward for you to sneak out of the country unhurt.

The galloping prices of goods and services oh my Gosh will let you box somebody if you are not careful. You buy a commodity worth hundred and fifty Ghana Cedis and the next day is two hundred Ghana Cedis. Geez.
Cedi, the Ghanaian currency or the legal plastic for tender which rubbed shoulders with international currencies a decade ago now has lost it power so much that holding it in your hand feels like paper.

Oh yes, may be that was the reason why some commercial drivers and their mates were threatening strike over increases in insurance premium, lorry fares, car spare parts and what have you.

In fact it was sad for some of us particularly me to observe how a "trotro" mate grabbed a bunch of cedi notes with one palm as if mashing kenkey. How won't it lose it value physically?

A proverbial high life singer will posit that "sika ye mogya" meaning money is life. But I beg to disagree "Ghana sika seisei enye mogya bio".

Last but not the least was the speaking of coarse language on the airwaves which made me lost appetite for news entirely.

Radio station managers, editors, hosts, producers and presenters allowing politicians, journalists and even ordinary callers to throw insults at each other like scud missiles was unfortunate.
All these stinking behaviors made my vacation a painful one that I will never forget.

"EHO TESEN, EHO BON"