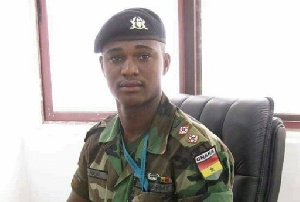 The CPP running mate for the 2012 Presidential elections, Nana Frimpomaa Sarpong Kumankuma has shared some in-depth experiences in an article sent to TNF over the weekend.
It reflects the barbaric murder of the young military officer who was buried a Major though died a Captain.

Please read on: Every Mother's Ideal Son

Every Daughter's Right Husband

A Father's Heroic Son

A Compassionate Soul, Too Gentle to shoot at civilians, even potential
murderers more callous than the alleged "armed robber" they purported to kill.

All he could do with his highly sophisticated weapon was to fire warning shots. What an irony? Pure Innocence in Essence; Defending the Offending, expecting Reason from Nationals filled with Treason – A Nation's Soldier.

THE BRUTAL SHAMEFUL DEATH OF MAJOR MAX ADAM MAHAMA, IT IS A SCAR ON THE CONSCIENCE OF ALL GHANAIANS.

I mean all of us. All of us who over the years have watched silently as the mobs mete out instant injustice on the "supposed" armed robber or witch.

Shame unto All Ghanaians! My story #1 Years ago I was on a bus from Accra to Kedjebi to visit my in-laws. While on the bus I dozed off, somehow I was awakened by some sensation around my waist on the left. I gently peeped through half-closed eyes only to come to grips with what was going on. The man next to me was a thief, who was surreptitiously cutting my hand bag with a blade.
My natural instinct was to shout, but something else within me froze. I was traveling by a State Transport Bus filled to capacity. A scream would mean the bus stopping and I knew that young man would not have survived the trip. I pretended to be asleep whilst he stealthily pulled wads of money from my bag.

Bit by bit, he continued his stealing until the whole bundle was exhausted. Eventually the bus makes a stop at Jasikan where he quickly gets off. I also followed.

On the ground, the bus conductor unlatched the cargo hold for him to take his luggage. I silently approached him and commanded…"give me back my money or I will scream for everyone to know what you have done". Without a word he quickly emptied his bulging pockets into my hands and quietly replied, "thank you". I got back into the bus and those who saw what had happened queried. I intentionally hesitated until the driver had gone a distance before I told them the story. My co-passengers were livid. Some insisted the driver go back so they could vent their spleen on the thief, whilst others insulted me, retorting "as for women you behave stupidly". I ignored them. Unbeknownst to them is my quest to avoid such stupidity as we see today.

That, stopped me from giving them the opportunity to satisfy their barbaric murderous instincts.

My story #2 I had gone to Makola and parked my car at the Rawlings Park.
Coming out from the first entrance, I see a mob attacking a boy. Apparently well known in the area for his thievery, he was alleged to have pick-pocketed someone and quickly handed it over to a colleague who had vamoosed. And as you can imagine on a busy Makola Market Day, as soon as the alarm sounded he got swamped; people from all walks of life descended on him with slaps, belt hooks and any weapon that came in handy. With complete disregard to my own safety, I pushed through the ravaging mob, grabbed and held the boy, shielding him with my body.

I screamed; "he is my son, he is not a thief, please it's not true that he has stolen." You can imagine the rest. I got quite a heckling, but finally I was able to push him into my car which the driver had quickly moved to pick us. I dropped him off at the Tudu traffic light and gave him my number asking that he call if he wants a more decent option. He was shocked and could not believe what I did. Later, I got a call from a lady who claimed to be his sister, quite hysterical, thankfully heaping blessings upon me for saving her brother and also disclosing they were orphans abandoned by relatives.

My story #3 This time I had driven off Oxford Street, Osu, heading uphill on the side street from Frankies when I saw a young lady emerge from a side lane, running for dear life. It troubled me. Those following her, as usual, was a motley crowd, brandishing all kinds of weapons in hot pursuit and shouting "thief, thief catch her, thief". As she got to the street she entered a taxi but the driver could not move quickly the mob crossed the driver and pulled her out still beating and tugging at her. Again, I felt compelled to intervene. I quickly crossed and blocked oncoming traffic to get more attention, by which time lots more people had converged, dragging her away to a lot off the street where they meted out brutalities to the hapless lady.

I rushed in, grabbed and pulled her to me, declaring "this is my daughter. She is no thief." The crowd was unrelenting but I managed to push her into my jeep. To my surprise, another lady joined us. They were together. I drove out to safety. Her side of the story? She got a message to meet her "boyfriend" at a nearby club. It turned out to be a trap set by the man's wife. She walked into an ambush and almost met her untimely death. She was not a thief, but "angry Ghanaians" with killer instincts, gathered, holding weapons, lynch-ready. I dropped her off at the OSU police station.

My point exactly? The lynching of Major Max Adam Mahama, may his ravaged soul RIP, has made us face our own horrible reality. He has become a sacrificial lamb slaughtered to expose the horror and dark side of us all. Now that we are confronted with our own horrible deeds, we shudder. We cannot watch. Our own acts have suddenly become too brutish for us to fathom, yet, this atrocity we have lived with and somehow encouraged for decades. Though very necessary, this issue of murderous-mob-culture will not just varnish with the arrests of the culprits implicated in Major Mahama's murder. Ghanaians need a complete overhaul of our psyche. One cannot on one hand talk about justice and with the other mete out instant injustice to others.
The law must work! Our laws must work. And we should be more compassionate as a people than we are today. My appeal and proposal to the President of the land. That a Children's Commission be re-instituted with the express aim to work with the school system to inculcate, from preschool to University, Compassion and Respect as our core fundamentals, in effect changing this barbaric behavior within us in lieu of Respect for ourselves, our creator, our environment, our country, our time, and paramount, for the human rights of others small and great. Respect for ourselves as Human with divine attributes we must live up to.

The kind of respect that builds Character and builds a Nation. The respect that will make us demand more of ourselves both in service to ourselves and to our fellowmen. Compassion: To care about our fellow man. Enough compassion to understand, caring is a civic responsibility that builds families, societies and communities. That is, in Caring for our country we care for our God, our own God given responsibility. We must declare a Day of Gallant Spirit.

A DAY of Compassion and Respect in his memory to help us, through the Churches, Mosques and schools, to extend an act of Compassion to our fellow humans. Let the Press write well investigated facts and not the current cut and paste journalism as is being experienced today. Where individuals and their families are destroyed permanently. Let politicians show compassion to their Constituents and the Citizenry at large, by championing policies that build all members of the community, sign international contracts that benefit the Nation. Let the citizenry build compassionate relationships in the discharge of their daily duties. Restitution for our SOULS as a people.

First, let me thank the President for the Trust Fund of GH¢500,000.00 and for his personal contribution of GH¢50,000.00. I request that it is extended to every single one of us across the breadth and length of this country as a restitution for our Souls as a people. Every Ghanaian must contribute something no matter how little to help support the children's upkeep as a token of our regret.

We must raise Ten Million for the Family in Honor of this Gallant Spirit to support his children. This should be done through churches and Mosques, work and market places, and by organizations and various groups spread across the country. Innovative fund raising activities should be conducted across the country until we have reached our target and make the investment for the children. I am ready for the charge, what about you?.