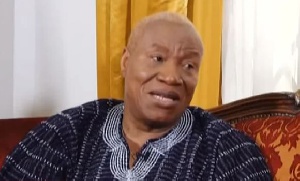 One evening in April 2017, a group of young men in search of a flagbearer from across the length and breadth of the country decided to pay a courtesy call on him. The purpose of the meeting was to ask Prof Alabi to contest on the ticket of the NDC for 2020.
We prevailed on him. We assured him of our unflinching support. He responded positively. He agreed to contest as long as he was alive and fit. We were encouraged by his assurance.

We really wanted a credible person and a true achiever not just anybody at all as an alternative to the former president who we all knew did so well for Ghana. Of course, no single person can do everything in life. At some point, you need to bow out especially when the applause is loudest and that time is now.

When we left the meeting that evening some of us were different persons altogether. We felt this renewed hope. We felt a new beginning. In fact since that meeting, I have always been thinking about how to help Prof Alabi to succeed as the next flagbearer of the NDC and the next president of Ghana.

Oh yes! I observed from the reaction of all my comrades at the meeting that they also felt energized and hopeful for a better future. We couldn't wait to announce to the entire world that Prof Alabi was the best man for the job. No wonder I wrote some of my best articles after that meeting.

A revolution was borne that evening. The comrades call it NEW LEADER, NEW HOPE. This simply means Prof Alabi with his vast experience in sports, politics, business and academia will be the NDC's best option among the lot to lead the party into the promised land (power).

When Prof Alabi leads the NDC, he will attract teachers, lecturers, students, businessmen, sportsmen, fishermen, mechanics, nurses, farmers, drivers and people of all walks of life. His life story as a son of an illiterate mechanic and a farmer who rose from grass to grace, and the grandson of a fisherman from Nungua gives much inspiration to all and sundry.
Despite his complexion being used against him ( that he is an albino), it was never a set back. Prof Alabi defied the odds and became MP for Krowor, Ghana Black Stars Coordinator ( Chairman of Black Stars Management Committee), Vice Chancellor of UPSA and he has lived in both Northern part of Ghana and the Southern part.

Today, the NDC finds itself in a dilemma. A dilemma of a party at a crossroads. We are faced with a candidate who is qualified for only one term and candidates who can win two terms. Should we go for a one-term candidate or a two-term candidate?

It is a difficult choice in the sense that the one term only option happens to be none other than our own former president. I belong to the school of thought which believes that he should rather lend support to candidates who wish to contest. I strongly believe he will act in the best interest of the NDC.

The NDC is in search of new hope and a new leader. This is the reason we present Prof Joshua Alabi. A man cut for great things. A man cut for great achievements. A man who has no limit. He is very affable, very gentle, kind, honest with open arms. Above all he is a man of vision.

Like late prof Mills, he believes in the God factor. No wonder Prof Mills chose him as his campaign coordinator for the 2004 elections at the time he the then Mr Alabi was the Greater Accra Regional Chairman. In his own words Prof Alabi said, "when I was given the job as the Vice Chancellor of UPSA, I said I was not the one going to sit in that chair, it was God going to sit in that chair."

Today, see UPSA for yourself. Once upon a time, an unattractive institute has risen to a world class university.
Recent ongoing membership registration exercise still shows that the apathy which sent us to opposition is very much alive and still lingering. As I write, turnouts in some branches I have visited are extremely poor.

Is it because the members think the same people may lead them again? Will they come out massively if a new leader emerges? Won't we be affected by apathy if we go into an election with the same leader? What will he do differently? These are the questions we ought to reflect on.

The future looks better and brighter under a new leader. This is my view and the view of many NDC supporters across the country. We believe Prof Alabi's candidature will be the best for the NDC. With him we are sure of two straight terms. The NPP is messing up. We can't miss this opportunity to send them out in 2020.

New Leader, New Hope