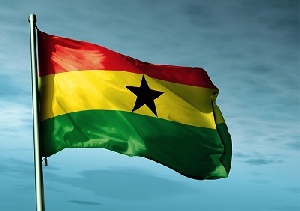 By Nana Oben
The euphoria Thursday morning throughout our Ghana said it all for the "CHANGE" that ALL Ghanaians (except those privileged few) had been waiting for. I wonder HOW the nation would have been dealing with an NPP defeat.

We can't even imagine that scenario, which could have happened if President Mahama had NOT LOST 641,789 votes, and Nana NOT GAINED 219,440 votes, (making a NET GAIN OF 861,229 votes) in the four Akan regions of Ashanti, Brong, Central and Western. GHANAIANS, YOU'VE DONE US PROUD; ESPECIALLY THE AKANS!!

The Fanti phrase "Fa ma Nyame" (and its equivalents in the various vernaculars) is pervasive in our Ghanaian (and possibly, all African) culture. This phrase, which literally translates to "Leave it to God" is a catch-all for docility, acquiescence, inaction (or laziness), and ultimately, acceptance. Consequently, it is rare that we critically examine the pros and cons of our situations, interactions, negotiations, and options; and then question choices made for us.

The sad thing is when we are NOT satisfied with the choice MADE for us, we grumble in PAINFUL silence, and console ourselves with "Onnye whee, medze ma Nyame", which translates "it's NOT a big deal, I leave it to God".

About 7 years ago, when I came to Ghana, I noticed how our staple Fanti Kenkey had been deceptively padded with leaves, and wondered why the Fantis had NOT taken any action to stop the practice. I guess they were "leaving it to God". I also noticed there were hardly any Akans in Mahama's NDC government.

NO Akan was questioning why, until about 2 years ago, when Honorable Osafo Marfo was alleged to have echoed the obvious; that the Akans were being marginalized by Mahama's NDC government. He got a barrage of insults from non-Akans, as well as Akans; he was being tribalistic. Then during this last campaign, President Mahama himself, his Chief of Staff, Julius Debra, and his ex-minister Dzifa Attivor echoed his same "tribalistic" statements; with very little rancor from the same public which had earlier denounced Osafo Marfo. This unidirectional rhetoric had to be rebutted: but by who?
I was very aware of the Fanti adage, "Se annkasa nam ho a woma wo biew" – "If YOU do not agitate about meat, THEY WILL GIVE YOU the bones". So I was compelled to write "What is wrong with the Akans, (especially Fantis) anyway? Parts 1 and 2; and one Kobena A. Eyiah followed up with "Must we continue to be the "concert" region?".

One can't tell if these articles aroused the sense of self-preservation in the Akans. It is worth noting though that in spite of the hardship in the entire country, four non-Akan regions voted for President Mahama to maintain the status quo.

I however draw four lessons from this incident: (1) How spot-on our ancestors were with that adage; (2) That the Akan block must NEVER "LEAVE IT TO GOD", and acquiesce to any short-ended deals, mistreatment or mediocrity; (3) That the Akan block can GREATLY influence the choice of our leaders, and therefore should NOT "sell" (for pittance) our votes; and (4) That future governments ignore any ethnic group, especially, the Akans at their peril.

I strongly believe our President elect, as a true Akan, will honor his word, and emulating our first President, have an all-inclusive government, utilizing the diverse talents and EXPERTISE of all Ghanaians to rescue us from our current hardship and poverty, self-inflicted by nepotism, cronyism, and tribalism.

I seize this occasion to entreat the Akan public to heed our ancestors, and LOUDLY CONDEMN AND DENOUNCE OUR STAPLE MANUFACTURERS WHO DECEPTIVELY PAD OUR FANTI KENKEY, EPITSI, AND FOMFOM WITH LEAVES. After all we Fantis DO NOT EAT THE LEAVES!! Nobody else is going to stop this NONSENSE for us, but we Fantis. Let them know that if they don't stop, we will abandon them, and opt for other ethnic staples such as Ga kenkey or Aboodoo, much in the same manner that we abandoned the NDC.