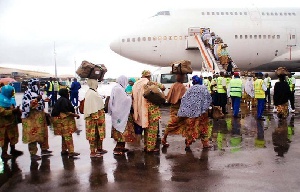 It is irrefutable that government over recent years makes much revenue from Muslims who embark on their religious pilgrimage (Hajj) but it is undeniable that the same government is backstabbing or sabotaging pilgrims.
For the past years, many individuals couldn't embark on this journey because of issues that could have been averted by dealing with corruption in the Hajj process. There's a modicum of truth in most of the things helms related to Hajj say or do which leaves the future of Hajj in this country blur.

We often do not want to associate Hajj with politics since that's how it should have been but truth be told, let me say it as it is, Hajj in Ghana is politically motivated and if care is not taking, future of Hajj pilgrims in Ghana would be "disastrous".

As I pen this article down, I wish to let the world know that this year has been the worst year in Ghana's Hajj because of incompetence and corruption.

The president of Ghana sworn the Hajj board members some months ago and we believed they were to deliver and not repeat the mistakes of their predecessors but we were disappointed since some of them did not deserve to be there and the helms of the current government ignored it all because of politics.

As much as the chairman of the board tried to do his best, he couldn't because of some negative motives for getting there in the first place (I won't comment on that here).
Looking at the board, we should give kudos to the finance & "dawah" committee since they delivered beyond expectations.

My main concern is about the medical committee which was headed by Mr. Seidu Zakaria, a prescriber and assisted by Dr. Osman Abdulai (A Medical Superintendent). Emphasizing on this committee is very important looking at the role they play, that is the life of pilgrims is in their care but what did we witness? "The life of pilgrims used as a political ball".

Mr. Seidu Zakaria exhibited incompetence in leading his committee members and the vast medical professionals he had on his team which consisted of two licensed medical doctors and nurses. Majority of these nurses were not professionals but were made medical staffs because of politics and it should raise eyebrows.

The life of pilgrims was at risk from the very day a whole licensed medical doctor was made assistant to a prescriber all in the name of politics. There are proofs that shows how incompetent the head of the medical team is and how corrupt some of the officials are but let's live them in discretion.

We can play the usual political games and ignore the real issues. It will seem inconceivable that the vice-president is an aware of the current state of Hajj in this country.