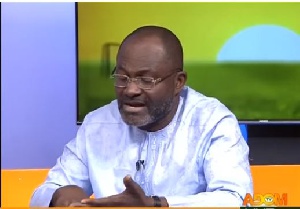 The firebrand policy maker, Honourable Kennedy Agyapong was at his sarcastic best when he recently pontificated that Satan is an active member of NDC and subsequently beseeched the good people of Ghana to ask for his NDC membership card if they meet him on their way to church (See: When you meet Satan ask for his NDC ID card - Kennedy Agyapong; mynewsgh.com/ghanaweb.com, 25/04/2018).
According to the Honourable Kennedy Agyapong, the NDC operatives endless diabolical agenda informed his irresistible fabricated metaphor. Apparently, the worldview is that Satan is a destroyer who hates to see mankind's progression.

"Satan is an entity in the Abrahamic religions that seduces humans into sin. In Christianity and Islam, he is usually seen as a fallen angel, or a jinni, who used to possess great piety and beauty, but rebelled against God, who nevertheless allows him temporary power over the fallen world and a host of demons.

"A figure known as "the Satan" first appears in the Tanakh as a heavenly prosecutor, a member of the sons of God subordinate to Yahweh, who prosecutes the nation of Judah in the heavenly court and tests the loyalty of Yahweh's followers by forcing them to suffer. During the intertestamental period, possibly due to influence from the Zoroastrian figure of Angra Mainyu, the Satan developed into a malevolent entity with abhorrent qualities in dualistic opposition to God (Wiki)."

Satan is often caricatured as a red-horned, trident-raising cartoon villain; no wonder people question the history of Satan. His existence, however, is not based on fantasy. It's verified in the same book that narrates Jesus' life and death (Genesis 3:1-16, Isaiah 14:12-15; Ezekiel 28:12-19; Matthew 4:1-11).

Christians believe Satan acts as leader of the fallen angels. These demons, existing in the invisible spirit realm yet affecting our physical world, rebelled against God, but are ultimately under His control. Satan masquerades as an "angel of light," deceiving humans just as he deceived Eve in the beginning (Genesis 3).
Jesus Himself testified of Satan's existence. During His ministry, He personally faced temptation from the devil (Matthew 4:1-11), cast out demons possessing people (Luke 8:27-33), and defeated the evil one and his legion of demon angels at the cross.

"In the Hebrew Bible, YHWH's greatest enemies are not fallen angels commanding armies of demons, nor even the gods of other nations, but, rather, human beings.

"It isn't the devil that spreads evil across the face of creation—it is mankind. Other than human beings, YHWH has no nemesis, nor are there malevolent spiritual forces not under his authority. YHWH is ultimately a god of justice. He is behind the good and the bad, behind the blessings and the curses.

It is within this divine court of justice and retribution that Satan has his origins (Biblical Archaeology)."


Based on the preceding expositions, we can draw an adverse inference that if Satan was to be an active member of the National Democratic Congress (NDC), he would most likely oppose NPP's poverty interventions such as Free SHS, one million dollar per constituency, one dam per village, tax reductions, tariff reductions, Free Maternal Care, NHIS, School Feeding Programme, Metro Mass Transport, amongst others.

I bet Satan would have tempted discerning Ghanaians to reject social interventions such as Free SHS. Satan is indeed a cunning geezer who should not be entertained by members of the human family.

Well, Honourable Kennedy Agyapong, since you are privy to Satan's political affiliation, do you also know Jesus Christ's political coloration?

And do you think Jesus Christ would have introduced numerous social interventions to ameliorate the lives of the poor and disadvantaged Ghanaians?