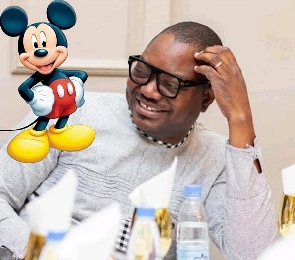 I used to like watching TV a lot when I was a small boy. I occasionally used the opportunity to also do some 'extra curricular activities' too. Peeping through the window to see my Uncle and his wife in the act was my hobby. Even if there was no serious TV programme, I had my own programme as I would stand on a stool just so I can see clearly my Uncle and his wife enjoy!
The day I was caught er, beating be what! Unknown to me, they had been timing me and he gave me the beating of my life when I stood on the stool about to watch. The first step he took to disarm me was to pull the stool from under me so I fell off before the beating started.

Thank God another weekend is here full of activities and the father of all abstract articles is here to disturb your peace of mind for nothing. Hahahahahahaha. Funerals and weddings are topping the list of activities for this weekend. For those getting married, they should know that 'fighting' is an important component of the marriage. Marriage without 'fights' is just friendship.

Haven't you realized that after those small small fights, the marriage becomes sweeter, though temporarily! Come on, go and get married and stop being single.

Why must you always be happy! Come and join us and let's be moody and angry together because we are married. Ajeeeeei! This bitter-sweet thing. Hmmmm!

Please before I write anything at all today, is it possible for anyone to let me know where I can get a 14-inch black and white TV to buy even though I know you are not reading this! One…two…three! Let's go er! I mean the tv set you need to strike at the back to get the signals clear even if you lived at Kanda.

I am getting ecstatically emotional now and in fact frustrated. I searched for this TV to buy to keep in my living room for sheggey reasons as well as vintage purposes but it is nowhere to be found. TV owners were very few back in the days. At the time, when in total desperation, we only settled for the sounds if you were lucky. After all, the visuals were less important than the audios. Sofo Dazi, Obla, Shocase in Ga.
Ei you remember Mr Mensah and Nuumo Morborbi? What about Chili and 'Rainbow speaking' featuring in shocase in Ewe? Or Ghanaman, David 'Don't Talk' in Thursday theatre? Didn't we love these guys, bwoy! Awwww! Life sweet before o; it is still sweet.

The programme most hated by most of the youth and the local folks was…so you didn't know it is 'Torking Point'? There is time for everything. I am surprised Talking Point is one of my favorite programmes today now that I have become responsible!

Sammy eeei, please tell me the truth, did you like 'Torking Point'? We were not interested but prayed for it to end quickly so we could watch what? Oblaaaa…aaaa….Oblaaaa. Oblaaaaa eni woara ooo! Awwwwwww! Great great days they were! Life indeed is what you make it!

GBBC laid a very solid foundation for the media landscape, I opine!

The first time I bought a gas cylinder as a young man, I couldn't sleep. You know that feeling that goes with buying a new item.

I used to insult people like that ('article') and sometimes rattled my grammar at the way we believed the Obroni spoke it…'Asuri suri kontonmire'. If you haven't spoken this kind of English before, I will ask some political actors to come and eat in your house. People who say 'as for me I don't like politics' are the true porliticians. Porlitics is like HIV; everybody has / does it. It is either one is positive or negative!
I was so excited by the gas cylinder that very late at night every single minute I would go and take a look at it. It was a single room with a small window. The ventilation was not good enough but how for do!

I had a beloved who would spend the night with me. She was happy I was that ambitious. If buying a gas cylinder was an ambition, no wonder I am still where I am. Hmmm!

In the middle of the night, I would light the gas cylinder small, take an admiration of how the flame lit and put it off again. I continued doing this.

Not knowing, I was suffocating my girlfriend who would have loved to catch a good sleep. The room was very hot, I suwear. Why not! A village man and the way he fancies things. Ayigbeni has bought a gas cylinder and cooker. So all along you didn't realize I could not have lit the gas cylinder on its own but the burner or stove that went with it? Do I need to tell you that they complement each other or this one too you want to gonglo it? Go ahead. I am tired of you.

The next item I bought was my dream gadget – a TV set.

Forget about its 'vegetation'. You expect that I tell you it's black and white, the one with the brand called 'Pressident'. You remember? Sometimes because we wanted to do 'afforestation', we would put a blue polythene in front of the screen! Ei, Ewuradi, yea y3 bida oo! It was easy to get a coloured tv just with a blue polythene, the one with which you used to cover your 'stuffing chairs'.
Seriously is there anything like 'stuffing chair'? Please find out and let me

know. As for me, I don't know anything, everybody knows! Because it is new, I would switch the tv on in clockwise fashion, made sure I watched every programme till I hear 'shhhhhhhhh'. The sound that greeted the end of transmission at the end of everyday!

But you know, even today, when you buy something new that you really cherish apart from your spouse, small time, you would take a look at it! I bought a brand new car and for the first four days, I would go and hide in it and put the AC on and be playing music while the engine ran and the car remained motionless! Wasting of fuel! The things we can admire! After a while, I got fed up and that was it.

I want to sleep and if you have a problem with that, that's your problem. I will sleep anyway! Haaba!

Last Wednesday was a holiday. Ah! I used to like holidays oo when I was 'free for all' but now I fear holidays. This is because now that I find myself in an 'irresponsible position', a day without productivity affects my performance – some way! The malls would be full on Saturday again and the beaches would be scantily free because people will attend other social events to mourn the death of the month of June!

Come to think of it, none of the people who passed since the beginning of this year has come to give a testimony of how it feels like er? Okayyyy, let's see what happens. As for me, I will not lose anything if I die right now oo. It is rather the dependants on me who would have lost something of 'useless' value.
That is the reason I don't joke with the use of 'protection' anytime I want to be a bad boy. As for life insurance, I have plenty policies because anything can happen at anytime. It is one of the reasons anytime I fall sick small norrrr, I delete all sweet whatsapp messages before my wife sees them when the worst happens! And of course, start building some chamber and hall apartments so they can rent out and survive when I am away in 50 years time.

These dependants in my life will have something to fall on when 'they my body away at Awudome. Eish those who are cremated, don't they feel the fire burning them? As for me, I can't o; it will pain me so I will prefer to be buried in fifty years time from today.

Early this year, I told Sister Dovi that I feel like committing suicide because it was in the middle of the month of January and I tested positive for poverty but as to what mode to use, she should suggest something. Guess the super suggestions she gave me.

My 'wicked' sister told me that if really I want to commit suicide and die immediately, I should do one of the following two things: First I should go to Ketu South on a market day and shout "MPP will win the 2024 elections". If this one fails and I am still alive, I should go to Kejetia and shout "MDC will win the 2024 elections". I mean JCR elections o, don't come and give me problem.

Sister Dovi, your head trong waaaa! You want me to die? But I was only joking o! Ah! Anybody who really wants to commit suicide does not say it.

Have a nice weekend and remember our journey together is very short. Don't take things too personal. Laugh even when you are in a bad mood! As problem no dey finish, so are the solutions.