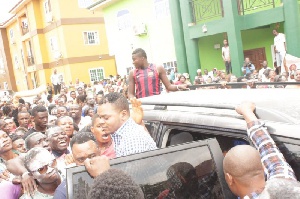 Bishop Daniel Obinim, General Overseer of International God's Way Church has recounted the ordeal he went through during his arrest and subsequent detention by the Police.
The preacher told his church members, family and friends that he felt very uncomfortable in handcuffs and at a point in time begged the men and women in black uniform to remove it but his plea fell on death ears.

"I went through hell. I tried to twist and turn my hands while in handcuffs but any time I try, the space in between my wrist and the handcuff closes. It was so painful", he narrated to his people some few hours after he was granted Police inquiry bail.

Bishop Obinim has petitioned the Accra Human Rights Court to intervene in the complaint brought against him by one Bismark Kusi.

The preacher is praying to the court to compel the Police to bring the matter before it.

He is also praying for the court to grant him bail instead of the Police inquiry bail granted him on Thursday morning.
Obinim also wants the court to make a pronouncement on why the Police detained him for more than 48 hours without taking him to court.

The petition, Kasapafmonline.com understands, was filed on his behalf by his lawyer, Samuel Atta Akyea some few hours after his release from Police cells.

Obinim was granted bail Thursday morning after spending two nights in cells at both Nima Police Station and the Striking Force Unit of the Greater Accra Regional Police Command.

He was admitted to bail on both offences – assault and fraud charges at the Police Headquarters in Accra with two sureties to be justified (one for each offence).

The amount involved is immediately not known.
The preacher was initially scheduled for court on Thursday for his fate to be determined but was cancelled for unknown reasons.

Tens of Police officers were early Thursday morning dispatched to the court to maintain peace and order ahead of Obinim's arrival.

However, due to the bail granted the preacher, the Divisional Police Commander had no choice than to disperse his men and women detailed at the premises of the court.

The controversial Pastor was arrested on Tuesday morning after turning himself in to the men and women in black uniform at the Tema Regional Police Command.

He was transferred to the Police Headquarters in Accra where he was subjected to further questioning.
Scores of congregants after his arrest pitched camp at the police station demanding the release of their spiritual father and leader.

Bishop Obinim was arrested by the Criminal Investigations Department for an alleged complicity in a fraudulent case.

He was reported to the Regional Headquarters of the Ghana Police by a Gold Dealer, Bismark Kusi, for defrauding him of an amount of GH?11. 6million.