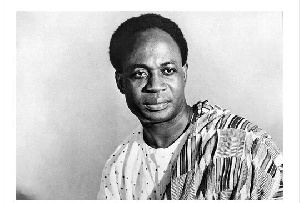 Recently whiles I was going through the archives of the once powerful and authoritative newspaper, The Enquirer, I came to grasp of how the paper, where I worked, for more than a decade was very critical of President Nana Addo Dankwa Akufo-Addo, then opposition leader.
The daily papers front pages never passed without a critical story about Nana Addo, in fact we tackled the man boot for boot and one of our mission's was never to make him a President. Led by the Editor-In-Chief, the celebrated Raymond Archer, we were able to use our pens to write constructive stories and editorials to criticize and pooh-pooh the man. We contributed in no small way, in stopping Nana Addo to become president in 2008 and 2012 but in 2016 Nana Addo was able to survive our onslaught and went on to win a decisive victory in a crucial elections.

So after almost 40 years of consistently fighting for democracy and trying to become president, the people of Ghana gave him the chance. The president has since outlined some policies some of which are over ambitious but hey, he is the executive president.

Notable among the president's ambitious policies are his Free SHS, One Factory- One District, One Constituency-One Million Dollars, One Village-One Dam, among others. As a believer in social democracy, I fully support Nana Addo's social intervention programs. Even Nkrumah would be praising Nana Addo for his grandiose programs in his graves, because most of the president's programs stems from Nkrumah's Seven Year Development Plan.

But today, Nkrumah is weeping not because of Nana Addo's plans but his baseless attempt to distort history by denying him (Nkrumah) the tag of a Founder.

If I were the President, I would focus on my grand policies and try to make history for myself and not my father and uncles who have played their bit. The President's attempt to reinvent the wheels and re-write Ghana's history albeit needlessly, would not augur well for peace and unity we all crave. His proposal of 4th August as the Founders' Day and change 21st September as the Founder's Day to Kwame Nkrumah Memorial Day is a big goof. It's totally unnecessary.
Ghanaians voted massively for Nana Addo because they believed he can fulfill his promises, because they believe he can salvage them from whatever quagmire they find themselves in. They are looking up to him for succor and not to re-write Ghana's history.

If he is able to achieve even half of his gargantuan promises, he would go down in the annals of history as a successful president, but no, Nana Addo is setting back instead of setting forward. He is so embroiled in re-writing the history of Ghana, a project that has no bearing on the masses, a project that would not in any way answer our bread and butter issues. Political observers would agree with me that, President Nana Addo set the ball rolling for his hidden agenda when he delivered his address during the nation's 60th independence day anniversary, thereafter it has become crystal clear that his mission is to reward his father and uncles.

But his attempt to equate his father and grand uncles to the iconic, Dr. Kwame Nkrumah is a fruitless venture. Even though, I admit that the Big Six of which his father and two uncles are members, no doubt played a big role towards Ghana's independence, but truth is, Nkrumah's role was indispensable, he catalyzed the independence struggle with the mantra 'Independence Now' as against the 'Independence in the near possible future'. I don't want to bore with history but truth is that, Nkrumah is peerless. The mere mention of the name of Nkrumah, send shivers down the spine of the mighty CIA.

Such is the influence of Nkrumah that, BBC Africa in a poll declared him the 'Man of the Millennium' in December 1999. It is for no reason that his birthday September 21st is celebrated across the continent; the African Union (AU) recognizes it. Early this year, whiles I was in Zanzibar, the Indian Ocean archipelago for a workshop for award winning journalists, I came across a porter at the Serena Hotel, the hotel I was based. This porter whose name I only remember as Ali, upon knowing the country I came from, aptly described Kwame Nkrumah as an icon the continent is proud of. He said Nkrumah is adored and idolized in Tanzania and across the continent. Such is the influence and impact of Nkrumah.

In fact when you go to the African Union (AU) headquarters at Addis Ababa, the Ethiopian capital, Nkrumah's statue stands tall and soars above the skies, still giving hope to a continent wickedly divided and impoverished by the neo-colonialists.
Nkrumah's achievements for the total liberation of the continent is matchless and if I were President Nana Addo, I would allow sleeping dogs to lie rather than to wake them up to bark at him. The president has a lot of work ahead of him to do; his contract with the good people of Ghana must be fulfilled. He should not waste time on the petty issues that sets us back. After struggling for four decades, he has the opportunity now as the president of Ghana, I urge him to rather focus on his electoral pledges and make history for himself.

God Bless Ghana!!! Long Live Ghana!!!

The writer is a Journalist and Communications Specialists Reach him on Email: themarkboye1@gmail.com Cell: +233243977354