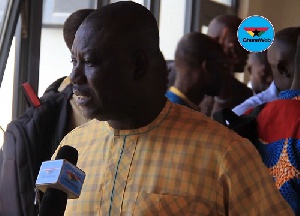 He has never held any substantive ministerial positions; all his four, or so, cabinet appointments were as a deputy to the Minister of Trade, Education, Information, and Science and Technology; so the patently mediocre Harvard LLM Affirmative Action graduate cannot be taken seriously.
I am also quite sure that Mr. Isaac (Issaka?) Adongo, the blabber-mouthed panjandrum could not tell the difference between an Akyem and an Asante; an Okwawu and an Akuapem or a Fante, let alone an Akyem and an Asante-Akyem.

So when he rails about President Addo Dankwa Akufo-Addo entrenching the powers of the "Akyem Mafia," while vitiating those of the Northerners within the ruling New Patriotic Party (NPP), he ought to be squarely envisaged to be just blowing hot air (See "Akufo-Addo Protecting 'Akyem Mafia'; Lessening Powers of Northerners – Isaac Adongo" MyNewsGh.com / Ghanaweb.com 8/10/18).

Mr. Adongo is livid that the first reshuffle of the Akufo-Addo cabinet saw several members of Northern descent moved from one substantive cabinet portfolio to another. Well, other than my favourite power-brokering gal, to wit, Ms. OtikoAfisaDjaba, the Mahama first-cousin and thorn in the side of the former President, who was posted to Italy as an Ambassador, and replaced by Ms. Cynthia Morrison, a non-Akyem woman, no cabinet appointee of Northern descent was winnowed out. At any rate, the last time that I checked, Dr. Mahamudu Bawumia was still the substantive and actively performing Vice-President of the Democratic Republic of Ghana.

So precisely what is the Bolgatanga-Central's NDC-MP talking about? Indeed, had Mr. Adongo attended the funeral of the recently deceased former Vice-President Paa Kwesi Amissah-Arthur, he would have had an earful from the latter's widow, from the podium, about how her late husband had been shabbily treated like a butler or the houseboy of the Gonja native and Northern-descended former President John Dramani Mahama.

This is what our former ministerial second-bananas ought to be addressing, and not get himself vacuously livid over the fact that the overwhelming majority of the Akyem-descended members of the Akufo-Addo cabinet are far better educated than their Northern-descended counterparts. If, indeed, he really wants to know how a Mafia Cabal looks like, Mr. Adongo had better look at the Mahama-constituted Board Membership of the so-called Savannah Accelerated Development Authority (SADA).

That is what a real Gonja-Frafra Mafia Cabal looks like. You see, no insult to one's intelligence is more painful and morally devastating than when a clearly uncouth and irreparably uncivilized troglodyte like the Bawku-Central native and NDC-MP cavalierly presumes to lecture his moral and intellectual superiors on what constitutes equity and fair play in the distribution of cabinet portfolios.
Which is precisely why I have given the former Deputy Minister for Information, Science and Technology the all-too-basic assignment of researching and drawing up a comprehensive list of exactly how many Ghanaians of Akyem descent served in the Mahama cabinet, and then compare the same with the number and percentage of Northern-descended Ghanaian citizens who served in the same Mahama government.

I bet he would be very fascinated by the results that he comes up with. You see, Dear Reader, I nearly fell off my chair when I read the rather snooty and haughty critic's bitter complaint about the transfer of Mr. Kofi Adda, the Navrongo-born Minister of Sanitation and Water Resources, to the ministerial portfolio of Civil Aviation being intended to viciously hurt the development of the so-called Three Northern Regions.

If, indeed, Mr. Adongo were that serious about the development of the Three Northern Regions, why did he so callously and unconscionably sit duck while all the Guinea Fowls earmarked for the agricultural development of the Three Northern Regions literally vamoose permanently to live in Burkina Faso?

He has every inalienable right to luxuriate in his insufferably annoying and deliberately calculated stupidity, but Mr. Adongo must rest assured that the rest of us well-meaning and progressive-thinking Ghanaians do not have the luxury of indulging in such senseless act of narcissism.

Has this vitriolic critic ever heard the name Agambire? SUBAH and GUBAH? By the way, whatever happened to the four-and-half-year Development Program allegedly implemented by your self-styled Northern-Star? If he really wants to initiate a mudslinging contest, Mr. Adongo had better make sure that he is already squatting in a puddle of mud.

I am also quite certain that he was an active participant and a key player of the Mahama regime, when the former Bole-Bamboi National Democratic Congress' Member of Parliament stood nose-to-nose in front of the Okyenhene, Osagyefo Amoatia Ofori-Panyin, II, and sneeringly called Kyebi, the royal capital of Akyem-Abuakwa, "The Galamsey Capital of Ghana."