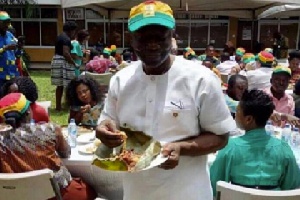 Ken Ofori-Atta, Ghana's finance minister travelled to Israel to misinform the whole world, dent Ghana's foreign policy and make provocative religious declarations while addressing the Israeli parliament.
We hope he did not do all of this on tax payers' money.

To set the record straight, Ghana's constitution makes it clear in the preamble that in the name of the Almighty God we adopt this constitution unto ourselves to build a secular state in pursuit of probity, accountability, freedom and justice.

Has he not read it or he has read it and does not understand it? Ghana is a secular republic, period.

It is a matter of public record that at the UN, the Republic of Ghana has supported the Oslo Peace Accord and or otherwise remained neutral on Israeli-Palestinian disputes, seeing wrong as wrong, and right as right.

Let us hear what Ofori-Atta said at the Knesset to the Jerusalem Peace Breakfast Meeting [JPBM]:

"President Nana Addo Dankwa Akufo-Addo, has initiated the building of a National Cathedral that takes its inspiration from the Tabernacle, and is aimed at providing the infrastructure to focus the gaze of the Nation and Africa on the Almighty and therefore the peace of Jerusalem! Israel and the Nations of the JPBM should join us to transform Ghana, this first independent African Nation and the first to host a Jerusalem Prayer Breakfast meeting in Africa, to build the National Cathedral as a living monument to mobilize Africa to eternally, look East, and pray for the peace of Jerusalem," the minister said, wrote Jonas Nyabor on citinewsroom.com on 12 June, 2019.

Ghana is not the first country in Africa to gain its independence. This is didactic information.
So why should a cabinet minister say it is? There is absolutely nothing to be gained at the present time from promoting a warped sense of ghanaian exceptionalism; it rings shrill and hollow; it is naive.

It is also mind boggling to hear one of the champions of the Ghana Beyond Aid campaign, still looking for foreign help to "transform Ghana".

The Ministry of Finance building where he holds sway and has presided over a kenkey party still has no pavements or sidewalks in front of it. There are also mosquito-breeding open gutters there that cost human lives and create suffering.

But every single working day, there are double parked right in front of the building, huge air conditioned, gas guzzling V8 SUVs ……imagine.

And when it rains you have to share the Ministry of Finance street and other such urban streets in Ghana with goats, food vendors, trucks and all.

Then you hear of a "National Cathedral as a living monument to mobilize Africa to eternally, look East" as a priority that solves our problems!

Somebody please pinch me and then remind me of where I am for the Minister is playing with the facts and tampering with my reality.
Perhaps the Minister was overwhelmed by the occasion and wanted to sound important and philosophical (or as the Gas say "efee sabe"), but he misfired badly.

Surely the Ghanaian Parliament must call the finance minister to answer questions in order to at least suggest that they read the news carefully; that they understand and take their duties seriously.

The parliamentary drill of the Finance Minister if it occurs (and I am certainly not holding my breath) should be guided by these questions issuing forth from polished and progressive minds:

Why will any educated person want to conflate history, politics and religion without even getting the basic didactic information correct?

How does one compare the Tabernacle in the Old Testament to a Cathedral to be built in a secular Republic?

Who will be the High Priest?

Where will the Holy of Holies be?
When shall we have the Day of Atonement?

Will the two pillars at the porchway or entrance be IGNORANCE and DISHONESTY or something else?

Which family shall represent the Levites and who will determine that the Nazarites have been absolved of their sins of uncleanness?

How often shall we eat unleavened bread?

Will citizens pay Temple tax and to whom?

Shall we institute tithe collection for the chosen family of Levites?

"As for the injunction that the building of the National Cathedral will transform ghana, he who utters that certainly tells us that they have no claim whatsoever to serious discourse," my mentor charges. "Such misguided quasi eschatological statements are the bedrock of fundamentalist movements that often morph into pernicious nationalism and fascist tendencies."
History shows us that such utterances have led to man-made cataclysms……sometimes of biblical proportions.

When misguided statements are made that fan these terrible vices, they must not go unchallenged by discerning minds.

And certainly, we do not expect educated and enlightened people to make such statements.

Feedback; ato@writersghana.com; www.writersghana.com; LinkedIn, Isaac Ato Mensah; Instagram, @atomenswriters; Twitter, @Atomens; Facebook, Isaac Ato Mensah; Telegram, Isaac Ato Mensah; Quora, Isaac Ato Mensah. WhatsApp (233) 020 022 0353.

Writers and Shakespeares Ghana Limited exist to be a moral and intellectual guide to the best practice of PR and integrated communications around the world, beginning with Ghana.