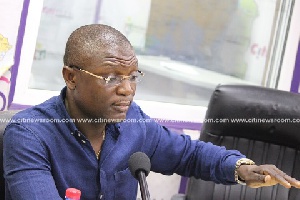 He is not very well known for either the impeccable exudation of common sense or constructive political engagement; and so no one can take him seriously, when the National Organizer of the country's main opposition National Democratic Congress (NDC) says that the exceptionally deliberate, legitimate and well-founded grounds for the dismissal of the illegally and deviously appointed Chairperson of Ghana's Electoral Commission, Mrs. Charlotte Amma Kesson-Smith Osei, by President Addo Dankwa Akufo-Addo, upon the recommendations of a committee established by Chief Justice Sophia Akuffo to investigate charges of fraud and gross administrative incompetence brought against the former Chairperson of the National Commission for Civic Education (NCCE) by some employees of the EC, was intended to ensure that the key operatives of the ruling New Patriotic Party (NPP) would continue to rig our national elections as, in the scandalous opinion of Mr. Kofi Adams, they have always done, presupposes that the suspicions of many of us that Mrs. Charlotte Osei was deliberately transferred from her constitutionally protected post of NCCE Chairperson, was aimed at ensuring that the NDC would also be afforded the "equalizing" opportunity of rigging our national elections, thereby effectively compromising the integrity of Ghanaian democracy (See "Removal of Charlotte Osei Clear Attempt to Rig the 2020 Elections" CitiNewsRoom.com / Modernghana.com 7/2/18).
In reality, we know that it is rather the Rawlings-founded National Democratic Congress that has been routinely rigging our national elections, because in the 26 years of Ghana's Fourth Republican democratic dispensation, the two chairpersons who have managed the country's electoral system, namely, Dr. Kwadwo Afari-Gyan and Mrs. Charlotte Osei, were both appointed by NDC-sponsored substantive presidents of Ghana, namely, Chairman Jerry John Rawlings and Mr. John Dramani Mahama.

We also know that Mrs. Osei was a pathologically intransigent and incorrigible scofflaw whose widely anticipated removal was long overdue, in the opinion of many levelheaded and avid students and observers of fourth Republican Ghanaian political culture.

We know Mrs. Osei is a scofflaw because in the past she had contemptuously disparaged and disregarded a Supreme Court order to expunge the names of people who had registered to vote and secured the Voters' ID Card by the use of their National Health Insurance Scheme's Card from our National Voters' Register (NVR). Then also, the dismissed EC Chair flouted the Public Procurement Authority's regulations by spending or causing to be spent the humongous amount of $14 million, when the stipulated expenditure authorization had been capped at $7.5 million.

We must also equally significantly point out that it was not only the EC's Chairperson who was dismissed from her post. Her two Deputy Commissioners, namely, Mr. Amadu Sulley and Mrs. Georgina Opoku Amankwaa, were also asked to pick up bag and baggage, hand over the keys to their offices and follow their former boss through the exit door out of the Headquarters of the Ghana Electoral Commission (GEC).
Largely, her two deputies were shown through the exit door of the GEC's Accra Headquarters because they could not amicably work with their boss. In such a grossly dysfunctional climate, the dismissed EC boss could not be expected to supervise a credible and rancor-free general election in the runup to the watershed electoral season of 2020.

We also know that but for the hermetic vigilance and high technical expertise of the electoral operatives of the main opposition New Patriotic Party, Mrs. Osei would have wickedly and cheaply ceded victory to the man who had deliberately and deviously transferred her from her constitutionally protected post at the NCCE to the EC precisely for this purpose. And so one can clearly see why the cynical operatives of the power-hungry Mahama Posse have been fighting tooth-and-nail to get the condignly fired EC Chair returned to her post.

It is such desperate battle for an undeserved political advantage and favor that is a travesty of justice, not the patently apt and long overdue removal of a grossly incompetent EC Chair, as the desperate likes of Messrs. John Ndebugri, the former Secretary of the Rawlings-led Provisional National Defense Council (PNDC) junta, would have the rest of us believe.

*Visit my blog at: kwameokoampaahoofe.wordpress.com Ghanaffairs