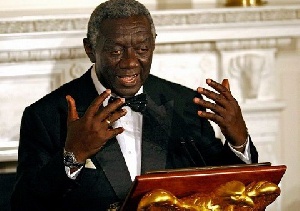 Former President John Agyekum Kufuor has eulogised the personality and character of former United Nations Secretary-General, Kofi Annan, saying he served in his capacity as UN chief with open-mindedness and was opposed to autocratic rule.
According to him, the service Mr. Annan rendered to the world was irrespective of religious affiliation, gender or skin colour.

"He came to show that, being a human being is not based on one's skin colour, social status and gender type but rather everyone deserves to be treated as human being created in the image of God," he said.

Speaking to host of Anopa Kasapa, Kweku Owusu Adjei on Kasapa 102.5 fm, former president Kufour said the life of Kofi Annan deserves to be celebrated with such extraordinariness as he showed respect to mankind throughout the world.

"Kofi was for inclusiveness and served with such a great heart…. when Kofi had the chance to serve, his teachings and dealings with the world was towards the use of education, healthcare and agriculture to change the lives of the ordinary person and that is why the whole world is singing his praise" he said.
Kofi Annan passed away on Saturday at the age of 80 after a short illness. Kofi Annan died at a Hospital in the Swiss city of Bern where He was receiving healthcare.



The 80-year old Ghanaian diplomat served as the seventh Secretary-General of the United Nations from January 1997 to December 2006.

Annan and the UN were the co-recipients of the 2001 Nobel Peace Prize.