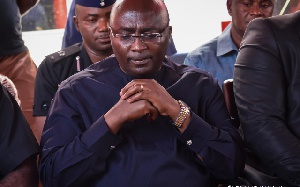 Vice President Dr Mahamudu Bawumia has described the death of former Secretary-General of the UN, Kofi Annan, as a great loss to the world.
According to him, Mr Annan was "a selfless man who was always driven by the burning desire to help humanity, especially the marginalized and underprivileged".

Mr Annan passed away on Saturday, 18 August 2018, after a short illness. He was 80 years old and survived by a wife and three children.

However, Dr Bawumia believes "his life will continue to be a testament to all".

He said Mr Annan's "contributions to the cause of world peace, as well as his wide range of interests and intellectual depth, marked him as a titan among his fellows".
In his view "the world, especially Ghana, has indeed lost a gem".

Meanwhile, President Nana Addo Dankwa Akufo-Addo has directed that Ghana's national flag should fly at half-mast, beginning Monday, 20 August, for one week in honour of the late Kofi Annan.