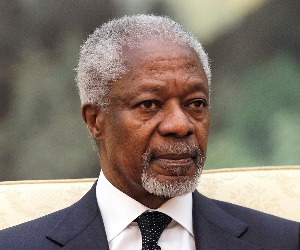 Although the late former Secretary-General of the United Nations, Kofi Annan, was mostly known for his international diplomacy that averted clashes in and between many countries, he also played a huge role in making Ghana the beacon of democracy that it has become in the West African sub- region.
He was like the head of family known as "Abusuapayin" in local parlance and was always on hand to offer advice to Ghana's political factions, especially in the heat and after elections since Ghana chose the democratic path.

He was always in the background giving counsel during Ghana's election periods, especially when tensions rose high, such as during and after the very closely contested 2012 elections which resulted in a dispute.

Election petition

In 2013 Kofi Annan called on the Supreme Court judges who adjudicated the election petition which lasted eight months to be fair and thorough in their examination of the facts being presented before them by parties in the case and also asked parties in the case to accept the the ruling on the petition.

The petition was made by the then opposition New Patriotic Party (NPP) led by its then presidential candidate, Nana Addo Dankwa Akufo-Addo, against the then incumbent National Democratic Congress (NDC) and its candidate who was also the President – John Dramani Mahama, following the death of President John Evans Fiifi Atta Mills.
At its landmark ruling on Thursday, August 29, 2013, presiding Judge William Atuguba of the Supreme court said, "The first respondent (John Dramani Mahama) was validly elected and the petition is therefore dismissed."

According to long-time friend and Economist Mr Kwami Pianim, "Most Ghanaians are not aware but during every election in the Fourth Republic from President Rawlings down to Nana Akufo-Addo's election Kofi was always calling the main characters, the candidates, telling them we need peace. He was always talking to them. He would call me at night and ask me to get him the telephone numbers of certain people or ask me to ask them to call him."

Kofi Annan had such rapport with all the presidents of the Fourth Republic, Jerry John Rawlings, John Kofi Agyekum Kufuor, John Evans Atta Mills, John Dramani Mahama and the current President, Nana Akufo-Addo, that he could call on them whenever he was in the country, had interactions with them at UN meetings and counselled them either in the run-up to elections or to accept the results even when they did not go in their favour, for peace to prevail.

Indeed, the story of the peace that Ghana enjoys now cannot be complete without mentioning the mediation roles he played whenever the country stood on edge.