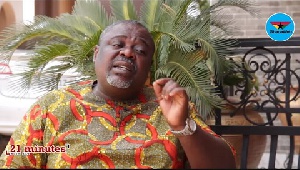 At the time of writing this paragraph, 27th-March- 2018, 11:45pm, Deputy General Secretary of the NDC, Mr Koku Anyidoho was spending a rare night in police custody for a comment he made in relation to the Ghana-US Agreement that is deemed to be 'treasonable' by authorities.
In case you haven't heard what he said, let me help you.

"Somebody should tell Nana Akufo-Addo that history has a very interesting way of repeating itself,"

"On the January 13, 1972 a certain Col. Ignatius Kutu Acheampong led a movement that removed the Progress Party from power. Busia was the Prime Minister and Akufo-Addo's father was a ceremonial president. Somebody should tell Nana Akufo-Addo that history has a very interesting way of repeating itself.

"There'll be a civil revolt. There'll be a people's movement. During President John Mahama's tenure didn't we receive similar threats from the likes of Let My Vote Count and OccupyGhana,"
"There'll be a civilian coup d'etat; there'll be a social revolution and the movement is starting on Wednesday. He [Akufo-Addo] will be fed up at the Presidency."- Koku Anyidoho

In other jurisdictions, the above statement would have received widespread condemnation and a statement from his own party condemning it and distancing themselves from the unguarded comment made by the former.

Unfortunately, this is not other jurisdictions, this is Ghana, a country where party comes ahead of nation in the consideration of many. In view of this, Koku Anyidoho is a hero in the eyes of many people even as he finds himself on the wrong side of the law.

One of the easiest ways to rise in Ghana politics is to be controversial, offensive and speak unprintable words against opponents. Laid back and analytical people who refrain from attacking opponents are deemed cowards and their rise to the top: snail-like.
In view of this, Mr Anyidoho has hit the jackpot. He is a martyr of the party who stood for them in turbulent times and so the next thing is that delegate will reciprocate and reward his loyalty.

It therefore came as no surprise to me when I woke up to apply finishing touches to the article and heard General Mosquito, the very person reported to have condemned the comment 24 hours prior in the most radical u-turn defending Koku.

Johnson Asiedu Nketiah, a smart politician by all standards might have slept over the issue and realised how Koku who is said to be eyeing his position with just one loose talk had usurped him in the popularity contest. Add that to the repercussion of his reported disagreement with the 'star' of the moment and the good old mosquitoes' u-turn will make sense to you. In view of this, the best thing to do is what The General did, align with the man of the moment or watch him take place.

Koku Anyidoho was one of the people whose utterances were deemed to have contributed to the defeat of the NDC and was therefore in danger of losing his post. He featured prominently in the villains of the 2016 defeat but he has salvaged the situation. As a matter of fact, I wouldn't be surprised if he decides to contest the parliamentary slot in his constituency on the back of this week-long popularity.
I know how getting punished for contempt elevated Ken Koranchi, I know how the Muntie guys became household names.

Unfortunately, this is the nature of our politics and this is why we are going back and forth in our developmental journey.

Hooligans and people who should be backbenchers become poster boys and find their opinions on issues given higher coverage than every opinion.

Level headed people like John Kumah of the NPP and Appiah Kuby of the NDC will find themselves and their opinions drowned by Abronye and Sammy Gyemfi because they lack the elements of sensationalism and opinions devoid of personal attacks.
If you are not very rich, super educated, you need some craze to succeed in our kind of politics and that is what Koku Anyidoho has in abundance.

If you care to know, Owusu Bempah, one of the very loose talkers in the system is the PRO of Ghana Gas Company.

Kofi Adams should be strategizing: he'd do with such level of attention.

Sad, but this is Ghana: where service to party is more rewarding than death for nation.