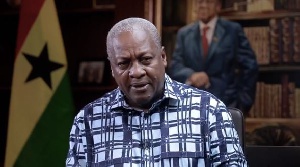 Comrades, I wave you with much greetings from my village. Everything is going on well except that the heavy rains have refused to cease fire putting many of our farm lands in distress.
I cannot proceed without saluting His excellency President Nana Addo Dankwa Akufo-Addo. Nana, more grease to your elbows. May your reign be a success story. Just like Osagyefo Dr. Kwame Nkrumah is remembered for the construction of the Akosombo dam, so shall you also be remembered for the implementation of the free senior high school( SHS).

Folks, my take today is on the return of the "akomfem President".

I woke up on the 23rd of August 2018 to work on my yam barns. I worked in complete silence which was only broken when a busy hen moved dry leaves about in her ceaseless search for food. My work moved on progressively until I finally had a call from my wife at the Kotoka international airport who had arrived from Cambodia. On my way to pick up my wife, I purchased a news paper and one of the headlines read, "Mahama announces his return today" knowing very well that he is going to be slapped for the second time, I was not perturbed. Rather, what buffles me was that we still have a hand full of Ghanaians rooting for his return.

I want to use this opportunity to remind the former President and his cronies that some of us have long memories so we are able to recollect some the mess he supervised.

I strongly believe a greater segment of Ghanaians are familiar with the series of judgement debts that bedevilled our beloved country including the monumental "Woyome" one, the SADAs, the GYEEDAs, SUBAHs, the ISOTOFONs the Watervilles and the likes.

I have not even talked about the "akomfem Burkina Faso flight oo. I have not also talked about the Embraer jet ridicule, neither have I touched on the outrageous Cuban scholarship scheme.
Information reaching my doorstep has it that, Ghanaians have bought and paid for the bold policies such as the 1V1D, 1D1F, free SHS and etc.

They are also proud of the paperless port system, Ghana post GPS, reduction in electricity tariffs, the ongoing rehabilitation of the rail way lines and the construction of the rail way lines from Accra to Paga which will commence come 2019.

The results of the 2016 general elections speak volumes of your gross incompetence. I therefore urge you to take a cue from your good friend GoodLuck Jonathan so you can take a walk at the shore.

Once again I have said my mind in a clean conscience and I know it will take a discerning mind to masticate, digest and absorb this piece.

I shall return pro re nata.

Emmanuel Bombande