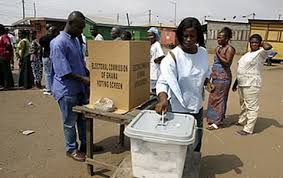 I have monitored proceedings with respect to the upcoming 2016 general elections in Ghana.
I have spoken with different groups of people especially the youth who feel disgruntled with issues of interest in this country.

Majority of people who are not involved in political issues but take delight in discussing political matters and how such discussions can cause a change in government policy for the best in this country.

Its very inspiring to see passionate youth pay much attention to governance issues. It gives us much hope that we have young folks who have the desire to make things right in this country even though our country seems to be moving towards the wrong direction under our current government led by President John Dramani Mahama.

There is a huge fraction of our youth who have lost interest in deciding who leads them and how their policy of governance should be directed. There are several people who are of the conviction that their vote makes no difference in deciding who leads them.
If each person believes that his/ her single vote will have no impact in the general outcome and decides not to vote during election days, will there be a single vote in the ballot box to declare someone a winner of any elections?

A key reason why people fail to Vote during an elections is not just because they feel their vote will have no impact but simply because of the lack of confidence in the people they have reposed confidence in, largely because of previous bad governance and policies from people who should have acted positively and in utmost good faith but did otherwise.

Regrettably, I must say people are victims of such thinking but my advice to the youth is that take the money and still vote with your conscience and nothing will happen to you because its your own money that is being given out.

Lastly don't think of not voting because having the desire not to Vote will lead to continuous suffering in our part of the world. People will wrongly go and elect leaders for us and we will all generally pay the worse consequences for it. Join a queue and vote well and make sure your vote counts!