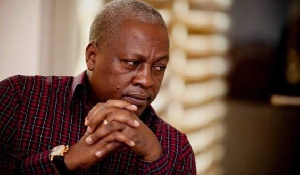 By: Prince Kasuk
There is no doubt that the story of John Mahama is one of the striking political stories of this Fourth Republican dispensation. From his humble beginnings as a Legislator, the immediate past President shot into the political limelight when the late President, Professor J.E.A Mills, settled on him as his running mate for the 2008 Elections later in 2007. His popularity and position as a political figure deepened when he had to take over as President of the Republic after the demise of his boss, the eminent Professor in 2012. With a massive party support and at the back of overriding national sympathy he led the NDC to win the 2012 Elections with just three active months of campaigning; a feat which many political connoisseurs described as sterling.

However, the second term bid of John Mahama was a failed project borne out of disrespect, arrogance, indiscipline among the members of his government. The President's lack of ability to crack the whip when necessary was most depressing and this lack of decisive leadership on his part projected him as endorsing such unruly behaviors from some appointees. Admittedly the now former President has started life after Presidency on a bright note.

A number of opportunities present itself to former Presidents who exit office as expected by the citizens and more broadly, the global community. These opportunities are endless and enormous especially when the former leader is coming from a country that demonstrates a relative success in democratization to the rest of her neighbors.

Unsurprisingly, former President Mahama is presently benefiting from some of these enviable platforms. So far what is known to the public is that several international speaking engagements have come to him. Without hesitation, he gladly accepts the offers and in his usual manner delivers to the expectation of the organizers of these programs.

We are told while the former president was in Kenya, he made a very brilliant submission on the need for leaders to accept the outcome of election results and exit the mainstream political stage when the applause is loudest. This statement of course not new but coming from a former leader is refreshing for the African continent. The Kenyan media and their opposition allies became excited over the statement made by Mahama and went on to make it look as if the address of the former Ghanaian leader was directed at Uhuru Kenyatta ahead of the Kenyan elections in August, 2017.

Our former President continues to enjoy the globe-trotting and his next stop was in South Africa, where he was honoured as African Personality of the year 2016. These immediate opportunities and platforms are basically to help heal from a rather disappointing electoral loss and ushered him into the prestigious club of former presidents of Ghana.
In this club of former presidents, expectations are high; genuinely citizens want to see a better contribution to society. From a more personalized position, one of such expectations is the production of a book to account for one's stewardship, show regret over decisions, may be a better opportunity to justify a particular unpopular critical decision made and above all provide an insight into what should be the way forward for our country.

So far, all living former Presidents of Ghana have failed this simple citizen test. Will former President Mahama be able to take up this challenge as the youngest of the three living former presidents? Can he coordinate what I call the My turn Book Project? A project that aims at producing a book, with three parts, and the three former leaders will give us an account of their turn as presidents of Ghana?

I am sure this project will last for a minimum of five years with huge donor support. It will present Ghana as another extraordinary case study for other African countries. Our show of national Unity in diversity will once again be immortalized through this collaborative effort. This may probably be the most dignifying way of remaining relevant and shaping the course of our nation and as a writer, the former President will deepen our view of the workings of a President should he embark on this project.

Astonishingly, many voices of reason rather appear to be obsessed with the return of the former president as a candidate for election 2020. Within his party, many of his enthusiasts and loyalists do not want to hear any dissenting view on the possible return of Mahama as a candidate for the party. They create the false impression that the ex-leader is irreplaceable and still holds an attractive Brand that will give the party a win at the next electoral fight. Some argue that the failure of the new government will make his come back the most logical thing to do due to his unprecedented infrastructure development and the overall contribution to national development.

If these claims are valid then an important question must be asked, what really happened in the 2016 elections? The former President himself has given a hint of why the party lost the elections and indicated in a recent tweet that the cause of the party's loss is multifaceted. If he presided over these multifaceted reasons for which the defeat came what exactly will change when he is the man to lead us to battle in 2020? Will it not be more rewarding for the party if the former president should remain above internal party struggle for leadership and be more useful?

Mr John Dramani Mahama, what I have to say to you is simple; many of the people who call on daily basis to insist on you contesting NDC primaries do not LOVE you, they do not care about your dignity as a former President and wish to subject you to another political gamble. You were let down by your chosen men and women for battle and nothing will change if you return for another fight. I wish you well as you deeply reflect over the cause of your electoral loss and remember one thing is certain staying away from 2020 elections is the dignifying option. The applause is loudest nowǃ