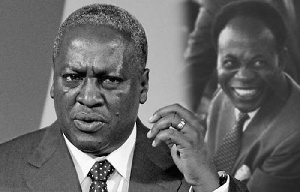 On Tuesday 13th September H.E John Dramani Mahama shared with the nation, highlights of the National Democratic Congress Manifesto, on four thematic areas, just like they did in 2012.
His vision into 2016 indeed comes as the magic wand to somewhat resurrect Osagyefo Dr. Kwame Nkrumah, the first president of our beloved Ghana.

There was jubilation when he mentioned that all of Kwame Nkrumah's master plans for industry would be reviewed for feasibility and revival where feasible. Indeed, the development agenda has taken a turn for the better.

We are seeing a new era in leadership where the President himself is giving the Ghanaian people, the power to have high expectations and expect results.

Never again will the citizens accept blatant lies, or leadership without a track record.

We are tempted to dream of what Ghana would be today if each and every president that came after Kwame Nkrumah, had continued with a bit of what was started by the predecessor.

President Mahama masterfully brushed through the four thematic areas highlighted in NDC's 2016 Manifesto. He assured that details would be available after the formal launch in Sunyani.
Putting people first: This thematic area will focus on Education, Health, Sports and Social protection considering the enormous achievements chucked over the last four years of his government as well as that of his predecessor. Putting people first expresses his relentless effort to empower the Ghanaian through the already started progressive educational development considering the achievement in the last four years as indicated in the "Accounting to the People" progress report (Popularly referred to as Greenbook).

To provide a dependable and efficient healthcare after the building and expansion of many hospitals, polyclinics, Clinics and over thousand CHPS compounds. Also to make sport development an integral part of our development just like most of the developing nations have done. In this regard all the other remaining regions like Volta, Brong Ahafo, Eastern Region, Upper East and West Regions

Building a strong economy for job creation: Adressing un-employment would be at the core of the NDC deliverables in the coming term. Already, 300,000 jobs are lined up based on the infrastructural projects to be embarked on. The Ghana Cedi is the most stable currency in West Africa sub-region (barring Francophone). This is a result of prudent measures to curtail the free fall of the cedi. All economic indices also point in the positive direction going into 2017.

The local content act will be expanded to mining, construction and other areas to make sure a lot of Ghanaians can invest in these areas and the monetary benefits remain in Ghana. Our IMF models have been fitted into home-grown policies to make sure institutional and structural reforms are enforced. The rippling effect is seen in the over subscription of the current Eurobond to the tune of 4billion euros, signaling extreme confidence in Ghana's economic outlook.

The president is poised to make sure cash transaction is barely minimized by 2021 with the usage of electronic means and others. $24 million will be injected into support for sugar cane farmers allowing them to produce for the Komenda Sugar factory.

Major discussions with banking institutions will also seek to ensure affordable credit for private sector and the establishment of a Rent Advancement Scheme for Ghanaians with known revenue. A much needed relief due to high pressure to pay rent in lumpsum.
Expanding infrastructure for accelerated development: It is on record that, the government led by His Excellency John Dramani Mahama has undertaken the most audacious infrastructural steps, second only to Kwame Nkrumah. Urban water coverage was 58.5% in 2008 now at 76% in 2015, Rural water coverage increased from 56.8% in 2008 to 76% in 2015. As at the end of 2014, a total of 77.5million gallons of water per day have been added to the national water supply system.

This will increase to 109.7million gallons of water per day by close of 2016. Energy security to the point where we can export to the West African sub-region is soon becoming a reality with a forecasted surplus of about 3,000MW of power. Free distribution of 200,000 rooftop solar panels for small scale businesses will continue. Ghana will have the best road network in Africa by 2021 with sustained roads development under the NDC.

The motorway will see two bridges at the flower pot junction on the spintex road and one at Klagon to Ashiaman. President Mahama is poised to revive the black star shipping line to be managed by GPHA. He will make sure the National ID is centralized to into a single card for smooth operation of our age technological advancement.

Advancing transparent and accountable governance. It is under the government of H.E John Dramani Mahama that we have seen exposés on corruption because of his strong will to fight the canker. To enhance this fight, he will have all MMDCES elected, modernize birth and death register, Independent bodies and media will be strengthened, there will also be a new headquarters for Media Commission so they can exercise their mandate to its best efficient level. He will make sure the fight on narcotourism and drug trafficking is enforced by retooling and providing advance international standard of training for the bodies in-charge.



This thematic areas actually encapsulate the structures our nation needs to catapult it into the Ghana that Osagyefo Dr. Kwame Nkrumah foresaw through his strategic seven-year development plan.
Indeed the highlights covered a lot of areas which this article can not exhaust.

The foundation laid so far is clear evidence of what the President stipulates to do in his second term.

Health infrastructure and retooling is ongoing, educational infrastructural development and logistics provision is ongoing, prudent economic management and policies are being implemented like remodeling of IMF and World Bank frame works into home grown policies. Transport and road networks are on the increase to facilitate smooth movement of goods and services via sea, air and land hence the expansion of the Takoradi and Tema Ports, as well as the upgrading and renovation of Kotoka International Airport, Kumasi Airport and Tamale airport – recently used for airlifting this year's hajj pilgrims to mecca.

What H.E promised in 2012 has been delivered.

In the words of 92 year old, Obrempong Nii Kojo Ababio, the Chief of Jamestown Mantse;

"Dr Kwame Nkrumah was my contemporary, I saw what he did for Ghana. I am tempted to say you have surpassed Nkrumah. My son, I admire greatly what you are doing in infrastructure. As you can see I am flipping through the pages of the green book. Dont worry, it is well with you." He expressed this in his native Ga language.
The Ghana we desire lies in the re-election of His Excellency, John Dramani Mahama. #JMTOASO

By: Nana Ohemaaba

Greenbook Ghana Initiative