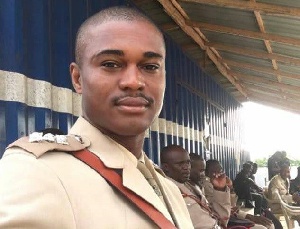 He was mercilessly attacked for sins he did not commit. He cried, yelled, wailed and even pleaded for mercy in the midst of agony and pain but they all fell on deaf ears. He could have warded off his attackers by firing shots but he chose to remain benevolent until he breathed his last.
We have been thrown into shock since Major Mahama's painful departure and we are still reeling from this great loss. It is indeed disheartening to lose a young gentleman full of life and a promising future to such dastardly act.

Major Mahama's death is very painful but then again, it serves as a kind reminder of the need to get the laws working for our good. What happened to the case involving the lady who was abused by a mob in Kumasi in the Ashanti Region? How about those armed robbers who were lynched in Kasoa months ago?

We have swept so many similar cases under the carpet with the excuse that victims involved deserve the treatment meted out to them. We have over the years refused to admit that mob justice is wrong, whether the victim is guilty or not.

And it is unfortunate that it took Major Mahama's death to realise how egregious mob justice is. Our anger over this sad development is in order, but if we had exhibited same fury when other related incidents occurred in the past, Major Mahama's painful death could have been forestalled.

A few days after Major Mahama's death, government announced setting up a Memorial Trust Fund with a seed money of GH¢500,000 to support the education of the children of Major Maxwell Mahama, who was killed in the line of duty at Denkyira-Obuasi in the Central Region.
Good idea! But what happens to others who have suffered similar fate? We need to look at the bigger picture of tackling the problem once and for all.

As we mourn, let's reflect on finding remedies to this problem. We need to ensure that it would not be business as usual, where we cry for weeks, vow to end mob justice and forgetfully retreat to cosiness. Government's decision to offer a helping hand is commendable but key stakeholders need to take drastic measures to ensure that mob justice becomes a thing of the past.

Funds and donations are useful but they won't resurrect the dead, neither will they ensure justice for bereaved families who have lost relatives through this menace.

We need to strengthen our justice systems. Our laws need to work. We need to spell out a detailed plan of ending mob justice and implement it. Those arrested in connection with the murder of Major Mahama should face the law.

This will serve as a deterrent to others. As concerned citizens and stakeholders, we need to push for reforms until we see results. This is the best way of revenging Major Mahama's death.