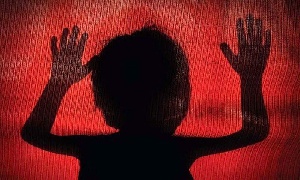 Let me try and summarize the stupidity of the god/God conception. A 4-year-old child was defiled by a grown ass man, and the community leaders turned to their gods led by the chief priest to ascertain who actually defiled the girl and what should be done about it.
The gods found the man innocent--and asked that he should be freed. That's not just shocking, it's also deeply capricious--perhaps, even insane.

A lot of Ghanaians are upset; why must people in a 21st century behave this way? Why must the gods be the one to determine who is guilty or not and why must such actions involving incompetent gods even be allowed?

But the other gods, I mean the Abrahamic God, his Son and Holy Spirit are equally insane and vicious and yet a lot of people proudly accept their conception or worship them.

When your God instructed that the Israelis should kill all the Canaanites including children as young as a day old and even livestock that was acceptable. It does not make him evil or stupid. When the youths mocked Elisha and he asked your God to kill them which he did; that was acceptable.

When your God burnt down Sodom and Gomorrah which obviously had children that could even be below 3 years, albeit, innocuous of whatever that was happening, you don't find anything wrong with such action or even its mere acceptance. You do not question your God for the plenty obvious insane things--because the ways of your God is mysterious.

Yet you question the ways and "wise" judgement of the gods, belonging to another. It's the double standard that's sickening. When your God commissions a vile act against humanity or causes mass murder, it's justifiable and good. But when someone's God does even less, you are upset and call for swift action.
All the Gods are crazy! And if you accept the craziness of one, do not condemn those who accept the crazy verdict of the other.

A 4-year-old child wouldn't find justice because a bunch of adults are glued to a primitive God delusion--same way no justice was obtained for the people of Canaan because a certain God commissioned their mass murder.

It's 2017, and yet we cannot seem to question the invisible nonsense we were hooked on as kids, passed onto us from the Paleolithic era, from people who actually believed the earth was flat and disease were caused by the Gods. The actions of your God cannot be examined with reason and can't be scrutinized on the back of human logic; if so, why should that of someone be excluded from the same immunity?

The writer Chris-Vincent Agyapong Febiri is the Founding Editor of GhanaCelebrities.Com, a Film Critic and a Human Rights Advocate; he holds 2 masters degrees in Law; International Human Rights Law (LL.M) and Legal Practice Course (LL.M) from University of Leicester and Nottingham Law School--and also a degree in Law (LL.B) from University of East London.

He's a Professional Truth Sayer.

He is the author of the popular eBook "Success is a Right, Not a Privilege."