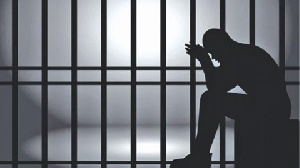 A 10-year-old class five Pupil of St. Mary's Preparatory School in Koforidua in the Eastern region has been painfully defiled by a 19-year-old unemployed boy.
According to Starr News' Eastern regional Correspondent, Kojo Ansah on October 13, 3017, at about 6:30am, while the victim was on her way to school, she encountered the teenager, Seth Amanor Kingsley who lured her into an uncompleted building under the pretext of assisting him to carry plantain.

Upon reaching the uncompleted building, Kingsley pushed the victim onto the floor from behind, forcibly removed her panties, covered her mouth with his hand and forcibly had sexual intercourse with her.

During the painful penetration, the victim struggled with the rapist with intention of getting help but nobody was available to come to her rescue. During the agonizing penetration the victim unconsciously defecated as she gasped for breath.

After the act, Kingsley absconded leaving the victim almost exhausted, weak and traumatized.

The victim was later supported and sent home and was immediately rushed to the St. Joseph Hospital where she was admitted.
A complaint was lodged at the Domestic Violence and Victims Support Unit of the Regional Police Headquarters where Police a medical form was issued which was duly endorsed by Dr. David Kupualor indicated that, the victim suffered a broken hymen with second degree laceration of the perineum.

Police Prosecutor, Inspector Solomon Richmond Keelson told Starr News, that the suspect was arrested by Police two weeks later and charged with defilement after investigations.

The accused pleaded guilty when put before Koforidua Circuit Court "A" Tuesday was sentenced to 18 years imprisonment with hard labour on his own plea.

Data from the Domestic Violence and Victim Support Unit (DOVVSU) of the Ghana Police Service has revealed that out of the 1,919 defilement cases reported between 2015 and 2016, 1,100 are yet to be resolved.