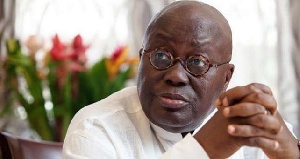 Dear President Nana Addo Dankwa Akufo-Addo,
I know you are a very busy man so I will go straight to my reason for this letter without wasting any time on pleasantries. Besides your tight schedule, I have learnt from our elders that a medicine man called to save a dying child does not exchange greetings on arrival. Our nation is dying.

Unemployment is still a deadly challenge for the youth and adults alike. The cedi has developed a mind of its own, a mind critical than any of the superficially artificial and unsustainable methods being employed to shackle it. Our healthcare system is worsening. Avoidable floods are killing children and adults in Kumasi and Accra. Filth is choking us. While these and other problems appear to compound every passing hour, corruption and wastage in the public sector is worsening. Our nation is dying, Mr. President, so escaping pleasantries in this discussion is in order.

I am writing tell you (or rather remind you of) three disturbing things that have held my heart hostage with excruciating pains: First of all, I want to remind you of how Charlotte Osei's dismissal has exposed serious double standards in your government. I am also writing to show you why any attempt by your government to increase taxes will amount to extorting money from the citizens to fund corruption. Finally, I will tell you how you are complicit in the very corruption scandals based on which you campaigned against your predecessor to win the election to become president of Ghana.

Please, read this with an open mind even if you intend to discard the issues I raise. I have no intention of contesting you in the next election so I am not writing to make you unpopular and unseat you. I sincerely want you to succeed. I don't pray you fail and lose the next election because there is no credible opposition on the touchline of our political pitch. And, please, don't think I'm judging you too harshly.

If I caught a secular musician and Catholic archbishop satisfying their libidinal drives in a brothel, I will judge them differently. Your predecessor came to the throne as a "nice man, an astute communicator." You came to the throne on the moral high horse of incorruptibility. You came as a patriot whose no-nonsense disposition was going to be the antidote to our waywardness and wanton dissipation of public funds. So I hold you to those standards you espoused and the hopes you aroused.

Let's begin from the beginning, Mr. President. Nothing under the sun can convince me that the removal of the Chairperson of the Electoral Commission, Mrs. Charlotte Osei, and her two deputies from office had no political influence. If President John Mahama were still in office as President, Charlotte Osei would still be in office as EC Chair. True or false? The petition and the initial processes that led to her removal from office have not been transparent. Some call it fraudulent. The problematic petition appeared well orchestrated to achieve the aim of your party, the New Patriotic Party (NPP). Long before you won the 2016 election, some of your party's leading members had vowed to get rid of the EC Chairperson.

You have justified the decision you took on the recommendation of the Chief Justice's Committee. It is a constitutional matter and you could not do otherwise, you told us. I do not fault you, Sir.
READ Writings in the toilet Some staunch critics believe the decision to remove her on account of procurement breaches was too harsh. To them, procurement is not the main function of the EC boss and could not amount to "stated misbehaviour and incompetence" for which the woman, who successfully organized the election that took the man who appointed her into opposition and brought you to power, should be removed from office.

I disagree with that school of thought. If breaching procurement rules is not a strong reason to remove any official from office in Ghana, then nothing is. Having investigated grand corruption in our country for the past five years, I believe procurement-related corruption is responsible for more than 95% of the corruption wrecking our nation. Breaching procurement laws may not necessarily amount to corruption, but it an avenue for corruption. Those rules were made to curb corruption. So I have issues with the initial procedures and not the substance of the committee's findings.

I feel sorry for Charlotte Osei, but those "mistakes" only made it easier for her detractors to get at her. Our elders have taught us that a person who is to be eaten by his or her enemies does not oil himself or herself and sit by fire. The internal wrangling and the procurement breaches paved the way for her avowed enemies to get rid of her.

Mr. President, my reason for talking about Charlotte Osei's dismissal is not so much to fault you. Legally, you did your work. My issue has to do with how it exposed you as a man of double standards. It smacks of double standards to sign a recommendation dismissing the EC Chairperson for not seeking approval from Public Procurement Authority (PPA) to award contracts (one of them as low as GHS47,000) when your government is paying a company GHC270 million year without any contract, not to talk of a PPA approval. I will come back to that later, but when you approve of Charlotte Osei's removal, but have not uttered a word on the dubious $178 million dollar contract to Kelni/GVG, it amounts to selective application of the standard which was applied to Charlotte Osei.

I am using these two examples because they fall in the area of the GYEEDA and Subah scandals, which you and your party used as campaign messages to unseat John Mahama and his NDC government.

Besides the opaque procurement issues and procedures, which some civil society groups have sued your government for information, IMANI Africa researched and came out to report that if there is the need to monitor the telcos at all costs, that work could be done for between $55,000 and $250, 000 a year, instead of the $1.5 million your government is paying each month to do the work. Why can't your government, for once, test IMANI and expose them if they are lying?

For about a decade, the nation has sunk hundreds of millions of cedis into revenue assurance in the telcom sector solely on suspicion that the telcos might be cheating. Your government has only told us that all the monies paid in the past were wasted because the actual work was not done. I expected any responsible government to have held those who dissipated those funds accountable, but you just moved on to a deal that is worse than the Subah scandal you condemned while in opposition.
Another major scandal, which you and your party referenced and still cite as a reason the Mahama administration was incurably corrupt and needed to be voted out, is the GYEEDA scandal. Mr. President, I'm sorry to say you are continuing with that GYEEDA scandal. One of the worst contracts in the GYEEDA scandal is the Zoomlion contract in which the state pays the company GHS500 monthly for each of the 45,000 sanitation workers it claims to manage. Zoomlion pays the workers GHS100 and keeps GHS400 as management fees. This contract is worth 270 million cedis a year.

This contract has cost the nation more than TWO BILLION NEW GHANA CEDIS since it was signed in 2006 without much to show on the ground.

Mr. President, that contract expired in February 2013 and a government committee made adverse findings and revealed acts of fraud in that contract.

The committee, which was headed by the country manager of international auditing firm, Ernst and Young, found that the tricycle component of the contract was GHS12 million every two years but Zoomlion charged the government "GHS37.5 million, an excess of over GHS25 million". On the motorbikes component of this contract, the committee's report said, "Zoomlion requires GHS900K to replace them every two years. MOYS [Ministry of Youth and Sports] however pays GHS49.64 million over the two years period for motorbikes. This is an overcharge of circa GHS48.7million."

Less than three weeks to the 2016 election, your party held a press conference on this GYEEDA contract. It was addressed by your energy minister, Boakye Agyarko. He called it a fraudulent deal. And he was right. You are heading for your second year in office, but you're still continuing with this "fraud." How do you want us to see you differently from your predecessor? Early this year, your appointee who heads the Youth Employment Agency (YEA), Justin Koduah Frimpong, said that shady deal would end by June 2018. We are in July 2018 and we have no idea when this stinking deal will end. I regret hastily commending you and your regime when an end to this deal was announced. I shouldn't have trusted you so much.

Mr. President, to be fair to you, I know a ministry has started looking into some contracts, including this one. But I am guided by past experiences. Your predecessor set up a committee after my investigation into GYEEDA. The committee's report was reviewed by cabinet and a timeline was set to cancel all such fraudulent contracts. Excuses were given when the deadline arrived.

Under your watch, the YEA with the benefit of the GYEEDA report, did its own investigation and announced a deadline to end what your party called a fraudulent contract. Nothing has happened.
Mr. President, this and other serious leakages in the nation's revenue are the reason I believe your government wants to extort money from the citizenry to fund corruption. We have so much money that is going waste. These are monies that could be channeled into productive ventures but they are wasted. I will give you some examples of staggering figures I discovered when I investigated the sanitation sector last year. Monies for these dubious contracts hare paid from different sources, including the NHIS Fund.

I discovered two needless and dubious fumigation contracts worth GHS 98 million and GHS96 million cedis as well as the fraudulent waste bins contract worth $74 million dollars or GHS 330 million. Mr. President, if you add the above figures to the GHS270 million YEA sanitation contract and the MMDAS landfills management contract worth over GHS350 million, it comes to GHS 1.2 BILLION CEDIS worth of contracts in the sanitation sector awarded to companies owned by the Jospong Group. Last year you met the Jospong CEO and encouraged him to "stay focused" and not worry about the "controversies that come with being in the forefront of doing things". But the above are not all the dubious Jospong sanitation contracts, which are paid with our funds.

There are also the Sanitation Improvement Package contract with all assemblies, the MMDAs Fumigation Contract with all the assemblies, the Ministry of Health Fumigation contract, the Accra Compost and Recycling Plant Contract, the Lavender Hill Contract, the Sanitation Guards contract and a host of others, which are all awarded to the Jospong Group under circumstances that come nowhere near what led to Charlotte Osei's exit.

Mr. President, if I want to move to every sector of our economy to point out to you how much is still bleeding, you won't have the time to read. And I know from where you sit, you know more than I know. The Auditor-General's reports are depressing.

So my point is, there is not reason to increase taxes. The argument is that the taxes are to fund specific projects and interventions but they often end up being diverted to fund deals corrupt deals. Seal the leakages. And you will be fine.

Do you know that while hospitals were turning away patients because the National Health Insurance Authority could not pay them, millions of the NHIS funds were being used pay Zoomlion for a shady fumigation contract with the Ministry of Health? Well, you should know because when you were campaigning for power, you party mentioned it.

So what is my point? You caused the process that got the EC Chairperson out of office to travel smoothly and fast. Less than a week after the release of the Number 12 investigation, you caused the Attorney-General to take legal steps to dissolve the Ghana Football Association. Despite the high legal hurdles you had to scale, you went ahead and you're progressing very fast.
Mr. President, I don't have issues with any decision to increase taxes. My problem is how the tax is used. In opposition, you and your party told us we didn't need more taxes. You said if we dealt with the corruption, we would have enough money to fund the necessary interventions. Until something is done to block the GYEEDA and Subah-like deals you campaigned against and stop the ones your government is creating, asking for more taxes will amount to robbing us to fund corruption. It amounts to trying to fill a basket with water. And this hurts.

This is the thought of one of your citizens,

Manasseh Azure Awuni.