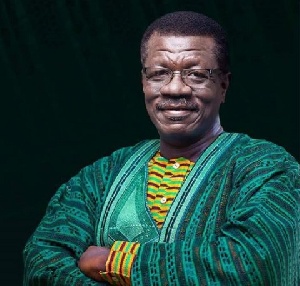 Great men and women, they say, are like eagles. They don't flock. They are spotted one at a time. Once in a while. It is even rarer to witness their trial. Only a few centenarians see such events once in their lifetime. I witnessed one in my youthful days and wish to tell this rare tale in detail.
The year was two thousand and eighteen. The court was a state called Ghana. The potential jury was about 30 million men, women and children. And one hapless man was helpless in the merciless court of public opinion.

Criticisms, like volleys of gunfire from a formidable army determined to crush an unyielding enemy, were fired from all directions. What came was more than just criticism. Tongues hotter than pepper, sharper than circumcision razors and more poisonous than the deadly venom of a viper came cutting like a sharp knife in boneless meat. The target was treated like a congenital and unrepentant criminal. Some Jews might have been kinder to Hitler than some Ghanaians were to this man.

Those who showed some form of solidarity with him were described as brainless idiots. There was not a better time to attack Christians. Those who maintained silence were not spared either. You were either with him or against him. There was no midway. This was where I came in.

On this matter, I had decided to keep my thoughts to myself. I had a special relationship with the man standing trial. If I had been a judge and he had been brought to my court, I would have recused myself. But I was a journalist, who was expected to report the news irrespective of who was involved. I was part of the news team that covered the stories of this man and the reason for his attack. So I could say my duty was fulfilled. But people wanted more than the news. They wanted my opinion. Was I that important? And did my opinion matter that much?



Not really! At the time, I was a young man of exactly the same age Jesus Christ attained when he finished his mission on earth. In a country where success was synonymous with wealth, there was not much to my name except my journalistic fame, thanks to my stubborn refusal to tame my tongue in the affairs of my lame country.

As a journalist, I considered my role as that of the "gadfly" described by Socrates in his famous defence, The Apology, when he stood accused by the Athenian state of corrupting minds with his teachings. Socrates said he was "a sort of gadfly, given to the state by the God; and the state is like a great and noble steed who is tardy in his motions owing to his very size, and requires to be stirred into life."

Buoyed by the disproportionate curse and blessing of youthful exuberance, I acted like the innocent child in Hans Christian Anderson's classic The Emperor's New Clothes. I said it as I saw it, with very little or no regard for political correctness.

But I did not speak on every issue, even when I was very qualified to do so. Early that year, someone had called me a "hypocrite" for failing to comment on Kennedy Agyepong's video about my colleague investigative journalist, Anas Aremeyaw Anas. He claimed my colleague was exposed and if he had been someone else, I would have made "noise". When the issue of investigative journalism ethics came up concerning Anas' work, I was one of the most qualified persons in the country to share an opinion on the subject. Considering the atmosphere in Ghana at the time, however, it was wise to keep my thoughts to myself.
The reason for the pressure on me to speak on the banking saga that rocked Ghana that year was because the condemnation had whittled down to one great man. He was a pastor, who had built a citadel of order and sanity (a church) in an empire of chaos and filth, literally and figuratively.

He was one of the greatest preachers the nation had seen and would ever see, one of the very few Church leaders who had a huge following without miracles at the centre of their magnetic fields. His church, the International Central Gospel Church (ICGC), had employed over 1000 pastoral and administrative staff in Ghana alone. The Central University had employed about 397 people. Central Aid, the largest non-governmental scholarship scheme in Ghana had awarded scholarships to nearly 4,500 Ghanaians irrespective of their religious and ethnic persuasion since 1988. He had saved many lives through his church's direct financial support to hospitals in Ghana.

ICGC was the biggest institutional donor to the Korle-Bu Teaching Hospital's Children Cancer Unit. For eight years, the church had continuously supported the unit with funds every month. Christ Temple also sponsored 14 charities monthly to undertake activities ranging from free surgeries to Bible translation to helping the physically challenged. The list appears endless.

In fact, it was easier to swim across the Atlantic Ocean with a 50kg bag of cement tied around your neck than to find ten people who had, through individual initiatives, impacted and influenced the nation more positively than him. His name was Pastor Mensa Otabil. He presented himself as a signpost to Christ and did not project himself as the Christ.

"If you have my photograph on your wall, then I guess I'm handsome enough to be on your wall," he told his congregation. "But if you need help in the night, call Jesus, not me, because even if you have my number, I might be sleeping and would not hear you."

Pastor Mensa Otabil had disdain for mediocrity. And he had the guts to question the status quo, which was an unwritten offence in Ghana ranked higher than high treason. For being who he was, he was loved and hated. Revered and resented. In almost equal measure.

This was the man who was in the centre of the storm. His offence?

Seven banks in the land had collapsed under disturbing circumstances. Those who had enough expertise in the sector said the banks were mismanaged. Some of them had borrowed money from the Central Bank to revive their operations. Those monies, according to a leaked report (which was being challenged), were misused. Part of that money was used for other investments, other than the core functions of the banks. Dr. Mensa Otabil was the board chairman of one of the failed banks.

The reason I was being hounded to speak was not because I had any expertise in the banking sector. It was because my callers knew Pastor Mensa Otabil was my role model and mentor in many ways. That was not a secret. I adored him. What was not widely known was the fact that he was also a father to me. He was one of the people who encouraged me, especially when I came under the wrath of the nation, when the attacks rained on me like fire and brimstone.
To be clear, I was not attacked because I had stolen from somebody's barn. Neither was I attacked because I had mounted another man's wife. In Ghana, in those days, different reasons motivated attacks. It was more about the person involved than the issue at stake. If they "meant" someone, they would pray that their prey should stray. In Twi they say, "Y'ab? wo ato h?."

On one occasion I was widely attacked because I questioned why an Africa CEOs forum was being held in Europe, and not in Africa. On another, I was attacked because I exposed the misdeeds of a business empire that was built on dubious and corrupt contracts from the state. For instance, I provided proof of how a contract that was supposed to cost less than one million cedis was awarded at a cost of over 62 million cedis. My attackers, led by the Ghana Journalists Association, accused me of attempting to destroy Ghanaian businesses.

Now, back to my tale: On the issue of the collapsed banks, Ghanaians had reason to be upset. The money used for the bailout was their money, the taxpayers' money. Depositors' funds had been jeopardised. Besides, some of the people who had lost their jobs as a result of the failed banks found it difficult to keep their bodies and souls together. So I didn't fault people who were angry. It was their right to express their minds. I did not defend those who supervised the collapse.

On the criticism of the players, it was understandable that Pastor Mensa Otabil would arouse more interest because of what he stood for – excellence. He himself was critical of society and its shortcomings so people were bound to criticise him more than the other "ordinary" persons involved. That was expected.

But it appeared there was something more sinister in the trial of Pastor Mensa Otabil than his role in the banking saga. The spontaneous gloating and sadism, which greeted social media when his name popped up, raised questions I needed answers to before I could respond to their call to join condemning him.

I wanted to know why every arsenal employed came down to one man. There were seven banks, so if Dr. Mensa Otabil was Chairman of one board, why were all the rest of board chairpersons left out? Why did people not care to even know their names? Their roles? Granted each board had five board members, it was safe to say there were 35 other board of directors. Why was everyone left out completely?

If the answer is that Pastor Otabil should have known better and given better advice based on who he was, why was Dr. Kwabena Duffuor, owner of one of the collapsed banks, left out of the attacks? He was not "ordinary" here. When I was too young to impregnate a woman, Dr. Duffuor was the Governor of the Bank of Ghana. And when I was old enough to own one, he was Ghana's finance minister. [Dear feminist, please, my wife is mine and I'm hers. So shelve your monocle!]



If there was one person who should have been held to the highest of standards in the banking crises, it was Dr. Duffuor.
No?

I also wanted to know if the nation was really outraged about the misuse of public funds. One ill-informed bloke who called me out was highly applauded when he saidI would have made noise if the GHS610 million loan to Capital Bank had been given to Zoomlion. Had I not shown the nation how a single fraudulent contract given to Zoomlion to manage the sweepers in Ghana had cost the state more than GHS2.2 BILLION CEDIS? Nobody stirred over this revelation. Nobody lost sleep! They accused me of hating the owner of the company when I persisted.

And if they were outraged about the plight of the 800 Capital Bank workers, why were they not outraged by the fact that the above contract gave Zoomlion GHS500 per worker per month and allowed the company to keep GHS400 and pay the poor worker GHS100 cedis or $22 a month? Was this not slavery? Or were Zoomlion's victims, numbering about 45,000, donkeys?

In 2017, why did a section of society (especially journalists, led by the Ghana Journalists Association) attack me for exposing wasteful and fraudulent contracts worth more than ONE BILLION cedis awarded to the Jospong Group? Was that not the taxpayers' money?



So it appeared the calls on me to comment were calls to do one thing: attack Dr. Mensa Otabil. Like Julius Caesar, they came to bury Otabil, not to praise him. They needed me to prove that I was bold. But I told them it was good to be bold and fearless, but sometimes it was better to be a coward. I would not publicly attack a father who would have reached out to solidarize with me if I were in the centre of the storm.

Besides, I had no point to prove to anyone. My convictions did not thrive on the validation of the crowd. I was not going to be part of the jubilant pallbearers of Mensa Otabil. I respected their right to condemn him, and they should also respect my right not to offer an opinion after reporting the news.

The call on me to condemn Pastor Otabil was also unjustified. Unlike the stories I had personally investigated, the banking reports carried by the media were solely based on portions of a leaked report. No one had owned up to it. I, like the other journalists, could not independently verify or stand by the claims in there. Rushing to judgment came with consequences I was too familiar with. People did not take my comments, even those on social media, lightly. The RLG CEO and the Zoomlion CEO had, on separate occasions, sued me for defamation based on my Facebook comments. I was happy to meet them in court because I was armed with published and unpublished facts to defend myself.

State institutions were investigating the matter and had promised to deal ruthlessly with whoever was found culpable. If Dr. Mensa Otabil was found culpable and was to be shot or hanged, as some people had suggested, I would still learn lessons from his successes and failures as a fallible mortal being who dared to dream.
Before he was found guilty and sentenced to death, Socrates said: "I dare say, Athenians, that someone among you will reply, 'Why is this, Socrates, and what is the origin of these accusations of you: for there must have been something strange which you have been doing? All this great fame and talk about you would never have arisen if you had been like other men.'"

From Otabil's trial, I would learn that if I distinguished myself from other men and women, I would be judged harshly should I fall short of the standard. Knowing my society, I would learn that I would be judged maliciously. But the fear of harsh and malicious judgment should not stop one from aspiring to the highest virtues such as excellence and integrity. One must not fear death and refuse to sleep.

Great people who have shaped the world were not without blemish. They did not have clean sheets of success. They recorded failures. They had their ups and downs. They had their weaknesses. And their sins. Shakespeare said, "The evil that men do lives after them. The good is oft interred with their bones."

I shudder to say he was wrong. The balance sheet of posterity has a way of offsetting our good deeds against our bad deeds and presenting to generations that come after us the dominant character of our lives.

Nelson Mandela had failed marriages, but he is not remembered for that. Dr. Martin Luther King Jnr confessed to his wife of his infidelity a month before he was killed, but his iconic status in the world outshines some saints. Mahatma Gandhi's statue still stands defiantly in the university of Ghana despite protests against its erection. Those against it said Gandhi was a racist, but his service to humanity outbalanced the accusation of racism against him. The day after Kwame Nkrumah's overthrow, the Daily Graphic carried a story attributed to a Ga chief in Accra. The headline was: "The Fall of Nkrumah More Spectacular Than the Fall of Satan." Nkrumah is the most vilified Ghanaian head of state but he is our most popular President ever, and remains one of Africa's greatest men of all time.

As we trudge wearily across the slippery stage of life, trying to distinguish ourselves from the crowd, we are watched keenly by a sea of spectators who are ready to celebrate our fall. May we not abandon our call even when we fall. We must give life our all. And fight on until history remembers us in its glorious curtain call.