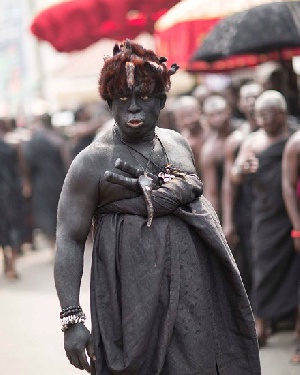 By Marian Ansah
The four-day final burial rites of the longest serving Queenmother of the Ashanti Kingdom, Nana Afia Kobi Serwaa Ampem II, which kicked off on Monday and ended on Thursday unraveled one of Africa's many wonderful cultures. Thousands gathered at the Manhyia Palace in the Ashanti Region to honour the late Queenmother in a rare beautiful ceremony.

While I was thrilled by the intriguing cultural display, I was also saddened by the apparent neglect of the African culture. Prior to watching the event, I had a discussion with a colleague at the office over the essence of broadcasting the event live on television. I asked a simple question; Is it really necessary to telecast this event? And she made a rather profound argument.

She simply said: Marian, it is very necessary! We would have given it more prominence if it was the Queen of England. Her salient argument reminded me about how most Africans have been imperialised. It reminded me about how we had gleefully neglected the rich African culture and our insatiable desire to carry the imitation of persons from other continents.
It reminded me about Africans who want to go for every event in suit even in the scorching sun when they can opt for the rather wonderful African fabric. I was saddened that Africans had lost their identity and do not mind adapting to unfamiliar cultures irrespective of how tedious it can be. I cringe when Africans say they are free from colonial rule but willingly cling to European culture and fail to appreciate ours.

And it gets worse when we unashamedly hide behind the 'culture is dynamic' excuse. We fail to remember that in this supposed dynamism, we are gradually losing our identity, our sense of belonging and our dignity. When shall we indeed be free? Will our forefathers ever forgive us for bringing so much shame on our race?

I hope they do not record our shameful deeds and forever vilify us. I hope our descendants will learn to place premium on proudly projecting Africa's culture to the global world. I pray that a new generation that will promote Africa's rich culture and heritage shall arise; Phoenix-like, from the current generation's ashes.