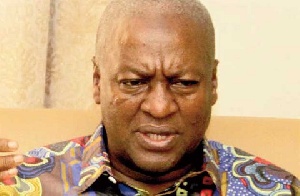 "It is tough to run for public office and face an opponent, to decide on issues what is the best thing, then face the criticism from colleagues, voters, the press and defend yourself" ~Dick Durbin, Senior United States Senator from Illinois
What is John Dramani wearing? He is a gentleman who chooses his clothes carefully and polishes his shoes quite well. As Vice-President and later as President, it was difficult to identify him with a trademark attire, the way the Chinese neck was Kwame Nkrumah's signature costume, and J.A Kufour, the double-breasted and stripped political suit. JM, as he was affectionately called, however, seemed to like the Batakari, perhaps, to identify with his Northern Ghana roots. The man was a cosmopolitan elite who had something (maybe charisma) that endeared him to both patricians and tribunes.

Mahama, Onaapo

You know he would respond to your greetings if he was the neighbor next door, and he would honour your son's fourth birthday celebration if you invited him. You wouldn't say that about President Akufo-Addo. Besides Mahama's liberal and latitudinal approach to things, his gentle and warm disposition won the hearts of the Ghanaian electorate until the NPP sewn the incompetent cloth for him. From then, it didn't matter the attire he wore, he was naked like the emperor who was deceived by criminal-minded weavers.

"The Emperor's New Clothes" is a classic political satire by Danish author, Hans Christian Anderson, about an emperor who was so consumed by his appearance that he wore a new coat every hour of the day. 'The king is in his dressing room' replaced any serious policy or governance activity he was involved in. Two weavers swindled him by promising to sew him a special garment that had the unique feature of being invisible to those unfit for their office, are stupid or incompetent. In the end, the emperor walked naked in imaginary beauty as his people cheered until a little boy shouted: "But he isn't wearing anything at all."

Since 1837 when the story was written, the phrase 'The Emperor's New Clothes' has become a popular metaphor for any action (in governance) that portrays pretentiousness, pomposity, social hypocrisy, collective denial or ostentatiousness. During the 2016 elections, the Ghanaian electorate was overfed on an unhealthy cocktail of all these metaphors. There were weavers who were very close to President Mahama, pretending to sew him the best clothes. Like the emperor's trusted counselors who didn't want to look stupid, JM was made to believe that heavy investment in infrastructure was an enchanting substitute for perceived incompetence and corruption.
The Green Book

Similarly, the NDC believed that the peace-loving and incorruptible nature of former President John Atta-Mills would compensate for his perceived ineffectual leadership. You loved Mills but you felt you needed to see more of him. JJ Rawlings wanted to feel and taste the power in him. Being a good man is not enough for high public office. You are either good, damn good or really damn good. Often, being really damn good is very good.

As President, John Mahama was a bit like his Green Book. You didn't know whether to believe him or not. The Book was to Mahama what the new garment was to the ostentatious and narcissistic emperor. Party communicators brandished it with 'careful abandon' as answers to every political and economic mishap. Meanwhile, the problems festered. You wondered the kind of garments his weavers made for him.

The electorate didn't see much of the book because party communicators kept it to their chest, stringing together a provocative narrative to confound and bamboozle anybody who shouted out the nakedness of the strategy. The communicators told emperor Mahama that his clothes were beautiful while opinion surveys and media research showed the emperor naked. In revenge, they discredited all findings that did not praise the new clothes of the emperor. They even boycotted some media.

Courage And Audacity
The weavers were busily making the new dashing coat in the presidential loom. They had earned the emperor's trust and would get whatever they requested to make the colourful garment ready. Nobody knows how much they were paid. Some of these weavers came from Nigeria. Alas, the procession (election 2016) was called and the emperor stepped out in naked majesty. It was too late to change tactics. In Anderson's original story, the Emperor realized that he was naked when he was already in public. But he showed courage and audacity. He charged: "The procession has to go on." That is leadership.

It is called guts. It is an essential trait in any good leader. Like the Emperor, former PM Margaret Thatcher is reported to have allowed the procession to go on during Prime Minister's Question Time in Parliament, when she reportedly used wrong figures in response to a question. Quickly, her Chancellor supplied the correct numbers but Margaret insisted she was going with her figures. The iron lady was not for turning.

What leadership qualities does Mahama bring to the table that other flagbearer aspirants do not have? If Mahama is naked, so is Alban Sumani Bagbin, Spio-Garbrah, Joshua Alabi, Sylvester Mensah (and if it's true he is running) Kweku Rickets-Hagan. The NDC has kept some dodgy weavers since 1992. The same weavers sang and cheered Mahama on when he was not wearing anything. They failed to listen when Rawlings, like the small boy in the Emperor's story, boomed out: "but he is not wearing anything."

Alabi, Spio or Bagbin

So, what does Mahama seek to achieve this time? Surely, he is the NDC's safest pair of hands because of his popularity with the electorate. Are Ghanaians so disillusioned and disappointed in President Akufo-Addo to bring back the same emperor they saw naked? People think the weavers who misadvised JM in 2016 are still in his loom at this moment. The NDC may need another emperor with real clothes, but who?
The last time I saw Professor Alabi, he was wearing clean white clothes. He didn't look naked but the clothes looked light enough to see his briefs. Spio should not settle for less; he has fine clothes to be a good emperor. Sylvester is a nice man, but it seems he may need to hire some real clothes. Alban Bagbin's costume is translucent; you could see through his nakedness. Rickets-Hagan would also need to hire some clothes, but I am afraid nobody will borrow him any.

PS: This week's issue was inspired by journalist Charles Benoni Okine, who refreshed my memory about the "The Emperor's New Clothes," a book that been translated into more than 100 languages.

Tissues of the Issues