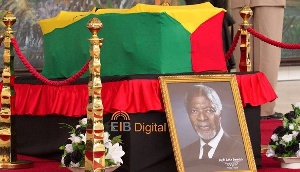 As the nation pays her last respects to the memory of one of the greatest Ghanaian and African of all time, His Excellency Kofi Atta Annan - an iconic global statesman and international diplomat par excellence, the Minority Caucus in Parliament joins his family, Ghanaians home and abroad, the African people, the United Nations and the international community in bidding the former United Nations Secretary-General farewell.
Though the mortal remains of Kofi Annan will be laid to rest tomorrow, it is our unwavering conviction that the torch he lit by projecting a refreshing leadership style that was thoughtful, deliberative and conciliatory coupled with the successes he chalked in advancing global peace and confronting the hydra-headed specter of poverty, disease, and inequality will continue to inspire generations all around the world.

The legacy of Kofi Annan is even more relevant in today's world where bombastic populist rhetoric, the strong man syndrome, far right insurgency, isolationism and anti-immigration sentiments appear to be taking root in many parts of the world and thereby threatening global stability.

While we commend the Government, Chiefs and people of Ghana for the grace, solemnity and dignity with which the send-off for the Busumuru and former Nobel Prize Laureate has proceeded thus far, the Minority wishes to appeal to His Excellency President Nana Addo Dankwa Akufo-Addo to consider naming the building which houses Ghana's Ministry for Foreign Affairs and Regional Integration after the illustrious Kofi Annan.

If this appeal is acceded to, what it does mean is that Ghana's Ministry of Foreign Affairs and Regional Integration will be located in Kofi Annan House just as the Office of the President is located in Jubilee House.

Though this development will be novel in the Ghanaian context, it is not new in international relations.

The United States Department of State is located in the Harry S. Truman Building, the South African Department of International Relations and Cooperation is housed in the Oliver Reginald K. Tambo Building, in Ireland; the Department of Foreign Affairs and Trade can be found in Iveagh House, in Canada; the Department of Foreign Affairs and International Trade is housed in the Lester B. Pearson Building, the Australian Department of Foreign Affairs and Trade is located in the R.G. Casey Building, in Malaysia; the Ministry of Foreign Affairs is housed in the Wisma Putra, while in Argentina; the Ceremonial Headquarters of the Ministry of Foreign Affairs, International Trade and Worship can be found in the San Martin Palace.
It is our considered view that this exceptional diplomat who has earned unanimous international acclaim and brought so much honour to our great nation ought to be honoured with perhaps the foremost building apart from the Jubilee House that represents Ghanaian diplomacy.

We believe this important gesture, no matter how small, when compared to the towering impact of Kofi Annan on the global stage, will help immortalize his memory and inspire generations unborn to emulate his noble qualities.

As we prepare to say adieu tomorrow, may the Heavens grant his fine soul a well deserved eternal blissful rest.

Kofi Annan will live on in our hearts.

Signed,

Haruna Iddrisu
MP, Tamale North

[Minority Leader]

Samuel Okudzeto Ablakwa

MP, North Tongu

[Ranking Member, Foreign Affairs Committee]