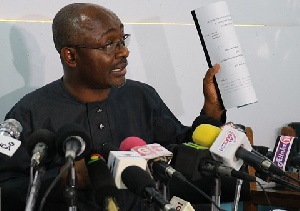 By Philip Kobina Baidoo Jnr
When OccupyGhana broke the news that the government on the blind side of Ghanaians have entered into a financial agreement with Alfred Agbesi Woyome, the furore was palpable. And Ghanaians are right to be angry. This is a man who has been ordered by the premier court of the land to refund a sum he fraudulently received from the government.

Well, because he was not convicted on his actions, according to NDC lawyers and propagandists, Woyome does not fit the label criminal. As far as they are concerned, he is as white as snow. And for that matter the government has every moral right to do business with him. Of course, they put it so emotionally; Woyome has the right to make a living is the mantra.

Unquestionably, he does. This is the position that was captured beautifully in the early 70s by no other than Acheampong that the debtor also needs to keep body and soul together. It carries much weight when rendered in the Akan language. On the other hand, as much as the debtor has every God given right to make a living, the creditor also reserve the right to curtail business with a debtor who has stubbornly refused to pay until recently.

Until the introduction of DNA in the prosecution of murder cases, murderers were acquitted in law courts often to continue with their crime of depravity. The fact is the burden of proof is on the prosecution, therefore if there was no witness to the crime or the witness was not credible it was game over for the prosecutor. And these cases mainly used to happen in the prosecution of murdered prostitutes. Our legal system was designed to severely restrain the overreaching powerful arm of the government.

Now, in the government against Woyome, the attorney general had self-interest in the acquittal of this criminal. So, you ask yourself the question why will the prosecutor, which is the government's attorney general, provide the credible witnesses that will convict him. It's a matter of self-preservation.

It will not happen. Anybody who cares should read the summation of the judge on the case. In all honesty, I don't mind when the foot soldiers trumpet such travesty, but for the lawyers among them to be shouting this clear case of the law being an ass from the highest steeple beggars the imagination. It's nothing but a victim of rape being humiliated in court by the defence lawyer.
I here now introduce Johnson Asiedu Nketia. It is very strange how these people choose their words and square the circles. He claimed recently that the incumbent MP for Afram Plains South, Joseph Appiah Boateng is a thief who is being wanted by Interpol. And, as such, he is being booted out of the party, because they don't tango with criminals. So, I asked myself a very simple question.

Boateng is a thief or criminal so they don't do business with him, but Woyome is not. Join me people. If Woyome is not a criminal, how come he has been ordered to cough up the 51.2 million he deceitfully, in cahoots with government officials who are supposed to protect the national purse, cashed from the tax payer? Is it because they do not over-generously benefit from Boateng that is why he is a criminal?

I never knew that the NDC vocabulary contained the word criminal; and it is refreshing to hear from their chief scribe that they don't work with criminals. Maybe they have updated their lexicon, or perhaps rediscovered the word criminal. I am lost; someone should help me.

It's not that these people don't know what is good from right. Their moral compass is perfectly functional, but selective in its application because they take Ghanaians for fools. How can we allow a party that has abandoned the concept of right and wrong to rule our country? Let them feel the power of your vote.

Let them know that Woyome is also a criminal, and they cannot use your tax money to prop up his business. He has the right to survive, but not on your taxes. There are many people who he can do business with all over the world, however, your tax is forbidden to fraudsters. Let your thumb print or mark redeem this money for mother Ghana with interest by voting NPP.

Writer's e-mail: baidoo_philip@yahoo.co.uk