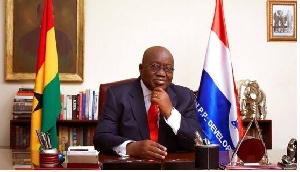 1. Identify his most trusted inner circle and create a coherent team. This team should be responsible for verifying all information before he acts. Akufo-Addo should not rely solely on one source of information.
2. Take an immediate step to bring the NPP together. If possible, reinstate all suspended leaders of the party through consultation with the elders of NPP. The work ahead is not going to be easy so he'll need every time for progressive and strategic thinking and implementation.

3. He should hold all his ministers and all government appointees accountable. Everyone must declare their assets prior to being sworn in to a position. He should have a code of conduct and performance barometer for each of his appointees.

4. He should continue all ongoing projects after reviewing their costs and terms of engagement. All new projects must have a cap and it must be made public. He should hold contractors accountable for all work done. Quality work before final payment for projects.

5. On some general issues Impacting Ghanaians abroad: Immediately create a transparent route for the acquisition of Passports and driver licenses. The integrity of these documents must hold supreme to any other interest. Adult passports must have 10 years validity period even if it's costs twice the amount. There should be a stipulated delivery period after application.

There must be options for acquiring passport i.e., emergency, express and normal. The corresponding fees will generate income for government not into individual pockets.

All passports agents must be licensed and regulated and their services should be optional. Check the ridiculous taxes on imported vehicles to enable people bring quality vehicles into the country.
6. Quickly implement the free SHS agenda. Ghanaian parents are suffering.

7. Create a more transparent NHIS claim procedures and certify which private clinics and hospitals can implement the scheme alongside the Government hospitals. SHUTDOWN all fraudulent claim channels and prosecute offenders.

8. Set-up a tip line to expose all corrupt public office employees. Hold them accountable. Create a team across the country for auditing public sector employees. Players in the public sector must be held accountable to deliver quality work for all.

9. Quickly move to open the government to Ghanaians abroad for consultancy on issues on Job creation and sustainable growth.

10. Restore all social intervention programs which were suspended by the erstwhile government after a critical review.

Don'ts:
1. Do not selectively apply justice. Prosecute all offenders without fear or favour. Hold your own appointees accountable. Former government appointees who embezzled state funds must refund the monies and prosecuted.

2. Do not allow the charlatans within the NPP to run your administration. You know them.

3. Do not lie to Ghanaians. Tell them the actual state of the nation at all times. Ghanaians are discerning.

4. Ghanaians are not lazy. They do not need free handouts. They need to work. Do not selectively employ only perceived NPP sympathizers. We are all Ghanaians!

5. Do not play the tribal game in your appointments. All hands on deck if you are qualified.

6. Do not isolate yourself from the reality of what is going on in the country.
7. Do not allow foreign interests to influence your policies. Shun the IMF now. They give peanuts and control your policies.

8. Do not allow your appointees to maltreat former government officials.

9. Do not assume. Verify

10. Do not be arrogant. Let God guide you.

Any errors in the writing are my responsibility. Please share for all to read.

God bless Ghana!
Dr. C. Odame-Ankrah

Odameank@gmail.com