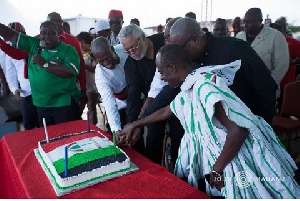 The evolution route of NDC into Ghanaian politics is a justification
of what is happening in the party at the moment. The NDC evolved from

a dictatorial AFRC to a totalitarian PNDC and finally adjusted to the

democratic praises of the 1990's.

Quoting Professor Mike Oquaye "The June 4th 1979 revolution which

brought in the AFRC, was a rebellion junior officers and other ranks

who claimed that it would be unjust for their superior officers of the

SMC II to quietly hand over power to the civilian government without

accounting for the stewardship which they claimed had brought the

Armed Forces into grave disrepute.

This led to the bloody public executions of retired and continuing top military rulers after reckless midnight trials - a trial of blood on the hands of men like Rawlings, Boakye Gyan and other members of the AFRC. It was an era of looting, pillage, jail breaking masterminded by the regime itself, public humiliation of women and the genesis of gross indiscipline in

the Ghanaian body politic".

The AFRC-PNDC which claimed to bridge the gap between the rich and the

poor hence choosing the motto " Probity and Accountability" , ended up

enriching the members of the revolution from the nation's coffers

while they rendered the flourishing Ghanaian businessmen poor and the

loud in societies became muted through humiliations by military men of

the revolution.

The Ghanaian economy faced massive retrogression under the reign of

PNDC to the end of the two terms rule of Rawlings. One will not be

wrong to attribute the woes of the Ghanaian economy to the 19 years
reign of J. J. Rawlings - the founder of the NDC. It was under

Rawlings stewardship that most of the State Corporations were sold for

selfish gain of Rawlings himself and his cronies.

Nsawam Cannery, GIHOC, Paulugu Tomato Factory, STC, Black Star Line

Shipping, Jute Factory, Ghana Airway, Continental Hotels, GNTC, West

African Mills, Akasanoma, State Hotels, Ghana Food Distribution

Corporation, to mention few, were kept on divestiture and sold among

themselves.

The legacy of Rawlings stewardship for the nearly 20 years is " a

legacy of killing local businesses and forcing Ghanaians to consume

foreign products". Ghanaian businessmen suffered severe humiliations,

some had their investments seized while some were chased on exile. Mr.

Siaw - a renowned Ghanaian businessman who established the Tata

Brewery was chased on exile and Rawlings sold his company to Guinness

Ghana Breweries Limited (owned by foreigners).

Mr. Benjamin Amponsah Mensah popularly known as B. A. Mensah who

established the international Tobacco Company at North Kaneshie had

his company seized by Rawlings. Even the current police hospital was a

property of one Mr. Yaw Boakye - his private hospital.

Rawlings, aside collapsing private business initiative, over 60
State-Owned companies were placed on divestiture and finally sold them

to himself and his cronies.

Prior to the promulgation of the 1992 constitution, the sons and

daughters of the revolution sorted to metamorphosed the traditional

name of the military rule of Rawlings to fit the contemporary

political code hence they erased the alphabet "P" leaving the NDC. The

party born out of revolution had its name changed but its features

remained.

The NDC committed itself to the Communist Inferior Tactics blended

with physical and psychological brutalities to govern Ghana from 1992

to 2001 when they lost elections to Kuffour led NPP government.

Only God knows the number of Ghanaians who vanished between under the

reign of PNDC and Rawlings NDC.

Rawlings executed Real Admiral Amedome and Roger Felli for taking a

Bank loan of ¢50,000. This same "Saint" accepted a gift of US$5

million for no work done from Abacha - former Nigerian President. What

is the justification that Rawlings - the founder of NDC is not

corrupt?

Rawlings seized peoples companies and property on grounds of tax

evasion and later sold them to himself, his wife and his friends. Yet,
the NDC is crying and tagging the EOCO summons of Ibrahim Mahama - the

brother of former president John Mahama who evaded taxes to the sum of

Gh¢12 million and SSNIT contributions of Gh¢1 million during the reign

of his brother as "witch hunting". If there is no witch, there

wouldn't be hunting.

Yes, I agree with ex president Kuffour that corruption started from

the days of Adam. Yet, corruption did not develop " sharp teeth" until

NDC erupted in Ghanaian politics.

The NDC took advantage of the inactive of the late J. E. A. Mills to

make shady deals.

John Mahama presided over corruption. It was under the reign of NDC

that Ibrahim Mahama collapsed Merchant Bank. If Amedome and Felli

could be executed for taking a loan of ¢50,000 then, what should be

done to a man who took a loan of Gh¢57 million from Merchant Bank

which eventually led to the collapse of the State Bank?

What should be done to Woyome who defrauded the State of Gh¢51.2 million?

What should be done to the YEA directors who collaborated to squander

over Gh¢52 million?

What should be done to the NDC gang who collaborated to share among

themselves US$1 million in the name of NCA contract?
What should be done to the Boss of Ghana Standard Authority who is

alleged to have squandered US$1.2 million?

Well, I leave it for the coming Independent State Prosecutor to deal with that.

The NDC is the main cause of Ghana's developmental backwardness and

Ghanaians should never dream of voting the NDC to power again. Just as

Hon. Martin Amidu puts it "May God never give us a corrupt leader like

Mahama again".

The 25th anniversary of NDC is a celebration of people who never

thought they could be rich but have been rich due to the opportunity

they got to come near to the nation's coffers.

The NDC has no memento in Ghana's politics other than the pain in

peoples mind. If any serious party had gotten the opportunity to rule

Ghana like the 19 years of Rawlings and the 8 years of Mills-Mahama,

Ghana would have been on the competitive track of the international

development marathon.

May God grant NDC permanent seat in opposition.

Long live Ghana.

Nana Ofori Kissi Ratina