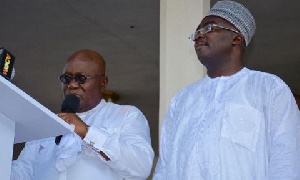 This article has been inspired by Bawumia's war of words with ex-President John Mahama. Bawumia has described the former president as "the incompetent one". Mr. Mahama, on the other hand, has said the Vice President Bawumia is only good at giving lectures, but not good enough to manage the economy.
Little was known or heard of Dr. Bawumia, until he was nominated by the then-candidate Akufo-Addo as a running mate. I watched him mess up his speeches, I watched in fear as the diffident Bawumia tried to find his feet on campaign grounds. At a point, I thought Nana had made one hell of a mistake choosing a novice as a vice presidential candidate.

Ten years on, Bawumia seems to be the busiest, most visible, and independent Vice President I have witnessed in Ghana. He says things on the spare of the moments and defends himself at will. He appears to have the audacity to sound policy bells and give the greatest indications of knowing what his choices mean to governance.

Dr. Bawumia seems to have succeeded in taking on the frontline shocks for his boss (Akufo-Addo), and in the process has freed him to focus on the things that matter most. In so doing Bawumia has pulled himself right in front of the NPP's future, firmly poised for succession!

Therein lays leadership. Leadership, the fortitude to admit, that others can be stronger than we are, even though they occupy lower positions, and the grace to seek their growth, for the sake of good intentions, not because it lowers one's position, but that it strengthens humanity, for the sake of itself.

Being a leader is about success and succession. It is not a protected space. The greatest legacy of any leader is not in the achievement of everything. It is not in the absolute obedience from the people. And it is not in the volume of riches accrued. The greatest achievement of every leader is and must be, in the raising of equal leaders who are better able than ones' self.
So if everyone is singing your praises, honourable 1, honourable 1. You should not necessarily see those appellations as compliments. You should begin to feel ashamed that you are becoming a waste of space, not because you are not amassing wrong riches, but because you are becoming a wrong posterity.

Some civil servants, for instance, have never gone on leave for over 30 years, and they have hardly missed work, because there is no one to cover up for them, and they take pride in letting everyone know that they are the biggest thing that happened in the organization. My brother, you are the biggest liability ever produced in our history. Your insecurity is as big as the amount of rot you are covering up in that role.

The real investment of leadership is in the dreams of our followers who must at all times be in readiness, prepared and able to take over from us when our time is served. Good leaders are those whose actions create legacies that inspire others to dream more, learn more, do more and become more (Dolly Parton).

However, there are some of us who think that leadership is about controlling everyone. There are some who believe that leadership is about exploiting everything and everyone, and being surrounded by weaknesses so that the only one who is strong is the person who calls himself a leader. That is not leadership; that is poverty!

If you rise by stepping on others, your height would be as high as the one down your feet. And if the trodden is tired, you will fall, and you will have no more height. That is when you will realize that you do not rise by destroying others. But if you rise together, the earth will provide a perpetual stability, and you would create a legacy that transcends your own limitations.
If Nana Akufo-Addo saw the rise and rise of Dr. Bawumia as a threat to his political future, he would have frustrated his efforts and would have deprived this country the charismatic vice president that we have in Dr. Bawumia. Akufo-Addo kept believing in him and kept giving him the frontline opportunities, to explore and to build his confidence. That is leadership!

It is not when everybody around you is weak. It is not about being smart behind the scenes and destroying whoever you think is capable of your position. Leadership is when you have deliberately cultivated, supported, and surrounded yourself with strong minds, strong people who are warming themselves up to take over from you, and they know that you look forward to them ascending your throne.

My father was born into a family of eight children. None of them went to school, except their last born, Kofi. Kofi was a licensed Surveyor who rose to become the Acting Central Regional Surveyor, and the only one with a stable income. He was so powerful, so much so that his influence transcended the families of his siblings.

As the only educated person in his family, he did not send his own children to school. But even worst is the fact that Kofi actively discouraged nearly every one of his siblings from educating their children. He was the reason my parents had problems because he insisted that I should be stopped from going to school, and my father was happy to listen to him.

The result is that when it was time for one of the educated family members to be chosen as the Chief of Sankor, there was no one to be picked because none was educated. The throne was therefore given to the next family with educated sons.
The reverse is that I am the last of 12 children. I am the only one who went to school. My siblings have large numbers of children. So far I have had a hand in nearly every single child of my siblings' education, as well as their grandchildren. I have helped to produce young people with first and masters' degrees, with several more currently in universities in Ghana, while several scores have completed various vocational educations, with more nephews and nieces warming up to enter.

I am still young, so I hope to do more till I cannot do more. My hope is that by the time I cannot do more, those who are currently at par with me would take over, and carry the family on their shoulders as I have done until they also hand over to the generation that will grow.

I don't have money. I have no savings. I don't own a single car of my own. But with these I feel strong, I feel rich, that it is not only I, but others too are strong with me. In thy light, we shall see light!

It is my hope that each one of those I have supported in my family, as well as those I support who are not my family members, would achieve more than I ever achieved. With this, I am proud to call myself a leader; a call to raise others, a call for the sake of posterity.

Congratulations Nana Addo, for how far you have come with Bawumia. May every one of us who follow you see the light in your light.
Winneba is king…