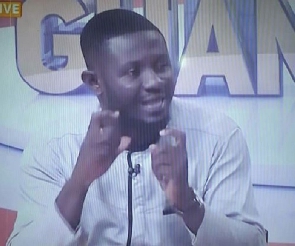 Prior to the 2016 general elections, the then opposition party leader, Nana Addo, was portrayed as a Human Rights Lawyer, an Anti- Corruption Crusader, and a future good manager of our country when given the opportunity.
Many promises were outlined in the NPP Manifesto, of which most were mouth watering.

Fast forward to 2017; Nana Addo became the country's 5th President in the 4th Republic, and he has now been seen as a dangerous personality who is risking the lives of Ghanaians in the current nation wide battle against the Covid19 pandemic.

The country's current state is as a result of Nana Addo's inability to be proactive, ostensibly because he is swimming in corruption and is simply unable to have his priorities right.

The Corona virus spread started in China somewhere in December, 2019. By January 2020, it had reached Europe. In Ghana, some three months after, nothing was put in place to fight the virus by President Akufo-Addo even after W.H.O had declared the virus a pandemic.

With all these happenings, Nana Addo was still sleeping on the job and was wasting taxpayers monies on travels as usual but never bordered on being proactive.

With regards to the Gh¢ 35 million which was requested to be used to prepare the grounds should the virus get into our country, a paltry Gh¢2.5 million was what Nana Addo was able to provide, inspite of the availability of all the billions of cedis borrowed, taxes collected and oil funds realised.

Just after some months, our neighbouring countries started recording their first cases and W.H.O went further to declare our country as a high risk country to be infected with the virus. With all this indication, Nana Addo kept sleeping in the comfort of his father's Nima residence and in public as usual.

Nana Addo kept sleeping until the nation recorded its first case in March, a day after his first Address to the Nation. Curiously, his Minister of Information later made us aware the victim had been in this country a week before the President's 1st Address. It means the President was aware before his address but never cared to inform us. See the link below for the reportage: https://www.pulse.com.gh/news/local/coronavirus-patients-have-been-in-ghana-for-over-a-week-oppong-nkrumah/mz4e37y

Some notable Pastors and some prominent persons went ahead to advise the President to close the country's entry points and also for some stringent measures to be put in place to curb the spread of the virus; but the President never listened.
It is my well considered opinion that, the country's current state and her suffering from this pandemic are due to Nana Addo's negligence and bad leadership style.

The Nation allocated billions of Cedis to help vulnerable persons go through the season for 3months as Announced by the President: Gh¢400billion old Cedis for cooked food and Gh¢430 billion old cedis for uncooked food; but ended up becoming "No Party Card, No Food" charade.

Yet, we all know the lockdown was for only 3 weeks. I can say most Ghanaians and the most vulnerable persons did not enjoy any of the food rations. We all know that it was rather NPP card bearing members who did.

The question to ask is: Has the 3 week lockdown swallowed all the Gh¢430billion old Cedis meant for 3 months spending on cooked and uncooked food?

The most dangerous aspect of Nana Addo aside of bringing this novel virus into our country is his inability to construct a single hospital since he was voted into power. And to compound his incompetence, Nana Addo has promised to construct 94 hospitals in 8 months.

This promise is deceitful and hypocritical as he has forgotten that, at page 34 of his party's 2016 Manifesto, the same promise was captured.

So, if for 3years 4month of assuming power he hasn't been able to fulfil same promises in his NPP's Manifesto, what is the guarantee it can be realized in just 8 months when even his government's 2020 budget did not capture it for monies to be made available for its execution?

It is not surprising his Communication Minister, Madam Ursula Owusu disputed his promise on the 27th April, 2020 on Good Morning Ghana -Metro Tv less than 24 hours of his "419" hospital promise. Ursula Owusu said, "8 months to the end of the year, it is not achievable".

Our Nation's Economy is currently in the ICU awaiting God's intervention and if we can remember, we were told by his running mate then in opposition that, "when the fundamentals are week,the Exchange Rate will expose you." He used the exchange rate to determine the strength of an economy and described the Mahama administration as bad managers of the economy.
These so-called "bad managers" of the economy left the country with an exchange rate of $1=Gh¢4.3 as at the end of 2016, but as at the time of my writeup, the exchange rate is $1=Gh¢5.9.

Just some few questions for Nana Addo and his Vice President to answer based on the available Data:

1. Who is incompetent? 2. Who are the bad managers of our economy? 3. Is our Economy strong now? #FactNoLie

Some months ago , Nana Addo told Ghanaians they have grown a robust economy and the economy has become the fastest growing economy in Africa. With all their robust ,fastest growing economy in Africa talk, and the nice economic figures they kept making noise about, our economy could not stand the test of time in just 3 weeks of the coronavirus lockdown. The government had to run to the "evil IMF," as they called them then in opposition, for support in order to give the economy that is found in the ICU some life support. Another deceit from them. "You can do all the propaganda with the strength of the economy, but Corona virus will expose you". That is where we are now.COVID-19 has exposed their lies about the economy.

On corruption, the latest corruption perception index ( CPI ) concludes it all when you compare Akufo-Addo's government with Mahama's Administration.

Check from the Transparency international Website: www.transparency.org/country/GHA

It shows and ranks Nana Addo and his appointees the most corrupt in Ghana's history.

I thought as a Human Rights Lawyer as he has portrayed himself to be, he would have helped and strengthened freedom of speech as captured in our 1992 constitution, and encouraged media freedom as John mahama did. The latest Media Freedom Ranking indicates Akufo Addo's failure for allowing the nation to drop from its initial nice ranking.

We can remember the following events under the auspices of Nana Addo: (1). The closure of 130 Radio & Tv stations since 2017 (including Radio XYZ and Radio Gold).
(2). The killing of Ahmed Suale, a member of the Tigereye PI team

(3). The death of Edward Adeti, the journalist in the Upper East Region, who was killed after exposing some wrong doings of some Nana Addo's Appointees.

(4). Mannaseh Azuri Awuni, who has been receiving death threats from authorities after his military documentary in the heart of government (OSU Castle).

Most of these were condemned by the Media Foundation for West Africa(MFWA) but till date, not a single soul has been sent to jail over these nefarious acts.

Below is the World Media Freedom Index since it inception in the year 2013. Note that the higher the score, the poorer one's performance.

https://rsf.org/en/detailed-methodology YEAR - SCORE • 2013 - 17.27 • 2014 - 16.27 • 2015 - 15.50 • 2016 - 17.95 • 2017 - 17.95 • 2018 - 18.41 • 2019 - 20.81 • 2020 - 22.26

Moving forward,evil was spoken against the former President Mahama administration when they ventured into massive infrastructure development in all sectors of our economy: Roads (Circle interchange, Kasoa interchange etc); health infrastructure (Ridge hospital, BOG hospital , Dodowa hospital, Ga East hospital, Kasoa polyclinic, UG hospital, etc); aviation (terminals 2&3,expansion of Kumasi and Tamale airports, constriction of the Ho airport etc.); railway development (western rail, Accra to Akosombo line etc); school structures (75 E -Block with expansion made in most existing schools).

With all the insult on John Mahama, he bequeathed to the nation with heavy infrastructural development in the country's history.

He left for Nana Addo's government the Stabilisation fund of about Gh¢300million, Heritage fund and sufficient foreign reserves.
Mills/JDM came to meet the nation's dept of about Gh¢9.54 billion and left with the dept standing at around Gh¢120 billion.

Mills/JDM borrowed Gh¢110.46 billion, with Mills borrowing Gh¢30.46 billion out of the Gh¢110.46 billion in 3½years and the remaining Gh¢80billion was borrowed by John Mahama in 4½years.

With JDM Gh¢ 80 billion in 4½ years as monies borrowed,Ghanaians can see and point to a lot of Capital Projects and almost all have now become the surviving project holding the fight against this novel virus in the country. ie; the legon hospital, BOG hospital, Dodowa hospital, Ridge Hospital Ga- East etc.

Currently, our dept has moved from Gh¢120 billion in December 2016 to around Gh¢250 billion in just 3years. Nana Addo has added Gh¢130billion in just 3 years to our national debt, but can not show any single project started and completed by him.

With all these monies borrowed, the Nation can't see any single development in the lives of its citizens, but only for Nana Addo to inflict us again with COVID-19 pandemic through his retroactive leadership style rather than proactive leadership skill.

With all the borrowed monies, No schools, No hospitals, No markets ,No aviation face lifts and even the entire expenditure of F.S.H.S is not up to Gh¢10billion for it to be used for a debate to justify their expenditure of their borrowed funds.

Nana Addo is the only President who has had the biggest resources in the nation's history but remains the most useless and unproductive President in our time so far as his achievements are concerned.

If, with all the billions of our oil money, billions of taxes collected, Gh¢130 billion borrowed in just 3years and the country can't see any development, hardship in the lives of citizens day in day out, corruption has been instituted as a legal venture, waste of the public purse on parties,travels but only for Nana Addo to still remain heartless and insensitive to inflict the citizens with yet another headache called Corona Virus through your bad and retroactive leadership, then Nana Addo is more Dangerous than the COVID-19 Novel virus the Nation is battling with.

Ghana's Problem now is the Dangerous Nana Addo and not the Corona Virus.